Broken Man Broke: A Novel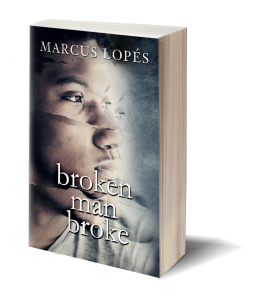 New Beginning
Sundays had long been ordinary and routine, almost melancholic. A day of gimmicky rituals he tried to escape. Like going to church when he didn't really believe. Or the weekly family dinners that he didn't enjoy, but living at home he couldn't escape them. Or ransacking his grandmother's bedroom, while she was still alive, for the bottles of scotch and gin she hid.
This Sunday was anything but ordinary or routine. Certainly not melancholic. This Sunday was about new beginnings, where repressed desires would be allowed to unfurl. This Sunday had the power to transform him and his life.
If he could be daring and bold.
If he could let himself believe in something.
If his mother could let him go.
Scott Davenport, standing on the sidewalk near the back of the silver Range Rover, ran his hand over his shaved head. "Yes, Mama, I'm listening."
"Watch your tone, mister," Margaret Davenport said, and started rummaging through her shopping-bag-size purse. She pulled out a crumpled tissue and dabbed it at her moist eyes. "Promise me you'll call. At least once a week. And don't forget to eat…"
As his mother slipped into her teacher's voice, Scott was already daydreaming about the new world that awaited him. Eighteen or soon-to-be, he was in a new city to which he would willingly give himself over. Ready to transform from boy to man. All he needed was for his parents to get into their car and drive away. Then he would be on his own at last, and free to do as he pleased. And he had big plans for his freedom. The snapping of fingers brought him out of his dream-state.
"You're not even listening," Margaret chided.
"I am —"
"Then what did I say?"
Scott dropped his gaze. Probably something about Jesus protecting us from the devil. Probably… He lifted his head. "God, er, Jesus … that I should let Him —"
"You weren't listening," Margaret interrupted. "I don't want you drinking. You're here to get an education."
"Mama —"
"Don't Mama me." She stomped her foot. "And be careful. The devil's going to tempt you at every turn, but I don't need any more grandchildren yet." She gasped, her eyes wide open, and covered her mouth with her hand. "Oh, dear…" Her hand fell away. "Just be careful then." She reached out and drew him into a crushing embrace. "Oh, my baby."
Scott loosely returned the hug. "I'll be fine, and I'll be careful."
"Find a church." Margaret blinked magnificently. "There's got to be a decent Baptist church nearby."
"We should get on the road," Terrence Davenport said as he watched the tears roll down his wife's pumpernickel face. "If you need anything, just call." He extended his hand to his youngest son, leaned in, and added in a whisper, "And call home. It'll make my life easier."
Scott, letting go of his father's hand, fumbled to hang on to the roll of money being slipped to him. He shoved the bills into his jeans pocket. "Thanks, Dad. You know, I'll try to find a part-time job."
"No, you won't." Margaret raised her finger and drew an 'x' in the air. "You focus on getting those A's."
Terrence slunk to the passenger door and opened it. "All right, let's roll."
"Your father will put money into your account every two weeks," Margaret said as she settled into the seat.
Scott grinned.
"Margie!" Terrence unintentionally slammed closed the passenger side door. "Good luck, son." He made his way around to the driver's side and climbed in. "We agreed on once a month!"
Taking a couple of steps backwards as the engine roared, Scott's heart thumped as the car rolled down the narrow street. This wasn't just a dream anymore. It was real. The rush of excitement had him trembling, to the point where he thought his bladder would burst. It didn't. Go, just go, was his silent wish when his parents' vehicle stopped at the intersection. Then, as it veered right, his mother stuck her arm out the window. He waved enthusiastically as they disappeared out of sight.
Finally.
Alone.
And free.
The bright September sun toasted his already caramel skin as he walked along Willcocks Street towards New College residence, the place he'd call home for at least the next eight months. The buildings along the route — some built with large grey stones, others with brown brick, or the newer structures made of steel and glass — were like a puzzle to him. When he came to a construction site, he slowed down and, with an almost child-like wonder, locked his gaze on the metal crane rising towards the heavens. Idle now, tomorrow it would come to life, bring together so many pieces — metal, brick, wood, concrete — to form something whole. He wanted to feel whole, or that he was a part of something. Seeing his reflection staring back at him in the street-level window, he picked up his pace. He didn't recognize himself, convinced that there was a part of him that didn't completely exist.
Now he hoped to unearth that missing part of him. That was why he'd fled to Toronto. He had to stop questioning who he was and search for a way forward. Deciding on a field of study would help him with that, right? Give his life direction? Maybe. Deep down, he knew that what he needed was to just be himself, stop worrying about what others thought. That meant living out some of his secret fantasies. Had his mother sensed that 'darkness' in him? Was that why she didn't want him living off campus? A lot had changed since she'd been to university, yet so much had stayed the same. But the parties, according to news reports, were wilder. New drugs popped up almost weekly. At least in residence there were rules to be followed. Off campus, Scott could do as he pleased. And what she wanted was for him to stay in Ottawa, under her watch. But Scott had to get away and him living in residence was the compromise. As far as his mother was concerned, that was safest for both him and his soul.
Crossing over Spadina Avenue, Scott thought about the emotional goodbye at the car with his mother. He was used to her sentimental ways, but that hug was different, like it had a certain transformative power. His lips curled into a smile as he turned onto the pathway leading to the entrance of his residence building. She tried to purge the devil from me, reclaim my soul. Didn't work. Smirking, he raced inside and sailed up the stairs to the third floor, prying open the heavy metal door. Animated voices assailed him from all sides as he made his way to his room midway down the corridor. Parents carried boxes and suitcases into their children's new homes. Mothers had tears in their eyes. Younger brothers and sisters screamed and laughed as they ran up and down the hall. He ended up stuck behind a tall guy carrying two boxes with a half-full garbage bag balanced on top. The bag fell, and Scott intervened to catch it. "Got it."
The man stopped in front of the door directly across from Scott's room. He made a play for the doorknob but was unable to reach it and looked hopelessly at Scott. "Could you get the door?"
"Sure." Scott took a step forward, pushed the door open wide, and stood off to the side to let the Eddie Cibrian lookalike pass through.
The guy set the boxes down on the floor by the window, then made his way back towards Scott, who was still propping the door open. He took the bag, tossed it on the bed, then extended his hand. "Troy. Thanks for saving the day."
"No worries," Scott said, accepting the firm handshake. "I'm Scott." He covered his ears with both hands at the screaming and laughter booming in the hall. When it subsided, he slipped his hands into his pockets as he and Troy stared intently at each other. "I should go and try to settle in a bit."
Troy ran his hand through his brown hair. "Are you first-year?"
"Yes. I'm thinking about majoring in English or philosophy. Maybe even political science. I'm not really sure yet."
"Ah … a thinker."
"Hardly," Scott said with a slight edge, catching the hint of condescension in Troy's eyes. "What about you?"
"Biology major. And afterwards, med school."
The confidence with which Troy spoke, like he had his life all planned out, made Scott squeamish. Nothing about his own future was clear. "Well, good luck with that." He backed out of the room, crossed the hall, jammed the key in the lock and pushed down on the door handle in one sweeping movement. More yelling and laughter had his head spinning, and he scrambled to close the door to block out the rowdiness. Looking through the peephole, he saw Troy nodding and smiling at the other students passing through the hall. When it seemed like Troy's gaze was trained on his door, he backed away. Heat burned in his cheeks, the way it did every time he ogled a hot guy on the street and got caught. Was Troy, like Scott, assessing the significance of their exchange? Was it significant?
Scott collapsed on to his bed. Anxiousness replaced his earlier excitement. "This is home?" His eyes roved the tiny room with cement walls, the space cold and lifeless — the way he imagined the cells at some secret government detention centre. Maybe it wouldn't be that different from his last year at home when his bedroom had become his prison. And, oddly enough, the only place he could be himself. This room was different. Without his photos, plaques and books, it let him strip away the memories of a childhood he wanted to forget. And maybe it would also be the place that would allow him to become the man he hoped to be.
Suddenly, he could see Troy's tall frame in the doorway and that had him wondering if they'd become friends. Scott never felt like he'd been a friend to anyone, or anyone to him. So, no, he and Troy wouldn't be friends. They'd be the type of neighbours who smiled politely at each other without ever knowing the meaning behind those inquisitive eyes.
He slid his body backwards until his back rested against the cool wall. Already sensing the change occurring in him, the anxiousness began to ebb. This was his time to prove to his family, and perhaps more so to himself, that he could stand on his own. Be a man. It was the only way to shed his mother's perception that he was still her baby in need of mothering. Hadn't he proved that already by working two jobs over the summer, earning a good chunk of spending money for the year? Or by being awarded the scholarship that covered his tuition? His parents paying for his residence and meal plan didn't mean, not to him anyway, that he needed to be coddled. He worried that his parents weren't proud of him and, worst of all, that he was still a disappointment. Yet he was the one, not his brothers, who was going to university. He had a plan, too, to get a master's degree. But it didn't seem like enough to please his mother, who focused so much on him being gay — like that was the whole of his identity when there was so much more to him.
After a time of just sitting there, Scott moved off the bed and began to unpack. He plugged in his CD player and hit the 'Play' button. "For the love of God," he groaned as Mahalia Jackson belted out, 'As the Saints Go Marching In.' Somehow his mother had inserted the CD without him knowing, her subtle message understood: Jesus is my help. Let Him be your help. He removed the CD, replaced it with Tracy Chapman's New Beginning, hung up his clothes and made the bed. Afterwards, he taped posters of Martin Luther King Jr., Pierre E. Trudeau and John F. Kennedy Jr. to the walls. Any surprises in here? he wondered, opening the box with his dictionaries and notebook. He twitched, picked up the pocket-size version of the New Testament and threw it in the waste bin. After arranging the books on the shelves above the desk, he set up his toiletries in the bathroom, thankful that he didn't have to share. His grades made him eligible for the 'Quiet Floor' with all single rooms, and his mother agreed to pay the extra cost. Can this be home after all? He'd just unpacked the cleaning supplies when three solid knocks on the door had him staggering towards it. Opening it cautiously, "Oh," slipped out, then he swallowed hard.
"Interested in grabbing a beer?" Troy asked, placing his hands on each side of the doorframe.
"I'm not old enough yet," Scott said.
"Then how about grabbing a bite to eat?"
"I'm on the meal plan and the food's supposed to be good."
"Let me explain how this works." Troy scratched the top of his dark full mane. "I'm new here, you're new here. You helped me out earlier, so that kind of broke the ice between us. I don't know about you, but I don't know anyone here yet. So you say, 'Yes, sounds like fun,' grab your wallet and keys, and maybe you've made a new friend on your first day in residence."
Scott took a moment to assess the guy standing before him. Something in those hazel eyes instilled equal measures of calm and suspicion. Maybe not suspicion, but a certain hesitancy. He couldn't imagine Troy playing a part, or even willing to for that matter, in one of his secret fantasies. So, what was it that made Scott suspicious? He had no fucking idea. "Sure," was his reluctant reply.
Troy led the way to the stairwell. They barrelled down the three flights of stairs and edged their way through the crowded lobby before emerging outside, squinting at the scorching afternoon sun. Ten minutes later, they were on Bloor Street and ordering drinks at The Soho. Troy handed a twenty-dollar bill to the cashier.
"Thanks," Scott said, moving to collect his latte at the far end of the bar. Then he made his way outside to the small, street-side patio and secured the table being vacated by a grey-haired man. He was nervous. Troy made him nervous, but why? At six-foot-one, he was taller than most people, but Troy towered over him. That made him feel small, insignificant.
"Where are you from?" Troy asked as he fell into the metal chair across from Scott.
"Ottawa. You?"
"Calgary." Troy lifted his paper cup into the air. "Cheers!"
Scott picked up his drink. "Cheers."
"Why'd you choose U of T?" Troy leaned back and stretched out his pale, hairy legs.
Scott tapped his fingers against the lid of his drink. "The scholarship, a chance to live in Toronto … be away from home and family."
"I get that. I just want to be myself and not have to pretend to be someone else."
Scott raised an eyebrow. What does that mean?
Troy brought himself forward in his chair. "Did you leave anyone behind?"
"I'm not sure what you mean."
"I mean … were you seeing anyone?"
"Oh! No. It was a clean break."
"Lucky you." Troy eased back in his chair. "I thought Derek would follow, but in the end he stayed in Calgary. Wasn't ready to leave the nest."
Scott looked down, holding his gaze to his lap. Oh my God!
"Don't worry," Troy said, "this isn't a date."
"Edward went to McGill." Scott levelled his eyes at Troy. "It wasn't serious between us. I needed to be farther away than Montréal. Too close to home."
Troy smirked. "I thought so."
"But this still isn't a date," Scott said with emphasis. "Just two friends out for a coffee together."
"Now we're friends?" Troy chuckled. "Philosophy, English, or you mentioned political science?"
"Probably English."
"What are you going to do with an English degree?"
"Teach, proofread, write." Scott offered a faint smile. "Not all doctors can write."
"Ha-ha."
The afternoon slipped away as they laughed and joked, sharing stories about their families, cautiously revealing their hopes and dreams. They were surprised by how easy it was for them to talk to each other, how unexpectedly they had let their guards down. They headed back to the university in time to eat before the cafeteria closed. Afterwards, they spent the evening in Troy's room, listening to music and drinking beer while playing Gin Rummy.
Scott glanced at his watch, then his eyes widened. "Is it really two?"
"Yes," Troy confirmed and dealt the next hand.
"I better go." Scott slid off the bed.
"Oh, come on." Troy pointed at the piece of paper next to him. "I'm like twenty points away from finally beating your ass."
"We'll finish the game tomorrow."
"It'll take ten minutes. Less if I've dealt myself a perfect hand."
Scott started for the door. "I'm tired. Goodnight, Troy."
"Scott…" Troy bounced off the bed and cornered him at the door. "Do you ever just…"
"Do I ever just what?"
Troy scratched the back of his head. "Get off with a guy? Just to —"
"Are you…" Scott chuckled. "I don't know if you're drunk or just horny. Either way, it doesn't matter. Today was fun, but —"
"I'm sorry," Troy broke in. "It's been nice talking to someone who gets me. Like I said earlier … not having to pretend to be someone else."
"You can be you with me," Scott insisted. "But hitting on your new best friend is weird."
"New best friend? Huh." Troy's lips spread into a broad smile.
Scott opened the door. "We'll finish the game tomorrow. And so you know, in my family I'm known as the comeback kid. Be prepared to have your ass kicked." He stumbled across the hall and, his heart racing, jammed the key in the lock. Pushing the door open, he turned around and his gaze locked on Troy, who'd stepped into the hall. Okay. He's pretty damn hot, but we just met. And I think he gets me, too. So, having sex would screw that up. Right? Besides, I want to try to just be his friend. Scott waved, then rushed into his room and bolted the door. Part of him was tempted to storm back into the hall and into Troy's arms. What was wrong with a little companionship? Everything. Sex changed everything. The other part of him checked that urge because, really, he didn't know what he wanted. Except to be himself. But who was that?
Undressing, he glimpsed the New Testament in the garbage. "Fuck!" He retrieved it, opened the cover and read the inscription: Jesus loves you! And so do I! Mama. He hid it in the desk drawer, climbed into bed and drew in several deep breaths. A startling calm washed over him. Another shift. Despite what he wanted to believe, he wasn't alone. In such an unexpected way, a new friend had come into his life. That gave him hope for the days ahead … no matter what life threw at him.