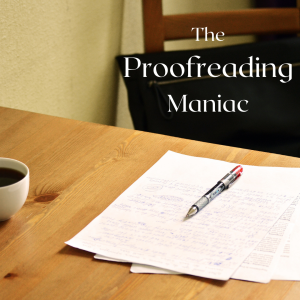 You've written a short story, novel, or a novella. With the editing done, now you're ready to polish your prose. Let the Proofreading Maniac help.
As a writer and published author, I know and value the importance of creating a great reader experience. It's not just about telling a good story, although that's a key element. Ensuring your manuscript is free of errors missed during the editing process is equally important.
How I Can Help
Once your manuscript has been edited (I cannot stress enough the importance of a good editor), I will help make sure your manuscript is ready for publication by:
Correcting spelling, grammar, and punctuation

Checking word choice and variation

Making sure that a text follows a specified style guide or style sheet

Ensuring consistency in capitalization, formatting, numbering, use of abbreviations, etc.
What's Not Included
Before you send your manuscript, it should have already been edited. As a result, the following tasks are outside my remit as a proofreader:
Restructuring, reducing, or clarifying text

Working closely with an author to develop a manuscript

Ensuring that a text is logically structured and flows smoothly between sections

Suggesting changes to content or modifying tables, charts, and images
The above tasks are associated with substantive editing services, which, at this time, I do not offer. Please note: If, in proofreading the manuscript, it becomes immediately evident that significant changes are required, the document will be returned to the author so amendments can be made.
Confidentiality
Your confidentiality is important. No details related to your manuscript will be shared before, during, or after the proofreading process.
Fees (as of 1 January 2023)*
| | |
| --- | --- |
| 0–10,000 words | Flat rate: $25 USD |
| 10,001–85,000 words | $0.004 USD/word ($5 per additional 750 words up to 110,000) |
| 110,001 words and above | Contact for pricing and availability |
* Pricing is subject to change
For a Limited Time…
There is currently a 10% discount for new clients. If you have any questions, or to check availability, please contact me by e-mail (marcus@marcuslopes.ca).
I look forward to working with you to make your manuscript shine!
***
Marcus Lopés is the author of five books, including Broken Man Broke and Everybody but Me. A freelance proofreader, he is certified by Knowadays and also works with Proofed. When he's not writing or proofreading, he's racking up the kilometres running through the streets of Toronto.