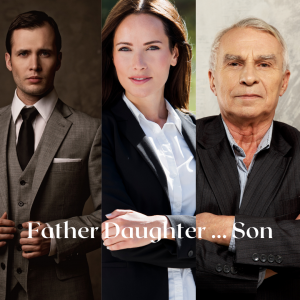 "Why am I here?" Ian glanced at his watch. "It's been a goddamn waste of time."
Karen swatted her brother's arm. "Language. You're in church, not on Third Street turning a trick."
Ian bristled. "I haven't turned a trick in nine years. And for the record, we're in the refectory." When his sister's mouth dropped open, he added, "God, you're gullible."
"You know…" Karen stepped in front of Ian and blocked him from moving away. "This is an important day, and it would be nice to get through it without any drama. So, behave…and watch your language."
"Bite me!" Ian turned slightly away and surveyed the room. Why was he here? Why had he stayed? Now was the time to cut and run until he saw the woman wearing an obnoxious, wide brim black hat coming towards them.
"Don't start," Karen warned. "She means well." Then she stepped forward to accept the hug being offered. "Thanks for being here, Aunt Geraldine."
"I'm so sorry for your loss," Geraldine said after the two women pushed apart.
Ian held up his arms in an 'x' when his aunt turned to him. "I'm good, thanks."
"Ian…" Karen threw him a knowing look.
Geraldine lifted her pudgy arms to adjust her hat. "Such a lovely service."
"Why do people say that?" Ian sucked his teeth. "'Such a lovely service.' It was a bloody funeral, not the Fourth of July."
"I know you're upset," Karen said through gritted teeth, "but your language is—"
"I'm not upset," Ian interrupted. "I barely knew the man."
"He's our father."
Ian opened his mouth but censored himself. His gaze travelled to the front of the room and the glistening bald head sticking out of the casket. That man was his father. In name only. Stopped being his father the day he left for work and never returned…
The light rain and humid air reminded Ian of that mid-August day when he was six. Like he did every morning, he stood on the covered porch of their three-bedroom bungalow on Marlon Avenue and waved as his father backed the beat-up maroon Oldsmobile out of the driveway. Then that evening, at six thirty, he and his siblings sat down for dinner with their concerned-looking mother. His father, a man who followed a rigid routine, was usually home by six. Where was he?
As he and his siblings cleared the table, Ian studied his mother. Her moist eyes, the Marlboro cigarette pinched between her chapped lips, her trembling hand. The panic rattled her voice as she paced the kitchen, the yellow coil handset cord wrapped around her body as she called family and friends to see if her husband had made an unexpected stop on the way home. No one had seen him. She tried a few of his father's work friends, the names she recognized in the small brown address book. Nothing. By ten o'clock, she'd canvassed the local hospitals. Again nothing. Later, huddled with his mother on the living room sofa, they all waited for the front door to open. It never did. Not that night. Or the next night. Or the one after that.
Reginald Fairfield wasn't coming home and didn't want to be found.
The pressure on his arm made Ian flinch. Back from his trip to the past, Karen came into view and he immediately dropped his head. Their older brothers, Ron and Dale, had stayed away. Wanted nothing to do with their father. His leaving was, perhaps, hardest on them because they'd had more time with him. Their mother, too, boycotted the funeral. Why had he come?
Maybe, naively, Ian wanted to believe that forgiveness was in him. That love did trump hate.
Who was he kidding?
He was back thinking about that day, twenty-eight years after his father had left, when he picked up the message from Karen on his voicemail. "Dad called and wants to meet us," was all she'd said. After some hedging, Ian agreed. He and Karen drove to Leaside Memorial Hospital in Melville, a city just fifty miles from Junction where they'd grown up. The woman at the info desk directed them to Room 114, which was located on the cancer ward. When Ian walked into the room, the peanut butter and banana sandwiched he'd had for lunch roiled in his stomach. He recognized the copper-blue eyes of the frail man seated in the chair. They were the one thing they shared.
"Thanks for coming," Reginald Fairfield said and coughed.
"Do you know what happened after you left?" Ian barked.
Karen touched her hand to Ian's arm. "Ian, please…"
Ian jerked his arm away. "She cried. That's all Mom did. She cried herself to sleep every night. It broke her. She lost her job. Almost lost us. And she would have, too, if it hadn't been for Aunt Geraldine and Nanna."
"Don't do this," Karen said.
"But you didn't just leave her." Tears pooled in Ian's eyes and streaked down his face. "You left us. For twenty-eight goddamn years we never heard a word and now…" He wiped his face with the back of his hand. "Shame. Shame on you."
"I'm sorry," Reginald said in a whisper.
Ian chuckled and turned to Karen. "He's sorry."
"I made mistakes," Reginald croaked. "And—"
"And what?" Ian folded his arms. "Because you're dying, you think you get a free pass?"
"Ian, let me explain," Reginald pleaded.
"It doesn't matter why you left, Reginald. You abandoned us. You're a coward." Ian's arms dropped to his sides. "And, God help me, but I hope you suffer."
Karen gasped. "Ian!"
Ian looked at his sister. "Stay if you want, but I'll be in the car." He spun around and walked out of the room.
© 2021
Background image found on canva.com