I'm a passenger on my creative journey, not the driver. I think I always knew that, but it struck me yesterday as we sped eastward along the 401 after spending a couple of hours at the Aberfoyle Flea Market. With my gaze fixed on the rolling landscape, I thought about where I've been, where I am and where I still hope to go. It also had me thinking about how it all began.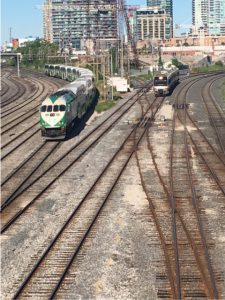 My first "contact," if you will, with the arts came through music. At age six I started piano lessons, and shortly thereafter I was performing in church and in the spotlight from which I tried desperately to escape. In my early twenties, I turned away from music. Perhaps it was a way for me to affirm who I was. My parents saw it as an "act of rebellion" but I just had other ideas about my life. I didn't see myself as a church organist, nor did I have any desire for a professional music career. Perhaps, too, I was just scared and that I had bought into the belief — preached at me by my family — that a life in music, and the arts in general, was a dead end that would only lead to a life of alcoholism and drug addictions. Did I really want to end up like that? My mother prayed that I wouldn't!
But by the time I finished my undergraduate degree in French literature, I knew that I wanted to be a writer. I poured my heart and soul into writing, and good things finally happened. My short stories, poems and essays were published. And then, after a lot of hard work and weathering the flood of rejection letters, my first novel was published. Writing began to bear fruit.
When I moved to Ottawa in 1999, it was the first time in my life that I didn't have regular access to a piano. The only times I played were when I returned to Halifax to visit family. As I pursued my writing, I felt that something was still missing. I wasn't sure at the time what that something missing was. After a long absence, I had returned to painting yet, still, I couldn't shake that feeling of something missing.
A week after I'd started a new job in 2004, providence moved. One of my colleagues mentioned that the person whose position I had taken was looking to sell her baby grand piano to make room for the incoming grand. Without batting an eyelash, I swooped in and bought the piano. That feeling of something missing had ebbed. I was making music again.
From 2005 to 2013, I bounced creatively between music, painting and writing. Some days I ended up completely lost in my writing, and that was all that I can do. Any other creative projects ground to a halt. Other days, I scrambled between my office and my painting studio to work on a new series. Then I found myself showing up at the piano not just to practice but to compose. And the music rained down on me in hard pounding sheets, and I struggled to take it all down, to let "God" or the "Universe" work through me in a new way.
I've faced many turns on my creative path, and as a passenger, I wasn't always certain where I'd end up. When I took a new job in early 2013, I didn't foresee how things would change. I've been focused singly on my writing (my piano and painting supplies remain in storage). But something feels different. I don't feel like I'm "missing" something. I feel like I'm where I'm supposed to be, doing what I've been called to do.
I am trying to make the most of this life and to follow my heart's true desire. As Laura Vanderkam encouraged in her TED Talk, How to Gain Control of Your Free Time: "When we focus on what matters, we build the lives we want, in the time we have."
I don't mind being a passenger. The journey is pretty sweet.
Are you on a journey, creative or otherwise? Do you see yourself as a passenger or a driver? Let me know in the comments section below.
Free Short Story
Is Parker looking for love in all the wrong places? Sign up to receive your copy of "The App," and join him for the ride of his life!