That's a song by singer-songwriter Laura Smith, from her 1994 album B'tween the Earth and My Soul. It might be a song about love and relationships, but its message carries over into life in general. Especially the title of the song, which has stayed with me since discovering Smith's music back in the 1990s. And it's resonating with me even more in these early days of 2018. Mostly because I'm feeling stuck and unable to really get moving. I know I have to do something. And the song captures exactly what I'm thinking: "What do you do? / You know you've got to do something / A lot of good stuff's piling up / And some good stuff's falling apart."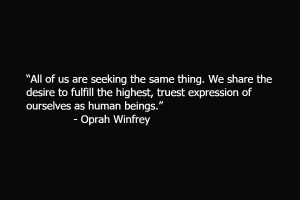 It feels like I'm falling apart, so what do I do? Let me be candid: I need to clean up my own backyard.
Where I need to start isn't as obvious as I thought. Something is happening in my life, and I'm not sure what exactly it is. A shift? A transformation? An awakening?
It's not the usual restlessness I feel when I've completed a major writing project and look for the next one to begin. Nor is it the usual anxiousness I feel as I get ready to head to my day job. It's not, either, the frustration that overwhelms as I try to jam-pack my day to be super productive and come up short.
It's something different — foreign, that I haven't felt before — and I think that's what scares me the most.
This is, perhaps in the most uncomfortable way, life speaking to me. In her book, The Wisdom of Sundays, Oprah Winfrey challenges us this way: "Your life is always speaking to you. The fundamental spiritual question is: Will you listen?"
I'm listening. The answer isn't right in front of me, and could still be galaxies away. But I'm keeping my ear tuned to the Universe and what it wants to say to me. In the meantime, this is what I'm going to do.
Change My Attitude and How I See Myself in the World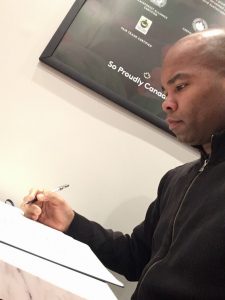 As a writer, one of the greatest challenges I face is navigating the minefield of doubt. A bad review, a 1- or 2-star rating on my book, a negative comment by a social media troll, a rejection letter — they all have the power to instantly transform how I see myself. In a word: they can make me doubt my worth — not only as a writer, but also as a person.
Changing my attitude translate this way: I must stop chasing someone else's idea of success. Yes, I want to be a successful indie author. I want people to want to read my books and wait for each new release with baited breath. And in pursuit of 'success,' I've bought numerous books promising to show me how to corner the market, decrypt the Amazon logarithm, or how to become an Amazon bestselling author. I've subscribed to countless e-mail lists — usually lured in by an offer of a free book — with promises of showing me how to leverage social media to increase book sales or learning the book marketing strategies employed by bestselling authors. The e-mails especially arrive daily, or several times a day, and I find I can no longer keep up. Now I'm asking myself, what is success?
I don't know. The success achieved by the likes of Stephen King, J.K. Rowling, Danielle Steel et. al. looks alluring. I love writing — it's my calling — I'm just not sure, when I'm honest with myself, if that's the level of success I'm really aiming for. Maybe it's because, despite numerous attempts over the years, I haven't figured out how to successfully manage my day-to-day? You know, the day job. Writing and editing. Blogging. Social media engagement. Keeping fit and staying active. Fulfilling home responsibilities and nurturing my relationship with my partner. Keeping in contact with family and friends.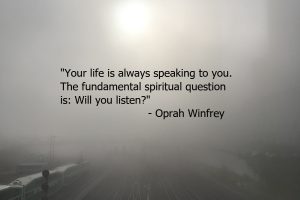 It's a challenge all creatives face. It feels like success depends so much on how well you 'play the game.' Maybe I'm not playing it well, or at all. But I don't know how much more I can squeeze on my plate without ending up flat on my back from exhaustion.
My goal now is to focus on what's within my control and not worry about what others are doing, or if they're doing better than me. I will do the things I'm comfortable doing. I will believe in myself and never give up.
Getting Sober
I'm a social drinker. I love a nice glass of wine with dinner, or in the summer catching up with friends over beers on a patio. My day job (flight attendant) has me crossing time zones several times a week. While I handle jet lag pretty well, I noticed over the past couple of months how I've had a harder time falling and staying asleep. So much so that it warranted a visit to my doctor earlier this week. When melatonin stopped working, I switched to over-the-counter sleep aids; the latter left me feeling drained and zombie-like the next day. I don't like that feeling and knew I had to do something.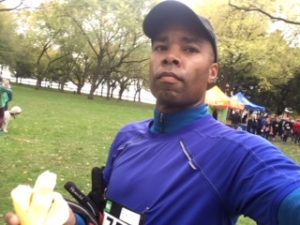 Before I saw my doctor, I decided to give up alcohol. I had already significantly reduced my alcohol consumption over the previous months. When I didn't have a drink, say, for a week, I felt I had more energy during the day and noticed an increase in my productivity. Running, too, felt easier. And you know what? I didn't miss drinking. Like with caffeine, which I gave up in October 2016.
Yes, I'm going sober because I want — need — to improve my quality of sleep. I want to be the best at what I do, and I believe, as Russ Perry points out in The Sober Entrepreneur: Change your Family Tree, "getting rid of alcohol will help you [me] on that path." I want to wake up every morning in control of my life and where I'm looking to go. I want to do all I can to achieve the life I want.
That means taking care of my body. That's never been more relevant as I continue to battle a cold that's lingered since New Year's Day. Maybe it's my body telling me to slow down, get back to basics and focus on what matters. I'm listening as life speaks to me. Over the years, I've read in numbers books and publications the story of Arianna Huffington, and how in 2007 she collapsed from exhaustion two years after founding the Huffington Post. That was the cost of her chasing society's definition of success, and had her asking herself if that really was success? I don't want to end up like that. Really, who does…?
Living with Intention
So what does "cleaning up your own backyard" really mean for me? It's about intention. It is about being mindful of my thoughts and the choices I make that help shape the life I'm living. It's why, too, I'll continue to write about the issues that move me. I can't worry or stress about becoming a New York Times bestselling author or landing the #1 spot in Amazon's Kindle store. If I focus on what's important to me and write what's in my heart, the greatest joy comes when I receive, as I did just last week, a message from a reader that said: "Thanks for writing such a great book." That to me is success.
Aha! I think I now know why I'm in 'distress.'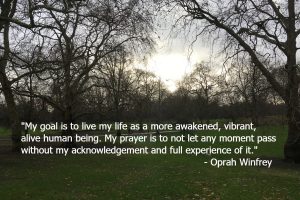 In cleaning up my own backyard, I'm on a journey to connect with the deepest part of myself. It's an ever-evolving journey about who I want to be and how that me can thrive in all aspects of my life. Life isn't a race, and for me it certainly isn't a competition. It's about being, or becoming, the best I can be and offering that version of myself to the world. I'm not exactly where I think I belong and I keep trying — despite all the signs — to make it fit. I need to get to a place of belonging. I need to step out on faith.
Again, Oprah Winfrey sums it up best: "My goal is to live my life as a more awakened, vibrant, alive human being. My prayer is to not let any moment pass without my acknowledgement and full experience of it."
Do you need to clean up your own backyard? Are you listening as life speaks to you? Are you moving, with confidence and power, in the direction of your dreams? Are you in your place of belonging? Let me know in the comments section below.