I boldly declared 2015 my Year of Selfishness. Fast forward to today, and "selfishness" is an inherent theme in my life. In a word: It's become my modus operandi.
Let's back up a minute. When I talk about selfishness, I'm not subscribing to the traditional definition of the root word, selfish: "(Of a person, action, or motive) lacking consideration for other people; concerned chiefly with one's own personal profit or pleasure," as defined by the Oxford Dictionary. I am not without consideration for other people, nor am I mainly obsessed with my own "personal profit or pleasure."
Selfishness, as my modus operandi, is about me acknowledging what it is that I want to achieve and have the courage to go after it. It means that I must be willing to put myself first, which I've discovered is sometimes difficult to do. I don't want to let down my partner, friends or family. I don't want them to feel like I've abandoned them. But if I'm not being true to who I am, or if I'm not feeling like I'm moving confidently in the direction of my dreams, how can I be there for anyone else when I haven't been there for myself? Wouldn't that mean that I'm the one who I've abandoned…?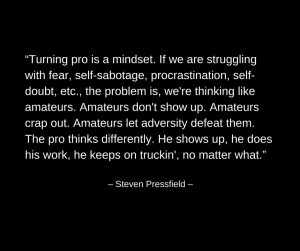 Selfishness is about me committing to realizing my dreams, to achieving my greatest potential. And it's not easy. What remains most elusive is the idea of balance. The challenge is to not let myself get caught up in the hustle and bustle of life, to resist the temptation to rush, rush, rush. I've never been concerned about aging, but when I turned thirty it felt like time suddenly sped up. Like I blinked and my thirties were over. Now I'm approaching my mid-forties and it feels like I'm trying to keep up, to do everything in life that I want to do. (It's not just about writing and publishing more books, but also honing my culinary skills, learning to row and build strength, someday take tennis lessons, discover how I can help change the world for the better — be the best I can be.) So you can see, some dreams have become reality and other goals have been achieved, yet I still feel like I have to rush, rush, rush in order to get everything else done — check off the items on my growing bucket list. That temptation to rush intensifies, and I teeter on the verge of "craziness," as other goals and dreams stall. What do I have to do to get them moving again? And is there enough time in each day to do it all?
This much I know is true: I must hold fast, hold strong.
I look at my to-do list for today, and I've tackled my top three priorities. There was a question mark beside "Run," and despite the humidity and a strong will to put it off, I ran five kilometres. I did some preparation for an upcoming training session. I also wrote next week's installment of my Twitter Fiction Tuesdays series. Writing this blog post wasn't on my to-do list, or even on my radar. It goes to show that I have to go with the flow, and give thanks to Gregory Josephs (check out his blog) for pointing me to the WordPress Daily Prompt that got me writing in an unexpected way.
The age-old adage to take life "one day at a time" is sometimes a hard pill to swallow, but I try. I do what I can in a day and try to be happy in all that I accomplish. I try (not always easy) to not chastise myself for things not done. I try, always (again, not easy) to celebrate all that I achieve. That might just be the secret to every day being better than the next, every year outdoing the previous. I am committed to the journey, which I hope will take me to a new, better and different place. After all, I have learned that balance inevitably creates a natural ebb and flow to life.
Arthur Ashe said it best: "Start where you are. Use what you have. Do what you can."
I'm committed to this writing life, wherever it may lead.
Are you committed to achieving your goals and life purpose? Let me know in the comments below what small step forward you took today.
This post is in response to the WordPress Daily Prompt for June 23, 2017: Commit.