It's Monday morning, and I returned a short time ago from my run. Since my vacation at the end of September that stretched into the middle of October, I've been getting up around 4:30. (All my life I've been, bon gré mal gré, a morning person.) I love the quietness of that time of day when I can actually hear myself think. Getting up early, I start the day by writing my Morning Pages, then head out for a run. In the middle of September, I was inspired by a colleague (he's completed the Iron Man Triathlon) to challenge myself more when it came to running. I'd been in a "rut" of putting in four-kilometre runs. Working slowly but steadily, I increased my distance from four to ten kilometre; the latter has now become my minimum running distance.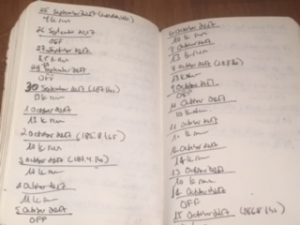 At this point, maybe you're asking, "What's the point?"
The point is this. For me, there are a lot of parallels between running and writing. To improve in both, you have to show up regularly. Depending on my work schedule, I run four to five times a week. I write every day. There are days when I don't feel like writing or running, or when the writing feels stale or that I'm running uphill. There are days when I don't feel like I have the courage, or the will, to carry on. There are days when I doubt my talent as a writer and my ability as a runner. I forget just how far I've come over the years.
My runs the last two days weren't easy. My legs felt like lead about midway through, and there were moments when I considered stopping and walking the rest of the way home. But I didn't. I dug deep and kept going. When I think about giving up, when I'm not sure I have the courage to go on, there are certain quotes that inspire me and keep me motivated. Today, I wanted to share a few of them with you:
"The world belongs to those who think and act with it, who keep a finger on its pulse." – William R. Inge
"Keep your dreams alive. Understand to achieve anything requires faith and belief in yourself, vision, hard work, determination, and dedication. Remember all things are possible for those who believe." – Gail Devers
"The biggest adventure you can take is to live the life of your dreams." – Oprah Winfrey
"If you don't like the road you're walking, start paving another one." – Dolly Parton
"To accomplish great things, we must not only act, but also dream; not only plan, but also believe." – Anatole France
Now, I've already chased away my Monday morning blues. I'll be brave and keep on doing what it is that I love to do. What about you?
When you're in need of a little dose of inspiration or motivation, what do you do? Do you have a favourite quote or quotes that you turn to? Let me know in the comments section below.