Some things stick to you the way the goodness of Martha Stewart's golden caramels cling to all the tiny crevasses of your teeth (here's the recipe; my peeps rave about them when I make them à la Marcus). And since discovering it years ago, Eleanor Roosevelt's advice has stuck to me: "You must do the thing you think you cannot do." It's been a compelling call to action to rise up.
Almost Ready to Give Up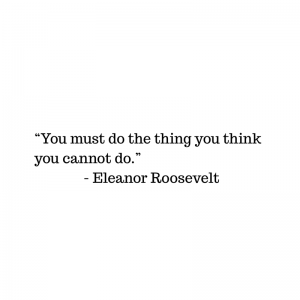 After my tumble a few weeks ago — my ego more bruised than my knee — I wasn't sure I'd run again. Or that I even wanted to. But even before the pain had ebbed, I was out on the running trail again, racking up the kilometres.
At 5:30, I'm one of the early morning regulars running along the Martin Goodman Trail. And after my fall, I had to think about why I'd started running in the first place. In the beginning, it was about living an active and healthy lifestyle. And today, that's still a big part as to why I run. But now, running 10k, 13k or 16k, I'm challenging myself to do better — improve my pace and endurance, maintain my ideal weight. And something else. Roosevelt's words kept poking at me and had me asking another question: Was there something I could do that I thought I couldn't?
Whoa! I wasn't ready for the answer: run a marathon.
What?
Rise Up
After achieving a personal best for a half-marathon in 2010, I 'retired' from racing. Didn't want to put in the time training for another race, or that was what I told myself. Deep down, I didn't think I had it in me to run more than 21k. But early in July while in London (UK), I reread a chapter from Jack Canfield's The Success Principles and was inspired to write a '30 Things to Do' list. Number 13 on that list? Run a marathon. And then, upon my return to Toronto, I signed up for the 2019 Scotiabank Toronto Waterfront Marathon.
The fall taught me a powerful lesson. It was time to rise up to the power of who I am, to who I can become. One way to do that was to take on the one thing I thought I couldn't do. And on 20 October 2019, I will give life to Roosevelt's words. No more letting my limit beliefs hold me back.
Is there one thing you think you cannot do? Will you step out on faith and take up the challenge? Click Reply to let me know. I'd love to hear from you!