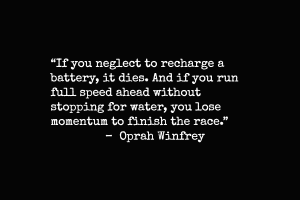 I published my first blog post back in June 2009, and one theme that has resurfaced several times over the years is the idea of rest. Even though I know I should take a break — let my body rest — I don't do it often enough. There are too many projects I want to finish (publish my third book this fall, get back to writing a new series, etc.), and between work and other life responsibilities it doesn't always seem like there's enough time to do it all.
So, I'm going to take a little time out. For the next two weeks, I'm going to share some of my most popular posts. Hope you enjoy them!
Changing the Script: On Writing and Sobriety
On 17 January 2018, I stopped drinking. Not because I was being pressured to. Not because I didn't know my limit. Not because alcohol was ravaging my life. I gave it up because, like Oprah Winfrey, I had an 'aha' moment. Reading Winfrey's The Wisdom of Sundays and Russ Perry's The Sober Entrepreneur created so many aha moments that I thought I was going to suffer some type of breakdown. I couldn't keep up with the big life questions being thrown at me. Then I ended up frustrated because I couldn't hear the answers.
Let me be honest. I wasn't open to hearing the answer to this one question: Was I happy where I was in life? No.
It thundered from all sides, cut through to my core. No, I wasn't 'happy' with my life because I wasn't where I wanted to be or living the life I'd imagined for myself. And if I wanted to bring that vision to life, I had to make changes. Otherwise, I'd end up stranded and not doing much of anything when what I really wanted was to be the best version of myself. Or, as Winfrey writes: "All of us are seeking the same thing. We share the desire to fulfill the highest, truest expression of ourselves as human beings."
Read the full blog post here.
Do You Know Who You Are?
I didn't always want to be a writer.
What? What did he just say?
Let me back up a moment. I didn't always know that I wanted to be a writer. That's because I kept running away from who I really was.
In this journey called life, there are moments that change not only our lives but, more importantly, how we see ourselves in the world. They define us. These moments ask, "Why am I here?" For some people, the answer is clear. They know exactly why they're here, know what they want to achieve and boldly go after it. For others, it's more drawn-out and 'complicated.' It's more like a pilgrimage, but it feels like you're going nowhere fast. For a long time, I fell into the latter group and meandered through life without a clear purpose, without landing in a place of belonging.
Read the full blog post here.