In my early twenties, I realized I wanted to be a writer. Not a writer who wrote just for the love of it. A writer — a bestselling author whose books inspire and stay with readers long after they put them down. And even though I'd been honest with myself and acknowledged my dream, I acted like someone who was ashamed of it. Who was I to want to be a writer? What did I have to say? And would people care or listen? That was the doubt speaking. And while I did write, I approached it half-heartedly, still believing that it was nothing but a silly dream. I suffered from the One Day Syndrome. "One day," became my mantra. "One day I'll make my dream come true."
Owning Others' Beliefs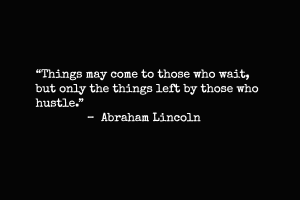 With my dream tucked nicely away, I carried on with life, kind of on autopilot. That is, I did what others expected of me. Worked the nine-to-five job, cramming my writing and creative ambitions around it. Had to pay the rent, put food on the table, yada yada ya. With so many people telling me how hard it was to succeed as a writer, I believed them. Yet I still thought that 'one day' I'd make a stab at it, see for myself if it was impossible.
Years slipped by, and nothing really changed. Granted, I had had some success with my short stories, essays and poems, which appeared in numerous literary journals. But I wasn't living the life I imagined, still saddled with the One Day Syndrome. One day I'll commit to my writing dreams. One day I'll make success a 'must.' Yes, by the grace of God, one day I'll live intentionally.
'One Day' is Now
We can spend our entire lives saying, "One day I'll apply for a new job" or "One day I'll write that novel." And we keep saying "One day" to stave off our fears. Fear of being rejected. Fear of not finishing. And, perhaps worst of all, fear of the world watching us fail. But what's worse: Waiting twenty years ("One day I'll…") to trying something and fail? Or trying it today and failing? If you go for it today and fail, you have the opportunity to get up tomorrow and try again. Twenty years from now, that may not be the case. And, who knows? You might actually succeed!
Don't Follow My Example
When my first book came out in 2011, it flopped. Big time. I mean, it sucked. A hard failure to digest, I repeatedly told myself, "One day I'll try again." Caught up in the fear of another catastrophic failure, it took me six years to publish my next book. The One Day Syndrome had won the day until I finally decided to take action despite the risk.
Don't wait. The longer you keep saying, "One day," the longer it'll take to realize your dreams. Don't let fear, or someone else's limiting beliefs, hold you back. Be bold. Do what is in your heart or what you feel called to do today!
Are you letting the 'One Day Syndrome' have dominion over you? What's holding you back from pursuing your dream? Click Reply or leave a comment in the section below. I'd love to hear from you.