I'm not ashamed to say it: I'm socially awkward. It's one reason I like being a writer. Through words, I create worlds where I fit in and can be me. Places where I can bring the joy.
A Slow Walk to Truth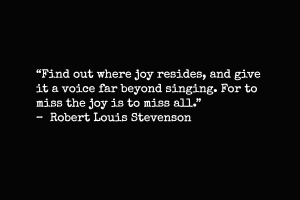 Growing up, I studied piano and displayed a 'natural' talent for it. But I dreaded the year-end concerts, playing in church or being the guest soloist at special services. Just the idea of performing in public set my insides on fire. I didn't like the spotlight, and eventually stepped away from public performances for a long time.
But late in 2018, I became intentional about personal growth and development because I wanted to change my life. Slowly, I realized my limiting beliefs about not being worthy enough or deserving enough held me back from achieving my dreams. And something more. I wasn't doing the necessary work to bring my dreams to life. If I really wanted to succeed, I had to step out of my comfort zone. Was I ready? Finally … yes.
Be Intentional
Being intentional about personal growth involves a change in mindset. It requires, for me anyway, a positive attitude and outlook on life. Not easy some days, but necessary. One way to do it, though, is by committing to bring the joy every day. So, I set three reminders on my phone — at 7:00 am, noon and 5:00 pm — to bring the joy. What that means to me is to be, in each moment, present and give my full attention to what I'm doing. Because when I'm fully engaged in doing what I love, I'm heeding the call, living out my purpose. That's the moment I bring the joy.
But it's also important to bring the joy to others, and I try to do that each day through a simple act of kindness — a thank-you, a smile, showing my appreciation for their presence in my life. In Dublin a couple of weeks ago, determined to step into my discomfort zone, I decided to bring the joy to people I didn't know.
Bring the Joy
After almost talking myself out of it, I left my hotel and walked to Heuston Station where there's a piano for anyone to play. It's there to inspire people to share music with others. Even though my insides were on fire and my hands trembled, I sat down on the piano bench and played a medley of old-time gospel spirituals. Into the third song, a woman appeared at my side and watched me play. By this point, my stomach was carousing with my kidneys and liver. Afterwards, she asked me the name of the last song. "This is the Day," I told her.
"I thought I recognized it," she said, beaming.
That sparked a ten-minute conversation about music and life. I learned she was heading home after a trip to the northern part of Ireland. She's also a pianist, plays the cello and has a sister-in-law who lives in Calgary. The joy radiated in her voice as she recounted her trip to Canada years ago, remarking how polite and courteous Canadians were to her. She thanked me for the music and parted with a smile.
Oh, What a Feeling!
Despite my own discomfort, and a natural inclination to shy away from the spotlight, that day I had brought the joy. In perhaps the simplest of ways, I'd brightened someone's day. That felt good.
So, tomorrow I'll try again to bring the joy.
What's one thing you could do today to bring the joy? Click Reply to share it with the world. I'd love to hear from you!