This week marks an important milestone for me because two years ago, on 17 January 2020, I stopped drinking. Cold turkey. No weaning myself off it. No crisis forcing me to. Just a desire to change my life.
Then, as now, choosing sobriety is a part of my journey to become the best version of myself. In her book, The Wisdom of Sundays, Oprah Winfrey writes: "All of us are seeking the same thing. We share the desire to fulfill the highest, truest expression of ourselves as human beings."[note]Oprah Winfrey, The Wisdom of Sundays: Life-Changing Insights from Super Soul Conversations, Flatiron Books, 2017, p. 8.[/note] That's why I'm choosing to stay sober. I want to live my best life.
The Upside of Not Drinking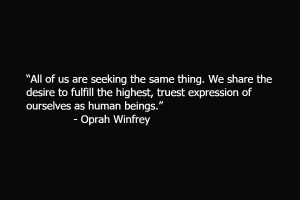 I've been running since 2008. I started because I wasn't happy with my body, weighing, then, close to 200 lbs. Running alone didn't really change anything, not in terms of my weight. I lost a few pounds, but the benefit was that I was active and moving regularly.
Fast forward to January 2018, my weight hovered around 190 lbs. Giving up alcohol also made me think about other areas of my life. While I've always been a home cook (I do my best not to eat processed foods), I realized I still had to make smarter food choices. And it paid off. Six months after I stopped drinking, I dropped twenty-four pounds — and have held steady ever since.
Staying Sober
I could go back to drinking, enjoying that precarious 'happy hour' with friends and colleagues, but I'm choosing to stay sober. Why?
Sober, I'm living my best life.
Sober, the world sees the truest expression of who I am.
Yes, sober, I know I am enough.
What change in your life have you made and stuck with? How has it changed your life? Click Reply to share your thought. I love hearing from you!