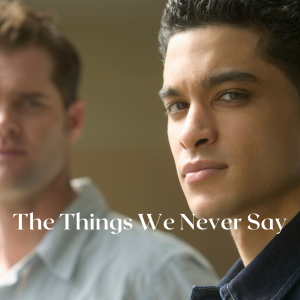 "Who are you again?" Ryan asked with an edge as he shook the hand of the olive-skinned man who'd just introduced himself.
"I'm Toby—"
"I caught your name," Ryan interrupted. "How did you know Mitch?"
Toby let out a nervous laugh. "We were friends."
"I don't recall Mitch ever mentioning you." Ryan studied the attractive blond with boyish looks who couldn't have been older than twenty-five. Maybe younger. "Were you one of his students?"
"Yes. I took his political theory class as part of my undergrad." Toby bit his lip. "He probably didn't mention me because…that would have complicated things."
Ryan shrugged. "Complicated what?"
"Mitch was…" Toby dropped his head, then quickly brought it up. "Mitch and I were more than just friends."
It happened so quickly that Ryan had no control as his fist flew through the air. Struck the side of Toby's Romanesque nose and sent him tumbling to the floor. Then he repeatedly flexed his stinging hand, trying to will the pain away as he stared down at Toby. "You have some nerve coming here today."
Toby, pinching his nose, slowly lifted himself up. "I loved him, too. And he loved me."
A bearish brunette appeared at Ryan's side. "What's going on?"
Ryan pointed at Toby. "Sam, he needs to go."
"Mitch only stayed with you because he was sick," Toby spat. "Had he lived—"
Sam stepped in front of Ryan as he readied to strike another blow. "It's not worth it. You know that." He cupped his hands to Ryan's shoulders. "Let me take care of this."
Ryan, blinking back his tears, twisted out of Sam's grasp, spun around, and edged his way through the crowd to the kitchen. Grabbed a beer from the fridge, then stormed outside.
Was everything he thought was true a lie?
Ryan installed himself at the built-in dining table on the deck and stared blindly at the label on the beer bottle. He had no intention of drinking it. Mitch was the beer drinker, and it had been in the fridge since before he began to deteriorate. And now, whenever Ryan opened the fridge, he thought about all the times he came home to find Mitch clutching a beer and hunched over a stack of papers. "Term papers," Mitch said as soon as Ryan stepped onto the deck. "I correct exams sober." That always made Ryan chuckle. Even now, his lips curled at the thought.
What had happened to them? They started dating during shortly after they met during the first semester of their graduate studies. That was fourteen years ago. Just clicked and, like they both often said, knew that they each were the other's 'the one.' Talked with a brutal bluntness that made their friends squirm. Ravaged each other almost nightly, unless one of them had a cold. That didn't always stop them. Vacationed together. Sometimes travelled. Often hid out at home. They'd been happy together. Right?
Ryan cranked his head upwards at the hand pressing down on his shoulder and offered an appreciative smile. "Sam to the rescue."
"Where did you learn to throw a punch like that?" Sam asked as he sat down next to Ryan. "I think you broke his nose."
"Good," Ryan said harshly. "Who shows up to a wake and says to the grieving widower, 'By the way, I was screwing your husband.'"
"That piddly thing and Mitch were…" Sam shook his head. "Not Mitch. He loved you."
"Mitch wasn't perfect." Ryan stared into his best friend's acorn-brown eyes. "And, news flash, neither am I."
"You and Mitch were perfect together," Sam said bluntly.
"We looked perfect together. That was what we wanted the world to see." Ryan rubbed his eye, then levelled his gaze at Sam. "Sometimes you stay because staying is easier. Too afraid to start again, to believe that anyone would want you."
Sam's eyes widened. "Are you talking about you or Mitch?"
"I'm just…" Ryan drew in a breath. "Maybe Toby showing up was a good thing. Maybe I'm finally ready to be honest with myself about Mitch. I love him. I loved him. It just wasn't the same as when we first met. And I don't know if he felt the same because…" The words lodged at the back of his throat. "We didn't talk. Didn't have sex. Barely looked at each other. Then I think he thought…"
"Thought what?" Sam asked.
"That you and…because of us always meeting for dinner and drinks." Ryan threw Sam a knowing look. "I did everything to put off home, especially after Mitch moved into the guest bedroom two years ago."
"Nothing ever happened between you and me," Sam said, matter-of-fact. "Mitch knew that."
"And he knew he wasn't my first choice," flew out of Ryan's mouth and he dropped his head. "Forget I said that."
Sam leaned back slightly. "Who was your first choice?"
After a long silence, Ryan whispered, "You."
"Me?" Sam's voice spiked. "But you… I never… Why didn't you say anything?"
"I tried," Ryan said with an air of defeat. "In a thousand different ways. But you always brushed it off. Then Mitch came along. One night he and I got drunk together and then… Here we are."
"Ryan, I'm—"
"Don't." Ryan shook his head. "Don't you dare say you're sorry."
"I wasn't going to apologize," Sam said and smirked.
Ryan couldn't stop his lips from curling at Sam's knowing smile. Was it a recognition of something more significant beyond their friendship? "Anyway, it was a long time ago."
"So…" Sam loosened his tie. "That was how you felt fourteen years ago. What about now?"
Ryan bristled. "You're asking me that today?"
"You brought it up," Sam shot back.
"I…" Ryan, dodging Sam's gaze, stood. "I can't do this right now." He'd barely taken one step when the warm hand wrapped around his wrist. Then he couldn't help himself and looked at Sam. There it was. The message in those acorn-brown eyes that he'd waited more than a decade to hear. But, suddenly, he wasn't sure if he was ready for it, or if, ultimately, it mattered. Then when Sam stood and closed the distance between them, Ryan's legs almost gave out on him. "Sam, no…this isn't the place—"
But it was too late. Sam's mouth had covered his before he could protest. As the kiss gained momentum, Ryan placed his hands on Sam's chest and shoved. As Sam took a step forward, Ryan took a matching one backwards and pointed at the house. "I should get back to my guests." He headed for the patio doors.
"You were right, you know," Sam called out.
Ryan, about to open the door, shrugged. "Right about what?"
"You tried to tell me how you felt and I brushed it off," Sam said ruefully. "Because I thought you deserved better. I was a bartender still trying to figure out what to do with my life."
"What you did didn't bother me." Ryan pushed open the door. "Because I saw who you could become."
***
"Do you want to talk about it?"
Ryan, loading the dishwasher, glanced at the silver-haired woman packing the leftovers into plastic containers. "Talk about what?"
"Watch your tone, mister," Pamela said. She was Ryan's mother and had flown in from Dartmouth for Mitch's funeral. "Do you want to talk about what happened on the back veranda earlier?"
"You saw that?" Ryan asked, panicked, and stood up straight. "Did anyone else?"
Pamela secured a lid on one of the containers. "I thought for sure that you'd have ended up with Sam. Mitch was nice…for a—"
"Mama, don't say it," Ryan pleaded.
"For a white man."
Ryan covered his face in his hands. "You said it."
"But Sam has soul."
Ryan uncovered his face. "You didn't think he had soul that time we came to visit and he started clapping and dancing in church. You tugged on his arm, tried to get him to sit."
"Said he had soul." Pamela shot him her don't-contradict-me look. "Didn't say he had rhythm. But you…you never looked at Mitch the way you do Sam."
"Mama, I just buried Mitch. I really don't want to have this conversation right now."
"What did I tell you about your tone?" She tasted a brownie, then added, "And that's always been your problem. You keep putting off saying the things that need to be said."
"I think that's everything," Sam said when he came into the kitchen carrying a tray of dirty plates and glasses. "Anything else I can do before I head out?"
"Yes." Pamela pointed at Ryan, then Sam. "You two need to talk." She grabbed her brownie and left the room.
Ryan trained his gaze at Sam. "She's right. I'm just worried about what happens to us next…"
Ryan and Sam settled in at the kitchen bar-counter, each nursing a glass of the Wolf Blass sauvignon blanc. For several minutes, they didn't say anything, just let the tick tock of the clock hammer the silence while their eyes roved the room.
"I don't hear anything!" Pamela shouted from the living room.
Ryan smirked. "I'm supposed to think she has my best interests in mind."
"She's your mom." Sam traced his finger around the rim of his wineglass. "She's always had your back. Look, Ryan…I shouldn't have kissed you. I mean, I'm glad I did. I just shouldn't have done it today."
"Some would say better late than never." Ryan flicked his eyebrows and grinned. "Oh, come on. I really need to laugh today. And I love seeing your smile."
"I wish—"
"Don't do that, Sam," Ryan interrupted. "We can't change the past. We both made choices, and we have to live with them. I did truly love Mitch, and, for the better part of fourteen years, we were happy. But you and me… From the day we met, we didn't have to work at our friendship. Everything just came naturally. Or at least I think it did."
"It did," Sam said with emphasis. "You laughed at my off-colour jokes. Encouraged me, when I was ready, to get my degree."
"Remember those all-nighters we pulled before your finals? Me testing your knowledge of the materials—"
"And barely able to keep your eyes open." Sam chuckled. "We were good together."
"Maybe we still can be, in a new way, if you're up for it. But if you're not—"
"Ryan…" Sam made an urgent play for his hand. "I let you go once. I won't make that mistake twice."
© 2021