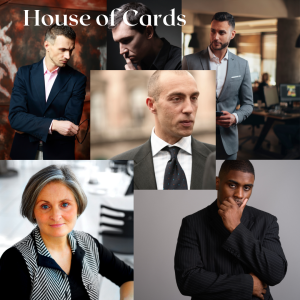 This is a continuation of 'An Uneasy Alliance'
Ten minutes after leaving Josh and Brian, Michael mentally scrutinized the plan to which they'd just agreed. Well, he had laid out a plan that was, he could see now, far from perfect. Even though Josh and Brian hadn't protested, perhaps their silence signalled their uncertainty about his assessment. Did he believe it himself? He ran through in his mind everything that had happened since Brian had manifested in front of him that day on St John's Wood Terrace in London. The pieces kept shifting, some clicking into place, others…
"I'll be damned!" Michael slammed a fist against the steering wheel. It had become increasingly obvious that they'd all been played, but it was in that moment that all of the pieces finally slid into the right positions. And it blew his mind.
There was no way he could back down now. And despite the imperfections in his own plan, the only choice was to go through with it. He pulled out his phone and placed the first call to Brian. He informed him of the necessity to delay the implementation of their plan by thirty minutes. Brian acquiesced, as did Josh, who Michael called immediately after hanging up on Brian. They needed backup, and for that Michael knew there was only one person he could trust.
"You're not in bed yet, are you?" he said into the line.
"This day is far from over," Superintendent Daniels said. "Besides, someone still has Betsy and she's my ride home. And she better still be in one piece."
"Mostly." Michael snickered. "Are you ready to put this mess to bed once and for all?"
"I was ready hours ago," Daniels said. "Has something changed?"
"Everything's changed," Michael confirmed. "I'm sending you an address. I need you and a SWAT team to guard the perimeter. There's no time to set up any type of surveillance, nothing that would be legal or permissible in court." He paused long enough to, using just his right thumb, type and send the address. "Sent. But we'll meet first at the railroad crossing about a kilometre south of the property. You'll see it. Get there as soon as you can."
"We'll be ready to move out in less than ten minutes."
"Talk soon." Michael ended the call and placed one more. "Director Platt, it's Agent Reid. I think we have the break we need…"
His call with the Agency's interim director lasted five minutes, during which he'd outlined most of what he knew. After first joining the Agency, he'd learned the hard way to always keep some facts close to his chest. Some people were too willing to use anyone to further their career. And it wasn't that Michael wanted the spotlight on him. Really, he'd give anything to be on the sidelines just to not have his life constantly under threat. But there had been too many leaks, and too may security breaches, that he still had doubts about who to trust.
"Fuck!" he grunted when he glanced at the fuel gauge that hovered over the 'E.' A quick survey of his surroundings, he spotted the ESSO sign up ahead and pulled into the lot. Getting out of the police cruiser, he sent a text message and then made one more call.
"Thought you had a lead to run down," was the caustic greeting on the other end.
"I just sent you an address, Sam," Michael said bitterly as he twisted off the cap to the gas tank. "If you want the exclusive you asked for, be there in an hour."
"Jesus, Michael. Google says it'll take me seventy minutes to get there."
"Then stop wasting time talking to me and get moving." Michael ended the call and stared abstractly at the gas pump. Am I wrong? he wondered, not realizing that the gas had stopped pumping. Is there something else I'm missing? No. Angelique Romero had come up with a deceptively clever plan, but he had figured it out. After screwing the gas tank cap back into position, he rushed inside to pay for the gas, then hustled back to the vehicle and sped towards his destination.
Arriving at the rendezvous point in Alexandria, Michael saw Superintendent Daniels speaking with Brian and some of her SWAT officers, the latter dressed in black tactical uniforms. He looked around as he got out of the cruiser. No sign of Sam. Maybe that's a good thing? No reason for anyone else to get hurt.
Approaching Brian and Daniels, Michael held out the car keys. "I treated Betsy to a full tank of premium gas."
"Great. Now she's spoiled." Daniels grinned as she pocketed the keys, then pointed in the direction of the Coburg Estate. "That place seems to be locked up tight. Might be hard for us to go in unseen."
"It's taken care of," Michael said. "There's a gate on the east side. It should be unlocked, and the security cameras should also have already been disabled. There's at least one guard patrolling the sector. You'll have to take him out, and anyone else you encounter."
"Understood." Daniels checked the time. "I'll text you when we're in position and have the grounds secured."
Heads swung in the direction of the bright headlights that briefly blinded them. The car passed them, did a U-turn, and then pulled up behind Daniels's police cruiser. In the stillness of the night, the crunching of gravel under foot thundered as the man approached cautiously.
"What the hell is he doing here?" Brian growled.
"He's our insurance," Michael said, matter-of-fact. When Sam was close enough, he introduced him to Daniels, then added, "Stay close to Brian and I. I don't really know how this is going to go down, but if I tell you to run, you run. No questions asked. Understood?"
Sam nodded. "Understood."
"Let's move!" Michael ordered.
Everyone hurried to their vehicles, although Michael instructed Sam to leave his where it was, and they climbed into Brian's car. Despite the lateness of the hours, the main gate to the Coburg Estate opened as the vehicle approached. The guard, standing outside the guardhouse, shone his flashlight in their faces before waving them through. No call to the main house. That made Michael's stomach tighten. Coburg knows I'm coming for him.
Getting out of the car, Michael's phone vibrated and he pulled it out. It took less time than expected for Daniels and the SWAT team to get into position. He looked at Brian, then Sam. "This is it." He moved ahead of them and made his way to the house. Before he even reached the front door, it opened.
"Come in," James Coburg said and stepped aside.
In the foyer, Michael kept his gaze trained on James. "There have been a couple of new developments, and we could use your help."
"Let's discuss this in the living room," James said soberly and gestured everyone into the nearby room. He dropped onto the black leather sofa, leaned back and stared down Michael. "I've been helping every way I can. What else can I do?"
Michael zeroed in on Josh, who appeared in the living room doorway. He waited for Josh's signal, a slight nod of the head, then said to James, "You can stop playing games."
"Games?" James gave a nervous laugh. "I brought you into this, gave you —"
"You brought me, us, into this to camouflage your real role," Michael interrupted.
James's eyes widened. "What 'real' role?"
"James, please … don't. How about we just put our cards on the table. You can go first by asking Lauren and Guy to join us." Michael's hand moved slowly towards his holster as we watched the colour drain out of James's face. "Unless you'd like to pay one of my favourite games. The rules are simple. Shoot first, ask questions later."
"Jesus Christ," Brian mumbled.
"I knew we should have taken you out at the very beginning," Lauren Platt said as she came into view. "That's a mistake that will be easily rectified tonight."
"Be quiet," James spat, glancing at Lauren. Turning his focus back to Michael, he said, "We could use someone with your skills and talent on our team. And you'd be generously —"
"Stop," Michael cut in. "I'm not for sale or for hire. Where's the PM?"
A healthy-looking Guy Denault entered the living room and took up a position behind the sofa. "Agent Reid, I strongly encourage you to carefully consider James's offer."
"Like I said…" Michael drew his weapon. "I'm not for sale or for hire. But I have to admit that it was a clever plan. A grieving daughter out to avenge her father's death by coercing her father's killers, who are now all in positions of power, in order to leverage her drug operations."
"Wait a minute," Brian said, disbelief rattling in his voice. "A daughter out to avenge her father's death? You mean…"
Michael pointed his gun at a stone-faced Lauren Platt. "Say hello to Angelique Romero."