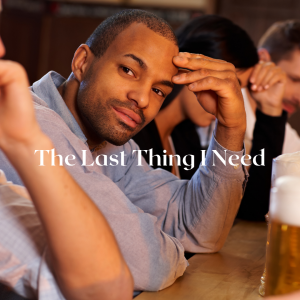 Yannick stared blindly into his drink. It was his third scotch, actually, and he still was waiting for the numbness to kick in. But he was keenly aware of his surroundings, of who he was. The laughter. The clanking of cutlery. The colliding aromas of curry, bacon, and grease. Chase's had become his favourite drinking spot over the past three weeks. Not because of the relatively cheap drinks or the somewhat tasty food. But because, except for the staff, no one knew or paid attention to him. Left alone at the bar to commune with misery and the negative self-talk ruling his mind.
"How you doing there?" the gravelly voice asked.
Yannick picked up his glass, drained it, then levelled his gaze at the grinning brunette. It was Chase, the owner. "One more for the road." Then his eyes dropped to Chase's round bubble butt when he turned to grab the bottle of Macallan Gold. And, like always, he was the first to look away when Chase faced him again.
"Any plans for the weekend?" Chase asked as he filled Yannick's glass.
"Not really." Yannick grabbed the glass and took a sip. "Well, I should stop feeling sorry for myself. Lost my job. My own fault. Shouldn't have dated the boss and then dump him. Lesson learned." He pursed his lips. "Filed a complaint with HR, but it was his word against mine. And I got the feeling I wasn't the first guy this happened to."
"Ouch." Chase folded his arms. "Any good at waiting tables or pouring drinks? I'm trying to be better about not working all the time. Could use more help around here."
"Bartending paid for my degree."
"It doesn't pay great. And I know you probably won't stay long, but it may tide you over." Chase winked. "And I don't date the guys who work for me."
***
"You know, Mom…" Yannick, wiping his grease-stained hands on a white towel, dropped onto the patio chair across from his mother. "I don't know much about cars. I hear the rattling sound you mentioned. Just take it to your mechanic."
"I have an appointment on Monday," Sandra said, reaching for her iced tea. She was in her early sixties, barely any lines on her caramel face, slim, and still breaking hearts. Mostly those of the widowers at her church.
Yannick held up his hands. "Then why did I have to get dirty?"
"I thought you might be able to figure out what's wrong and fix it," she said primly.
"When have I ever fixed anything?" Yannick sat back in his chair and threw her a knowing look. "My track record is in breaking things. Remember grandma's crystal vase?" He grabbed the pitcher of iced tea and poured himself a glass. "You always confuse me with Patrick."
"Maybe that's because I see Patrick more than I see you." Sandra adjusted her sunglasses. "You coming to church tomorrow?"
"I work tonight," Yannick said quickly. "And I'm not getting out of bed tomorrow before noon, not even for God."
Sandra flinched. "What do you mean you work tonight?"
"Oh, I…" Yannick picked up his glass and took several sips. "Didn't I tell you that the company downsized? I had to find something to hold me over. Started bartending again at Chase's."
Sandra leaned forward, slid her sunglass down her nose, then pushed them up again. "You're lying."
"Mom—"
"I believe you have a new job," she interrupted. "But you weren't downsized. What really happened?"
Yannick swallowed hard. "I dated my boss for a bit. Then I dumped him."
"This is why you need to come to church."
Yannick raised a hand. "Not today, Mom. Not today."
***
Yannick locked the door after the last of the servers left. It was twenty minutes past two. The kitchen had closed at eleven, but the bar was open until two. Not a super busy Saturday night, and the place had cleared out before close. He liked to wait until everyone else had left to finish his closing duties. Turn off the music and finally be able to hear himself think.
Wiping down the bar, the slam of a door boomed. He'd checked the restrooms and the kitchen. There was no one else left. Just him. He grabbed a half-empty bottle of wine and, with it held slightly above his head, cautiously made his way to the kitchen.
"What the—" Chase raised his hands to shield himself from the blow that never came.
"You scared me." Yannick lowered the bottle. "You said you were taking the weekend off. So, what are you doing here?"
"I'm a control freak." Chase smirked. "Had to make sure everything was all right."
"Don't trust your newest hire?" Yannick flicked his eyebrows, then returned to the bar. When Chase appeared seconds later, he added, "It was pretty dead tonight. I let Hayley and Dan go early. They weren't happy, so they'll probably corner you next time they see you."
"That explains Hayley's call earlier that I didn't pick up."
"If you really are going to spend less time here," Yannick said as he locked the bar fridge, "you need a manager. Not me, but someone to run the shift."
"You seem like a natural."
"You need someone who wants to make it a career."
"Ouch!" Chase shoved his hands in his pockets. "Can I make you another offer?"
Yannick grinned. "Sure."
"Have dinner with me…"
***
Chase stood as Yannick approached the table. The first day Yannick had walked into his restaurant and sat at the bar, he was hooked. Was it those intense brown eyes? The coy smile? The contralto voice that held him in a trance? Yannick had a presence that excited him in a way he hadn't experienced in years. Calming. Benevolent. Real.
"Glad you made it," Chase said as they shook hands across the table.
"Hold that thought." Yannick collapsed onto the chair across from Chase, pulled a folded envelope from his back pocket and held it out. "I don't plan to make the same mistake twice."
Chase took the envelope, his heart racing just at the way his name was scrawled on it. He looked up, his eyebrow arched, and asked, "What is it?"
"My resignation," Yannick said, matter-of-fact. "Last time I dated my boss…it didn't turn out so well."
They laughed.
"I tried, you know." Chase set the envelope, unopened, on the table, then leaned back in his chair. "I had every intention of not breaking my rule. But I…I wanted to ask you out the first time I saw you."
"Really?" Yannick's voice spiked with disbelief. "I thought you were straight. And that your comment about not dating the guys who work for you was a joke."
"Did you ever look at your receipts?" Chase let out a wry laugh. "I always gave you the staff discount. Was hoping you'd notice and say something."
"I was too busy feeling sorry for myself. Wait… You did what?"
"I haven't dated in a while," Chase confessed. "The last guy I dated was the king of pricks. I just want to get to know you. No rushing. No pressure. And see where it goes. Deal?"
"Deal," Yannick said. "But dinner's on you. My last job didn't pay well."
***
"You have a funny definition of 'No Rushing.'" Yannick grinned when Chase entered the kitchen wearing navy-blue pyjama bottoms and bare-chested. He took another mug from the cupboard, filled it with coffee, and handed it to Chase. "Cream and sugar?"
Chase, accepting the mug, leaned in and whispered into Yannick's ear, "I think you liked my definition." He stepped back. "And I think you already know I like my coffee black."
Yannick grabbed his coffee and installed himself at the bar-counter, then waited for Chase to join him. "Do we continue to 'get to know each other,' or do we—"
"I think the first date went pretty well." Chase flicked his eyebrows. "I'm definitely interested in a second one."
"Me, too." Yannick smirked. He was about to kiss Chase when the thud of his front door closing ricocheted through the house.
"Yannick? You home?"
Yannick briefly hid his face in his hands. "I'm sorry about this."
"Sorry about what?" Chase asked.
"Yannick, I tried…" Sandra came into the kitchen and stopped just inside the doorway. "Oh, I—"
"Never thought about calling ahead?" Yannick said cheekily, then pointed at Chase. "Mom, this is Chase."
"I'm his boss." Chase chuckled. "Your son has a bit of a pattern."
Yannick glared at Chase. "Not funny."
"You call it a pattern." Sandra shook her head. "I call it a problem. And one the good lord can fix if he just—"
"She's going to say it," Yannick mumbled.
"Prayed," Sandra cheered.
"Ah…" Chase tapped his mug against Yannick's. "Now I understand what you're sorry for."
"Excuse me?" Sandra's hands were on her hips. "Is there something you'd like to say?"
Yannick looked up at the ceiling. "Why me, Lord? And why today?"