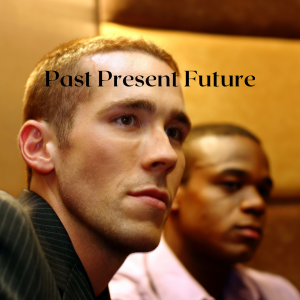 "Don't give your uncle any trouble," his father had said and, in an unusual display of affection, hugged him. "I'm doing this for you … because I love you."
That was what Michael Reid remembered about the day his father dropped him off at the airport. The first time in his life his father had said, "I love you." Most kids probably would have thought that their dad was trying to get rid of them. He knew his father was protecting him, helping him escape a home that was burning down around him. His mother's mania was the worst it had been in years. He had the scar on his arm where she'd burned a cigarette that proved it and that had been, for his father, the final straw.
So, he was sent to live with his Uncle Clive in London. Wasn't his blood uncle, because neither of his parents had siblings. But Clive Darling, who also served in the Persian Gulf where they'd met, was the closest thing his father had to a brother.
And Michael adapted quickly to life in the area known as St. John's Wood. But, at fifteen, his biggest challenge was crossing the road safely. The signs painted on the street, to 'Look Right' or 'Look Left' had saved his life. Repeatedly. His school mates teased him about his accent, but he didn't mind. Anything was better than locking himself in his room to escape his parents' Olympic shouting matches. And while he was only supposed to be gone a year — to not have to watch his mother being involuntarily committed for psychiatric treatment — he stayed long enough to complete his sixth form studies at Harris Academy. Did so well in school that his Uncle Clive convinced his father that he should remain to attend university, too. But the summer before he was set to begin at King's College London, his mother committed suicide. He returned to Halifax for her funeral and, to his surprise, stayed.
Now, fifteen years later, he was back in London. His old St. John's Wood neighbourhood had changed and yet, in many ways, stayed the same. There was a Starbucks where the halal butcher used to be. Low-rise condo buildings replaced the dilapidated terraced houses. Mrs. Elsmore, who lived next to his uncle and sat on her porched knitting when it wasn't raining, was still alive and knitting. Close to one-hundred, or Michael thought she had to be because he remembered her as old when he was younger. But everyone was older to him then.
Veering left onto St. John's Wood Terrace, Michael discreetly turned back to see the black Audi A4 slow down. He'd noticed it as soon as he exited St. John's Wood Station. Picked up his pace and darted into Panzer's Delicatessen. Roamed up and down the aisles, head bowed, but glanced often at the street front windows. The Audi A4 was now parked across the street.
Michael bought a bottle of water and, leaving the food shop, offered it to the man asking for spare change. Then he pulled his Glock 19 from its holster and aimed it at the Audi. "Get out of the car!"
Pedestrians screamed and fled for cover.
No movement from inside the vehicle. Michael pivoted, shot out the back tire, then took out the front.
The passenger door opened, an angry-looking blond emerged with his hands up. "Michael…"
Michael blinked magnificently. "No…" His finger was still on the trigger. "It's not possible. I saw you die." He couldn't take his eyes off the blond inching towards him. "I saw you die…"
"We'll talk about that later." The guy slowly peeled the gun from Michael's grasp and then, with his other hand, whipped out his phone. "We're in a bit of a jam." A pause. "Right. See you there in ten." He shoved his phone back into his pocket and handed the weapon back to Michael. "We've got to move." He started to move away.
"No." Michael didn't budge. "I'm not going anywhere with you."
"Do you hear that?" The blond pointed in the direction of the sirens in the distance and growing closer. "If you're here when the police arrive, they'll take you into custody and there won't be a bloody thing I can do to help you." He closed the distance between them. "You might be angry with me. But I promise, I'll explain everything. Right now, we need to move."
Joined by the two other men who had exited the black Audi A4, Michael reluctantly fled the scene with them. Walking determinedly along Cochrane Street, they were all scanning the area to make sure no one was following them. Cut through St. John's Wood Church Gardens. When they reached the front of the church, they piled into the silver Range Rover that had flashed its headlights.
A few minutes later, as the vehicle veered left onto Edgeware Road, Michael said, "Is someone going to tell me what's going on? Like why you were following me?"
The blond twisted himself around in the front passenger seat and stared at Michael. "You're in danger. Because of me."
"How's that?" Michael asked with an edge. "Brian Clarke is dead."
Brian swiped his blond bangs out of his face. "I staged my death to protect you. But somehow, the group I'd been investigating now know that I'm alive. I've been worried that they'll come after you … to draw me out." He paused. "I've been following you because I needed to know that you were safe."
Michael turned his head and stared blankly out the window until the Range Rover pulled up in front of a brown-brick building on Macaulay Road. He wasn't that familiar with this area of South London, or why Brian had brought him there. They exited the vehicle, and Michael lagged behind the others as they entered the building.
From the outside, it looked like an ordinary dwelling that maybe housed three or four flats. Inside, men and women rushed from room to room. There were high tech computer equipment and monitors, major London intersections and landmarks under surveillance. Despite his four years with the Agency, Michael had no idea there was a satellite office in London.
"Come with me," Brian ordered, and led him down a short corridor and into a cozy office.
Michael stood in the middle of the room and watched Brian close the door. Then, as Brian came towards him, he raised a hand. "I was your husband. And you said you loved me." He blinked rapidly to check his urge to cry. "Do you know what it did to me when they told me…"
"I did love you, Michael," Brian said emphatically. "And I still do. If I'd have known that you'd be recruited… No, it wouldn't have made a difference because —"
"Because?"
"You were the first person to make me laugh in years." Brian rushed Michael and kissed him, then held him in a clenching embrace. "God, I've missed you."
Michael, desperate to taste Brian again, held himself in check. He'd missed those nights when they fell asleep in each other's arms, Brian's guttural laugh, and the moments of quiet when words weren't needed. But how many times had he cried himself to sleep after the funeral? They'd met, and married, before he joined the Agency. And there weren't, then, any on-the-book rules about married agents. He pulled out of the embrace and crossed to the other side of the room. "It's been six months, Brian. A lot has changed. I've changed." Then Brian's hands were on his shoulders, and he wiggled free and spun around.
"What's changed?" Brian asked hesitantly.
The door flew open and a tall brunette stood in the doorway. "Brian, the Director wants to speak to you and Michael. Now!"
Michael's eyes widened. "Your father's here?"
Brian sighed. "Not exactly…"
Michael followed Brian through a maze of corridors and up a set of stairs to a windowless room. On the screen of the large monitor hanging on the wall was an angry-looking man with hawkish features. Director Clarke. Brian didn't resemble him that much, not like his siblings. And Michael had had few professional interactions with the director, which he was told was smart for his career. A man with the power to propel his career forward at warp speed could also easily end it. Not someone to cross.
"Give us the room," Clarke ordered. Then, when the other agent who'd been in the room left, continued. "Do the two of you know the mess you've created? What the hell were you thinking opening fire in the middle of the street? In freakin' London of all places!"
"Director Clarke," Brian said and took a step forward. "If I may —"
"No you may not!" Clarke barked. "Agent Reid, explain to me what you were thinking."
Michael swallowed hard at the rare use of his last name. He was in trouble. "I was being followed and thought I'd been made. Didn't want to blow nine weeks of undercover work."
"And you thought you'd just have a good ole shoot out in the street?" Clarke asked.
Brian raised a hand. "It's my fault, sir. I should have —"
"You should have stayed dead," Clarke spat. "The both of you have severely compromised two investigations. And for what?" He bit his lip. "I want the two of you back in Ottawa ASAP. Then we'll figure out what to do with you."
"Come on, Dad," Brian pleaded. "It's not like —"
The TV test pattern came on the screen.
"I don't think being the director's son is going to get you out of this one," Michael said and smothered a chuckle. "But maybe he's right … that you should have stayed dead."
"He doesn't understand what's coming," Brian snapped. "Neither do you." He grabbed Michael and pulled him close. "And there was no way I was going to let anything happen to you."