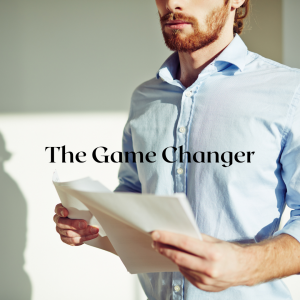 A continuation of "Follow the Rules."
"Take this." Michael held out the silver device. When Brian didn't take it, he cut in front of him and forced it into his hand. "Is there a problem?"
"What do you expect me to do with it?" Brian asked.
Michael threw Brian a knowing look, then continued southward along Elgin Street. They were three blocks away from Agency HQ. When he stopped at the next intersection and waited for the light to change, this time Brian blocked his path. "What?"
"I'm not a mind reader," Brian snapped. "You haven't exactly been forthcoming with your plan. If you want me to do something, tell me."
"You know I can't go inside the Agency," Michael said, restrained. "That means you have to insert the USB key I gave you into your father's computers. The one in his office at headquarters, and the other one in his den at home."
"Wait a minute…" Brian placed his hand to Michael's chest to stop his from moving. "How am I supposed to do that?"
"You're his son."
"Like you, I'm suspended. If I —"
"Do you want to live to see your thirty-fifth birthday?" Michael asked through gritted teeth. He pulled Brian off to the side when the light changed and glared at him. "Make something up. Tell your father you've come to apologize. Find a way to let me know when you're alone with him. I'll create a diversion, get him out of his office, and all you then have to do is insert the USB key and open the file on it."
Brian flinched. "Then what?"
"Then you get the hell out of there."
"That's not what I mean." Brian leaned in and whispered, "What happens once I open the file?"
"It installs software that will allow my colleague access to your father's computer," Michael said, matter-of-fact. "Hopefully, we'll then be able to find out who he's working with and why they really want you dead."
Brian ran his hand over his mouth. "What if I get caught? What if you're wrong and my father has nothing to do with it?"
"If you get caught, I'll actually end up a widower for real," Michael said cheekily.
"That's not funny," Brian shot back.
"If I'm right, you get to live. And so do I."
Brian shook his head. "I don't like it."
"If you have a better plan, spit it out." After a brief silence, Michael said, "Show time."
Michael didn't say another word until they reached the intersection before the Agency. He grabbed Brian's arm. "Remember, let me know when you're alone with your father."
***
Brian entered the stone building, and at the same time he touched his ID card to the reader sirens blared. He immediately threw his hands in the air as two of the security officers drew their weapons and aimed them at him. "I need to speak with Director Clarke," he implored, watching the third man reach for the phone on the desk to the left of the turnstiles.
The unsmiling brute put down the phone, then pointed at Brian. "Escort him Director Clarke's office and don't leave him alone until the director shows up."
Waiting for his father, Brian kept shifting his gaze between the laptop on the desk and the door. His father's assistant, Ann, was seated at her desk with what looked like an obstructed view. He got out of the chair, pretended to stretch, and then crossed to the window. Glanced at the laptop, but the screen was black. It was either off or locked.
"You have some nerve!"
Brian spun around and locked gazes with his father. "I wanted to apologize." He returned to the chair he'd previously occupied as his father marched behind the desk and sat down. "About what happened in London."
"I suspended you along with your husband." Director Clarke clicked the wireless mouth, then his fingers danced across the keyboard. "There's nothing to talk about."
"There's lots to talk about." Brian discreetly took out his phone, tipped his head downward to unlock it with his face ID, then sent the pre-written message to Michael. Looking at his father again, he said, "Let's talk about who wants me dead and why the Agency isn't doing much to find them."
"We haven't found any evidence of…"
Brian followed his father's gaze to the door. The plan was in motion.
"What is it, Ann?" Director Clarke asked.
"There's an issue at security," Ann said quickly. "Agent Reid is trying to get in. Apparently, says he wants to talk to you about Excelsior."
Director Clarke stood and pointed at Brian. "That's the guy you had to marry. He's been nothing but a pain since he started." He left the room.
Brian didn't waste time. Moved behind the desk, inserted the USB key and opened the file. It took about thirty seconds for 'Download Complete' to appear on the screen. His heart in his throat, he'd just dropped onto his chair again when his father's voice boomed from the doorway. "I want you with me. I want you to see how I deal with rogue agents."
***
"Director Clarke is on his way," Rob Dryden growled from the other side of the metal turnstiles. He was in charge of security at the Agency's headquarters. Burly. Brutish. A stickler for protocol. "Don't move."
"What the…" Michael cranked his head to the right when someone stumbled into him. He locked eyes briefly with the woman, in a grey pants suit, who'd bumped into him. He knelt to pick up the purse she'd dropped and handed it to her.
"You don't want to do this," she whispered. "Not here, not now."
Michael glanced down when he saw her discreetly slip something into his jacket pocket. "Who are you?"
"What a gentleman," she said loudly, then opened her purse and rifled through it. "Oh, dear, I've forgotten my pass." She turned slightly away from the security guards and added quickly, "I'm a friend. Call the number on the card I gave you. And get out of here. Now. Director Clarke is onto you." Then she hurried towards the exit and disappeared.
Michael pulled the card out of his pocket. The only thing on it was a number. A ding. He raised his head, his gaze focused on the white light illuminated above an elevator. Then he spun around and bolted.
"Agent Reid!" Dryden shouted after him.
Outside, Michael flagged down a cab, and once he was inside placed his first call.
"What the hell is going on?" Brian barked into the line. "You said —"
"Get out of there now," Michael ordered and hung up. After a moment of hesitation, he then dialled the number on the crumpled card in his hand. "I'm listening."
"We need to talk in person," the steady voice said.
It was her. The woman he'd just spoken to. Recognized the hint of gentleness. "When?"
"Tonight. Eight o'clock. At Seventeen." A pause. "Agent Reid… You'll want to bring your husband with you."
Click.
What the hell is going on? Michael wondered as scooted out of the cab. Making his way up the walk to his condo building, he stopped at the entrance and yanked his phone out of his pocket. Quickly composed a message to Brian, then stared blankly at it: 'Meet me at home.' It seemed odd, to associate home again with him and Brian. But this was where they had built something together, loved each other. Could they rekindle that closeness again? Did he want to? He sit 'Send,' then hustled to his, their, unit.
He didn't know what to do while he waited for Brian, and ended up roaming from room to room ruminating on the things that had played out in them. In his den, which he'd converted to an office after Brian had 'died,' he heard Brian's throaty laugh as he watched reruns of Designing Women. In the dining area, he remembered the intent stares they shared while eating dinner. And the sometimes scarring insults hurled at each other when they disagreed, and how quickly it was forgotten with the wild, sweaty make-up sex that followed. The evenings when he read on the sofa and, when Brian passed by on the way to the kitchen, a look said everything. And always: 'Love me, forever, I pray…'
Three hours later, Brian finally showed up. Rushed Michael and pinned him to the wall. "What the fuck was that?"
For a moment, Brian's minty breath triggered something in Michael. A longing. A remembrance of things past. But now was not the time for them. He shoved Brian, nearly knocking him to the ground, but reached out to grab him just in time. "We don't have a lot of time. If you need to change or whatever, do it. There's some place we need to be by eight."
"This time, I'm not going anywhere until you tell me first what's going on," Brian spat.
"I'll explain on the way." Michael raised a hand. "Not a debate, Brian. I'll tell you everything I know … on the way."
In the ten minutes Brian had disappeared, Michael made sure he had everything — keys, wallet, phone — and waited by the door. Then, letting that awkward yet familiar silence linger between them, they left. And, as promised, Michael filled Brian in on the incident with the woman and everything she'd said, or didn't say. And a few minutes before eight, they entered Seventeen. Michael scanned the restaurant, spotted the woman waving discreetly at him, and shot past the other patrons queueing to speak to the hostess.
"You two really do make a cute couple," the woman said.
Michael ignored the comment, pulled out a chair and dropped onto it. After Brian had done the same, he levelled his gaze at the woman. "Who are you and what are we doing here?"
"Please, have a drink." She pointed to the server approaching the table.
When the leggy brown-haired guy reached past him, Michael placed his hand over his glass. "I don't drink."
"I do," Brian said and slid his glass into position.
Michael waited until the server left and, still glaring at the woman, said, "I'd like an answer."
"Frankly, Michael…" She set her wineglass to the side and then leaned forward, her arms resting on the table. "After what I did for you earlier, I'd like to be shown a little more respect."
Michael bristled. "What exactly did you do?"
"I stopped you from getting yourself killed." She eyed Brian, then Michael. "My name is Julia. I've been quietly investigating Excelsior and Adam Clarke's involvement. And your digging is putting all of that in jeopardy."
Brian sat up straight. "You're investigating my father?"
"Hold on…" Michael looked at Brian but said to Julia, "What's Excelsior?"
Julia's perfectly manicured eyebrow arched. "You don't know? Earlier you —"
"Saw it on a piece of paper with Director Clarke's name below it." Michael gave a languid shrug. "I took a gamble at HQ and tossed it around to see what would happen."
"Well, well…" Julia picked up her wineglass and took a sip. "Handsome and clever." She turned to Brian. "He's a real catch."
"He's not really into me at the moment," Brian said, pained. "But I still want to know why you're investigating my father."
"Maybe we should clear one thing up first." Julia reached to her left, pulled a piece of paper from her purse and handed it to Brian.
Michael watched Brian examine the paper, his eyes becoming moist. "Brian…"
"What the hell is this?" Brian barked.
"Your real birth certificate," Julia said bluntly. "With the name of your real father…"