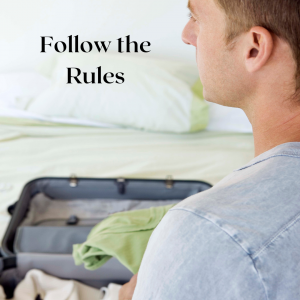 A continuation of "Is It Too Late for Us?"
"Are you clear on the rules?" Michael asked after setting his suitcase on the floor by the bed.
"Yes. But, Michael —"
Michael raised a hand. "My bedroom is off limits. You'll stay in the guest bedroom until this is sorted out." He pulled on a light blue jacket. "I'm going to find out who set you up. Pretty good chance they're going to come after you again. And me. So, this time around, we're doing things my way."
"What do you want me to do?" Brian asked from the doorway.
Michael threw him a knowing look. "Stay out of my way."
"No. Let me help." Brian crossed to Michael and grabbed his arm. "I got us into this mess. I want to help get us out of it, too."
"That's just it, Brian…" Michael jerked his arm free. "There is no 'us.'" His phone rang. He held it to his ear and said, "On our way," and ended the call. Then he gestured Brian to follow him.
"On our way to where?" Brian asked when they reached the foyer.
Michael snatched his keys off the occasional table and turned to Brian. "To see a friend about a favour he owes me."
***
Brian couldn't get Michael to talk to him as they hustled southward along Elgin Street. Wouldn't look at him either and recoiled any time he tried to touch him. The world they inhabited wasn't black and white. It had lots of mercurial greys that changed how they saw it, changed how they saw each other. But one thing hadn't changed, and that was how Michael had taught Brian what love was all about. And he'd broken the one thing that Michael perhaps cherished the most between them. Trust.
Michael stopped a couple of metres from the entrance to Burnt and pulled him aside. "Let me do the talking. This is my asset. He's kind of skittish and I don't want you scaring him off. Clear?"
"You know what?" Brian's hands landed on his hips. "I'm not a baby and I'm tired of you treating me like one. You and me…" He pounded his fist into his chest. "We're in this together."
"Only temporarily," Michael spat.
"Michael…" Brian took a step forward, his gaze locked on Michael and their mouths millimetres apart. "Understand this… Be prepared for a fight because I plan to fight for us."
***
As Michael stared into those grey-green eyes, he staggered backwards when Brian's minty breathed invaded his nostrils. He hadn't forgotten about the happy times they'd had together. The five days during their honeymoon in Copenhagen where they didn't leave their hotel room. Their nightly chats, when they were home together, where nothing was off limits as they snuggled on the sofa and sipped wine. Brian pleading with him to slow down during their runs. Happy, they were, before…
Michael pulled open the door and entered Burnt ahead of Brian. Made his way straight to the guy wearing a black baseball cap and sunglasses seated at the table in the far corner. Pulled out a chair and dropped onto it, waited for Brian to do the same, then said, "Thanks for coming."
"Not like I had a choice," was the guy's brute reply. "What do you need?"
Michael took a piece of paper from his pocket and held it out. "I need everything you can find on the people on that list."
The man leaned back in his chair. "You said you'd never ask me to do anything like that again."
"Someone, or some group, wants myself and this guy…" Michael pointed to his left. "Dead. Someone on that list is involved. I need to know who it is."
The guy adjusted his glasses and turned his head slightly towards Brian. "Who's this guy, anyway?"
"At the moment, my h-husband," Michael confirmed.
Then a silence.
"I do this…" The man slipped the paper in his pocket. "You help me disappear forever."
Michael extended his hand across the table, and when his asset gripped it, said, "Deal."
Now, all they could do was wait. And that made Michael nervous. What would it be like to be near Brian again? Just the two of them? He wasn't ready for that, and as they headed back to the condo lied about an errand he had to run. Alone. Then he abruptly stepped into the street, dodging passing cars as he sprinted to the other side. Never looked back. He spent the rest of the day roaming the streets and trying to put the puzzle pieces together. But all he thought about was Brian… The day he died. The jam-packed funeral. The empty bed he crawled into at night. How were they supposed to start again? And did he want to?
It was after ten when Michael finally made it home, welcomed by darkness and silence. He only turned on the light in the foyer, then cautiously moved around the dimly lit space. Poured himself a glass of scotch and then parked himself on the sofa to check his e-mail. There was already one message from his asset with a sizable attachment, which he opened and printed. Scrambled from the sofa to collect the pages from the printer in his office, then returned to the living room. Turned on a couple more lights, spread the papers out on the floor and kneeled in front of them.
"Do you know what time it is?"
Michael looked up to see Brian staggering towards him wearing only his grey pyjama bottoms. "You should get some sleep, Brian."
"Sleep? How the fuck am I supposed to sleep?" Brian folded his arms across his bare chest. "We need to talk, Michael. Not tomorrow. Not when things settle down. Now!"
"Who do you think you're talking to?" Michael glared at Brian. "How many times do we have to go over this? I buried you. You walked out on me, on us. I don't care about your excuses. You're in my home. And if that's way you think you can talk to me, think again."
"Michael, I'm…" Brian's arms dropped to his sides. "I'm sorry. I just —"
"I'm not talking about us right now," Michael interrupted. "Now, you can either go to bed or come look at this."
Brian dropped onto his knees next to Michael. "What am I looking at?"
"This." Michael pointed to half a dozen papers. "It's the information my asset sent me. Everything he's found so far on the people on the list I gave him. There's nothing out of the ordinary except…"
Brian set his hand on Michael's thigh. "Except?"
Michael slid to the left, forcing Brian's hand off his leg as he reached for a paper. "Look at this."
Brian studied the paper Michael handed him, then looked at him, eyes wide. "How did you get my father's bank statements?"
"That's not the point." Michael shifted sideways. "Look at what's highlighted. Payments your father received before you staged your death, then afterwards. They've been traced —"
"Stop!" Brian shot to his feet, the paper dropping to the floor. "My father is the director of National Intelligence. He's —"
"Your father's a traitor," Michael interrupted and stood. "And I think I can prove it."
Brian didn't say a word, just stormed down the hall. Seconds later, the thud of the guest bedroom door closing ricocheted off the listless walls.
Michael remained for about another hour combing through the papers before heading to bed. His sleep was somewhat restless, but it was more than he'd had since Brian's resurrection. Still woke up early, though, showered and dressed by seven, then again reviewed the materials spread over the living room floor.
"I take it you have a plan," was Brian's grumpy greeting.
"Yes. Well, part of one." Michael got up off the floor, strode past Brian and into the kitchen to refill his coffee. Poured one for Brian and carried it back to the living room. "Want to hear it?"
"Honestly, I'm not sure," Brian said as he accepted the mug.
"That's fair." Michael, lifting his mug to his mouth, added, "You're probably not going to like it anyway…"