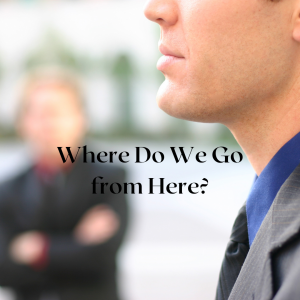 A continuation of 'An Unexpected Alliance'
"Are you at least going to say goodbye?" Michael asked as he exited the house. His gaze landed on Brian, who was pacing the walk. "I mean, a little courtesy —"
"Courtesy?" Brian shoved his hands in his pockets. "Did you read what was in that file?"
Michael nodded. "I did."
"So, 'courtesy' is turning someone's life upside-down? My life?" Brian yanked his hands out of his pockets and, heading towards the vehicle, called out, "Let's go."
Michael, standing just outside the front door, glanced back inside. James and Julia stood in the middle of the foyer, Julia offering a look of understanding, James more so disappointment. "We'll be in touch." Then he strode to the Range Rover and settled in behind the steering wheel. Tried to catch Brian's eye, but it was no use. Brian wouldn't look at him, and during their seven years of marriage, Michael had learned when to push and when to hold back. He had to give Brian time to process and stew and brood.
And in the stony silence that immured them, Michael's gaze shifted between stealing sidelong glances at Brian and the rear-view mirror. The roads leading away from James Coburg's Rockcliffe Park home were empty, but when they hit Aviation Parkway, he immediately noticed the black Explorer. Were they being followed? At this point, it was hard to say, but there was one way to find out. He pressed down on the accelerator, swerved into the left lane to pass a crawling Ford Escape, and when he was back in the right lane made an abrupt turn. Honks blared. When he checked the rear-view mirror again, the Explorer was still with them.
"Did you see the speed limit on this street?" Brian asked. "It's fifty. And we're in a school zone."
"You don't want me to slow down," Michael snapped. "Not if you want to live. We have friends. They've been with us since —"
"Do you think they're working for Adam or James?" Brian interrupted.
"Right now, I don't really feel like finding out." Michael looked briefly at Brian. "Hang on."
Michael gunned it, made more abrupt turns and sometimes barrelled down a street at three times the speed limit. He drove down a narrow alleyway, backed into a tight 'parking spot' and killed the engine. For ten minutes, they didn't say anything.
Brian was the first to speak. "What are we going to do now?"
"Go to a place where you'll be safe," Michael said.
"You mean a place you can dump me so I'm not your problem."
Michael glared at Brian. "I know you're upset about learning Adam isn't your real father, but I need you to focus."
"What do you care? As soon as this is over, you plan on divorcing me anyway."
Michael bit his lip. "I never said —"
"We haven't shared a bed since I returned."
"I thought you were dead. Then you miraculously rose up from the dead. Did you seriously think we'd just pick up where we left off?" Michael raised a hand. "This is not the time to talk about this."
"Right…" Brian drawled. "Do you even realize that today was the first time you touched me?" He sighed. "And I'm not the only one who's upset."
"You're right." Michael flipped the engine. "But I'm focused on keeping you safe."
"Why? If you're going to leave me, I'd rather … be dead."
They were moving again, Michael randomly turning down streets for about twenty minutes. When he was certain that they had lost whoever was tailing them, he navigated the Range Rover towards the Queensway. Traffic was becoming heavy and slow as they neared the Bayshore Shopping Centre, but once they were past it and onto Highway 416 they were speeding again.
"I haven't decided anything about us," Michael said abruptly. "I still have a lot of questions."
"Then talk to me," Brian pleaded. "Ask me anything."
"We'll talk. Later. When things are settled. Right now, I just need to think how we can take down Adam and Angelique Romero." He paused. "And for the record, I don't want you dead."
Thirty-five minutes later, they were parked in front of a grey-painted, two-storey farmhouse located on an isolated lot.
"Where are we exactly?" Brian asked.
"Just outside of Kemptville. No one should find us here." Michael got out, moved around to the cargo space, and removed the brown leather weekend bag. He called it his 'Go-Bag.' Always in his vehicle in case he was suddenly sent on an assignment, it was packed with enough clothes to get him through a week. Then he led Brian towards the house.
"How long are we going to stay here?"
"Until we have an actionable plan." Michael jammed the key in lock, threw open the door and stepped inside. He dropped the bag onto the floor and turned on a few lights. Moved back to the foyer and stared at Brian. "If you want to clean up a bit, you'll find a few of your clothes in the dresser in the bedroom at the top of the upstairs."
Brian's eyes widened. "How is that possible? I mean —"
"I put them there a few weeks before you 'died,'" Michael broke in. "And I bought this cottage through a holding company to hide the transaction. Wanted to surprise you for your birthday. Then…" He held his breath. "I got rid of your clothes at the condo, but the ones here … I just didn't have it in me to throw them out. They kept me connected to you."
"You call this a cottage?" Brian spun around in the space. "It's bigger than our condo. And how could you afford this?"
"We talked about a lot of things during our time together," Michael said with nostalgia. "But money was never one of them. Even after we married, we kept our finances more or less separate. You didn't ask, I didn't offer." He paused. "Don't exactly know what you were doing during the six months you were dead, but you gained a few pounds. So, if those clothes don't fit…" He pointed at the bag on the floor. "I packed a few of your jeans and shirts as well."
"When did you plan this?"
"I've been planning for anything and everything ever since you were resurrected."
"And I've only gained about five pounds," Brian protested.
"Closer to ten. But you still look good." Michael pointed towards the kitchen. "There's some meals in the freezer we can reheat if you're hungry."
Brian closed the distance between them and reached for Michael's hands. "I want us to talk. Not about my father. Not about who's trying to kill me." He applied pressure. "I want to talk about us."
"Brian, please, not —"
"There's never going to be a perfect moment. And what if…"
Michael's eyebrow arched. "What if?"
"What if…" Brian's voice broke off as it dropped an octave. "What if I don't get another chance to tell you how I feel?"
Michael pulled his hands free, dropped his head and beelined it into the kitchen. Busied himself searching the freezer for meals without ice crystals caked onto them, then reheated his selections. It had been close to two months since he'd last visited the property. Mostly because his work with the Agency kept him overseas, but also because of how, strangely enough, it reminded him of Brian. Had him often imagining the good times he'd hoped they'd enjoy here. Before…
And he definitely wasn't ready to talk about them. Didn't know if there was even a 'them' or if he wanted there to be. Just at the point where he was ready to start thinking about moving on with his life, Brian had reappeared. There were things Michael had to tell Brian, things that hurt, and he wasn't sure where to begin.
"Smells delicious," Brian said as Michael set a bowl of pasta on the table in front of him.
Michael dropped onto the chair opposite Brian. Still hard for him to look away from those owlish grey-green eyes that delved deep into his core. Despite everything that had happened, there was, still, a connection between them. Was he really willing to throw it all away? He took a few bites of the orecchiette smothered in a rabbit ragù, then asked, "Is it hot enough?"
"It's perfect." Brian finished chewing his mouthful of food, then added, "And it's good but, um, what meat did you use?"
Michael picked up his glass of water and eyed Brian. "Don't think you really want to know."
"Right…" Brian drawled, then took a huge gulp of water. "Do you still love me?"
"I'm not sure," flew out of Michael's mouth before he could censor himself. "You say that staging your death was the only way to protect me. Maybe that's true. But honestly, Brian, I don't know how I'm supposed to trust you again."
"You want to talk about trust?" Brian's fork dropped into his bowl. "You bought a house and never told me."
"Apples and oranges," Michael shot back.
Brian covered his face with his hands, then uncovered it almost immediately. "What do I have to do for you to trust me again?"
"I don't know," was Michael's barely audible reply. Then he spoke louder. "I don't know if there's anything you can do. I think it's more about me finding a way to move past it."
"I'll wait." Brian reached across the table and placed his hand on top of Michael's. "As long as it takes, I'll wait."
Out of the corner of his eye, Michael glimpsed the flash of light outside the living room window. "Did you see that?"
Brian nodded. "I did."
Michael bolted from the table and removed his Glock 19 from its holster as he turned out the lights.
"How'd they find us?" Brian asked.
Michael looked at Brian, who'd also retrieved his weapon. "I don't —"
A shot rang out. A window cracked. A body dropped to the floor.