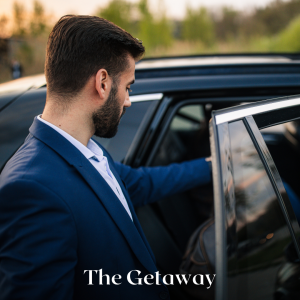 A continuation of 'A Little Help from a Friend'
"Hey, Siri…" Michael didn't know how long he'd slept, but the heaviness in his head when he opened his eyes told him it wasn't long. "What time is it?"
"It's six ten," the male voice with the Australian accent announced.
Michael rubbed the sleep out of his eyes, pushed back the duvet and slipped out of bed. Rummaged through his bag for clean clothes, then slowly opened the bedroom door. Peeked into the hall, which was empty, and hustled to the bathroom. Twenty minutes later, he was showered, dressed, and tiptoeing his way to the front door. When he reached the kitchen, he froze. His gaze travelled upwards, from the bottom of the jeans hugging the muscled legs to the round bubble butt and then onto the white T-shirt showcasing the well-defined upper torso. And that dark hair, that last night was slicked back like a loose pompadour, was more of a wavy mess. Before he lost himself in some X-rated fantasy, Josh spun around and smirked.
"So, this is your plan?" Josh refilled his coffee mug. "Sneak out and go after Clarke on your own?"
Michael's eyes sidled the microwave clock. It was a few minutes before seven. He hadn't counted on Josh being a morning person. "I need to do this on my own."
"That's your ego talking." Josh took another mug from the cupboard, filled it and crossed to Michael. "Cream's in the fridge."
Michael reluctantly accepted the mug, dropped his bag to the floor and sipped the steaming liquid. "Thanks." Dodging Josh's gaze, he leaned against the island counter, took a few more sips, then raised his head. "I have a meeting in Ottawa at ten and I need to grab a few things from my condo."
"With your asset?" Josh raised a hand before Michael could respond. "Mr. Coburg filled me in last night … while I was driving back from Kemptville. You know I'm going with you."
"That's not —"
"It's not optional," Josh broke in. "I'll be discreet. But my job is to have eyes on you all the time, and to provide whatever backup you need." He paused. "Do you even have a plan?"
"It depends on what I find out this morning. And within the Agency, I don't know who I can trust anymore. By now I've probably been blacklisted." Michael, when his phone rang, pulled it out of his pocket, declined the call, then put it away. "I'm leaving as soon as I finish my coffee."
"Fine," Josh said with an edge. "I'm ready to go now."
"You don't have to do this."
"Been over that." Josh raised his mug to his full pink lips. "Maybe you should check in on Brian before you leave."
"Are you a marriage counsellor too?" Michael asked.
"I know that, in the field, you need a clear head."
"Let's get one thing straight." Michael set his mug on the counter. "My relationship with Brian is none of your business." He picked up his bag. "And if you're ready to go, then let's roll." He hoofed it out of the kitchen and into the foyer. When Josh appeared a few seconds later, he bolted out of the house. Strutted to the black Mercedes and opened the driver's side door.
"What do you think you're doing?" Josh asked.
"I'm driving," Michael said bluntly.
"You're not driving my car. And why aren't we taking yours?"
"Clarke knows what I drive. I need to be incognito."
Josh grabbed Michael's bag, tossed it into the trunk, then moved back to Michael and tried to push him out of the way. "Fine. We'll take my car, but you're not —"
"Give me the goddamn key!" Michael held out his hand. "No offense, but you drive slower than my grandmother. And even with her glasses she was half-blind. If she hadn't crashed into a police cruiser, she'd probably never lost her licence."
After a short stare-down, Josh held out his keychain. "Put a dent in it, and I'll hurt you myself."
Michael grabbed the keychain, then got into the car and flipped the engine. They were on the road for about twenty minutes when his phone rang. If he'd been driving his own car, he'd have pulled it out to see who was calling. He just let it ring. Besides, even after Brian's death he never changed the ringtone from, 'I Will Always Love You,' that he'd set to Brian's number. Instead, he pressed his foot down on the accelerator.
"Hey, this isn't the Montreal Grand Prix," Josh snapped.
"Sorry." Michael eased up on the accelerator.
"It's okay to not know what you want." Josh spoke in a conciliatory tone. "But let me ask you something."
"Can I stop you?"
"No." Josh chuckled. "Have you asked yourself why you're doing this? I mean, you're putting yourself at risk for Brian. Why would you do all this for him if you don't love him? I know he staged his death, and that can create trust issues and —"
"Thank you, Ann Landers," Michael said cheekily. "I'm doing this for this country and what it represents. And, damn it…" He swallowed hard. "Because I … love … him…"