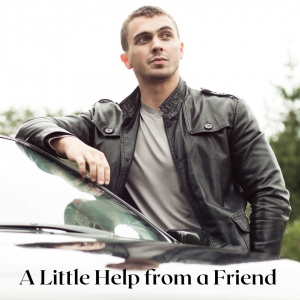 This is a continuation of 'Time to Change the Rules'
Michael, seated in the passenger seat of the silver Mercedes-Benz C300, stared blankly out the window into the darkness. Josh had agreed, or maybe he'd been ordered, to drive him back to the 'cottage' in Kemptville. Michael wanted to pick up his vehicle and didn't want to wait until morning. He was already mentally working through different scenarios as to what he'd do next. And he didn't want to rely on James or Josh, especially when he still didn't know who to trust. Besides, the late-night trip was a chance to put distance between him and Brian. More importantly, it gave him time to think. Leaving Brian with James didn't seem risky, or at least that was what Michael told himself. He discreetly glanced at the dashboard clock. They'd been on the road for almost forty minutes and had barely said a word to each other.
Josh broke the silence first. "I spent fifteen years in the armed forces. During my last two years, I served with the Special Operations Forces Command. Like you, my job was to protect this country."
"What's your point?" Michael asked, his gaze held to the blackness of the night.
"My last mission went sideways," Josh continued. "If I told you the whole story, it'd take until morning. Short version is I disobeyed a direct order, was charged with insubordinate behaviour, convicted and had my rank reduced to lieutenant. I fought it, had my trial reviewed and, eventually, my conviction was overturned and my CO was charged. But while waiting for that, trying to find work was hard. Mr. Coburg was the only one who gave me a chance."
"Again…" Michael finally looked at Josh. "What's your point?"
"He's a man of his word," was Josh's brutish reply. "You can trust him. And if you let me, I'll help as well."
"Why would you help?"
"I know what it's like to feel as if the whole world is against you."
"Better for you to stay clear," Michael said coolly. "You saw what happened earlier in Kemptville. Adam Clarke is prepared to take out anyone who gets in his way, or who he considers an enemy. Anything to protect himself and his interests."
"I thought about taking a softer approach, try to convince you that I could help." Josh paused. "Since leaving the armed forces, I've been told repeatedly to work on my people skills. But the long and short of it is this… You're stuck with me. Mr. Coburg's orders. Where you go, I go."
Michael let out an exasperated sigh, but didn't say a word for the rest of the drive. When the Mercedes came to a stop behind his Range Rover, he got out quickly. Using the light from his phone, he inspected the vehicle. Somehow it hadn't been hit by gunfire. The same couldn't be said of the house, which was riddled with bullet holes and many of the windowpanes on the lower level were shattered or cracked.
"Mr. Coburg will have a team here in the morning to start repairs," Josh said.
Michael didn't immediately respond as he made his way to the house. Inside, he picked up the weekend bag from the floor and slowly spun around in the space. His gaze travelled to the kitchen and the dark stain on the floor. It was blood from Brian's wound. "What are you up to, Adam Clarke?" he mumbled.
"What did you say?"
Michael turned to face Josh. "Nothing. And I'll take care of the repairs. This is my house after all."
"Mr. Coburg just wants to help," Josh said firmly.
"Like I said, I'll take care of the repairs." Michael crossed to the door, threw Josh a knowing look, and waited for him to leave. Then he left the house without locking it. Didn't see the point with the window in the door shot out. Walking a few feet behind Josh, he said, "I appreciate the drive out here. And I don't mean to sound ungrateful about Mr. Coburg's offer, but I don't like to be beholden to anyone. Especially someone I don't know."
"Mr. Coburg is going to do anything to help his son. And you won't be 'beholden' to him." Standing beside the driver's door of his car, Josh added, "Think about it."
"I will."
"I'll lead, you follow?" Josh opened his car door.
"Oh, I wasn't planning on —"
"Where are you going to stay?" Josh asked. "Clarke is out to get you. Mr. Coburg can offer you protection. And you look like you could use a good night's sleep. So, come back to the estate tonight and tomorrow we can work out a new game plan."
Michael bristled. "We?"
"I told you…" Josh shook his head. "Where you go now, I go."
"You lead, I'll follow." Michael climbed into his vehicle and, as he'd promised, followed Josh back to the Alexandria estate.
The hour-long drive gave Michael time to plan. Maybe scheme was a better word because he had no plans of working with Josh. He'd learned quickly that he worked better alone. And he didn't know Josh, what his true intentions were, or if he could trust him. And, really, he wasn't interested in finding out. His best and easiest option was to get up early and just leave. Sneak out while everyone else was asleep.
It was past midnight when he arrived back in Alexandria. Most of the house was in darkness except for a few lights on the upper level. He didn't rush getting out of the vehicle, hoping for a little more quiet time. But Josh lingered in the driveway and Michael soon joined him.
"I'm not your enemy," Josh grunted as they headed for the house.
Michael didn't respond, knew better than to take the bait. Inside, he had just slipped off his shoes when James appeared in the foyer.
"No trouble?" James asked.
"No," Josh said.
"Good." James looked at Michael. "Brian's going to be fine. I'd suggest he take a few days to rest. He's in the bedroom —"
"If it's at all possible," Michael interrupted, "I'd prefer my own room."
James raised his hands in defeat. "I'll let Josh sort that out for you. Goodnight, gentlemen." He started up the stairs and, at the midway point, spun around. "Brian cares a lot about you. I understand you've been through a lot, but I hope you won't give up on him."
Michael dropped his head.
"Come on…" Josh tapped his arm. "The room next to mine is empty."
Michael kept his gaze held to the floor, with Josh's feet always in view, as they headed down the hall and to the section of the house off the kitchen.
"Bathroom is at the end of the hall," Josh said.
"Thanks. Goodnight." Michael rushed into the room and closed the door. Waited a few minutes, then made a quick trip to the bathroom. Back in his room, he stripped to his under and crawled into bed. As much as his mind raced, it wasn't long before everything faded to darkness.