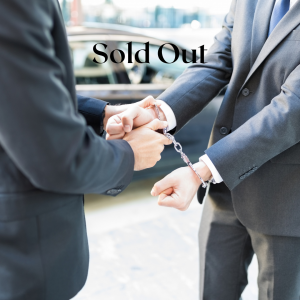 A continuation of 'Whatever It Takes'
"I wouldn't do that," Michael warned when he saw Marceau's hand move. Was he going for a panic button under his desk? "I don't have a lot to lose at the moment, so I have no problem killing you."
"Let's all take a breath." James glared at Michael, then turned to Marceau. "Please, André, we just need a few moments of your time, and for you to answer a few questions."
"I'm the Minister of Justice," Marceau snapped. "You just can't come in here and threaten me."
"No one has threatened you, per se," James said. "My colleague usually only makes promises." He pointed to the sofa. "Come sit with me and let's talk."
Michael kept his gun trained on Marceau as he moved from behind his desk and eased himself onto the sofa. "And to ensure you remain healthy, I encourage you to tell the truth."
"I don't know what you think I know," Marceau huffed. "But I —"
James, seated in the chair across from Marceau, raised a hand. "We know about your 'association' with Adam Clarke. We followed the money, and have proof of the payments he made to you."
There was a silence. Michael took a silencer out of his pocket and screwed it onto his gun.
"Fine." Marceau raised his hands in defeat. "Clarke's been blackmailing me for almost a year. I didn't have a choice."
"What does he have on you?" Michael asked.
"Excelsior," Marceau said flatly.
Michael looked at James. "This is all about helping Adam Clarke stay off Angelique Romeo's hit list?"
"I was the commander and, back then, I authorized the Excelsior op," Marceau volunteered. "I was just following orders. Now, I don't care about me. But they've threatened my family." He pointed at James. "Just like they've threatened yours."
"That's why you're going to help us," James shot back.
Marceau shook his head. "I can't."
"You will." Michael crossed to Marceau and held the gun to his head. "Or I'll end you. Here. Right now."
"Michael…" Once Michael had lowered his weapon, James said to Marceau, "Tell us everything you know. And, I promise, we'll protect you."
Michael listened as Marceau spoke. Never took his eyes off him, and kept his finger on the trigger. If he even suspected Marceau were lying, he'd shoot him. Maybe not kill him, but make it so he'd only ever walk with a cane. After about twenty minutes, James stood and they left the office.
"You're not one for diplomacy, are you?" James didn't look at Michael as they walked down the eerily quiet corridor.
"Right now, I don't have a lot of patience for useless people." Michael holstered his weapon.
"And Marceau is useless. Do you even believe what he said?"
"André's not entirely useless. And I believe most of what he said. But he's a politician. Always has been. He's a master of talking out of both sides of his mouth."
A silence settled in as they continued towards the exit. Outside, on the front steps of Parliament Hill, Michael scanned the area as they waited for their driver. The black Range Rover was nowhere in sight. He turned to James. "Call your driver."
James took out his phone and dialled. "He's not answering."
"Marceau sold us out to Clarke." Michael pointed at the flashing lights barrelling towards them. "I should have put a bullet in his head."
"Here." James handed Michael a small, silver device. "It's a recording of our conversation with Marceau. You get out of here. I'll buy you time."
"I don't like this."
"Michael, just go!" James ordered.
"I'll find you." Michael peeled off his jacket and jogged to catch up to the tour group heading towards the West Block. Stuck close to a few guys roughly his height with similar builds. Looked back once to see James being forced into a security vehicle and the other agents fanning out to canvass the area. He kept his head down, and once he reached the Visitors' Centre, broke off from the group. Repeatedly looked back to make sure he wasn't being followed.
Fifteen minutes later, he stood in the lobby of a condo building on Laurier Street and dialled a ring code. At the buzzing sound, he pulled open the door and rushed inside, and headed to the sixteenth floor.
"You shouldn't be here," was the stern greeting.
"This isn't about us, Sam." Michael stuck out his arm to stop the door from closing in his face. "I have something you need to hear…"
The stare-down lasted a few more seconds, then the door opened wide. Michael strode into the unit and followed Sam into the living room. Trained his gaze at Sam, who sat rigid on the sofa and wouldn't look at him. He'd met Sam two weeks before Brian had reappeared. A casual one-night stand, or it was supposed to be. Something between them had clicked, and for that two-week period they met up whenever they could. Until… That was something Michael still hadn't told Brian about.
And Michael, who'd cut Sam off without an explanation, came to him now because he was one of the few salaried journalists left at the Ottawa Post. With this story, Sam had a chance to catapult himself to the top of his profession. Or break his career altogether. But if the former happened, Michael hoped it would also serve as an apology. He took out the device James had given him and pressed 'Play.' As the recording played, he studied Sam, remembering the intimate moments they'd shared together. Sam had, for the first time since Brian had 'died,' stoked something inside Michael that had — remotely at least — resembled love. The voices trailed off and, after a long silence, he said, "So?"
"Where did you get this?" Sam asked and finally looked at him. Raised a hand before Michael could speak and said, "No, how did you get this?"
"Sam…" Michael crossed his arms. "Can you use it?"
"If I can verify the other voices on the recording, sure." Sam scratched his eyebrow. "And even if I can do that, there's no guarantee my editor will run the story."
"I need you to try."
"Why should I do anything for you?" Sam's eyes narrowed, then he dropped his head.
"You don't owe me anything." Michael grabbed the device off the coffee table, then headed for the door.
"Wait…"
Michael, about to open the door, spun around. When Sam came into view, he offered a faint smile. Part of him wished they'd had more time together. He held out the device. "This is the only copy I have. And giving it to you potentially puts your life in danger. As much as I need you to write this article, I'd understand if you walked away. I don't want you to get hurt."
Sam accepted the device. "It's a bit late for that, don't you think?"