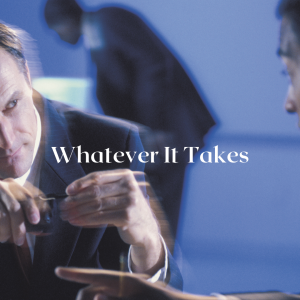 This is a continuation of 'Never Leave a Man Behind'
"What are you saying exactly?" Brian asked.
Michael, holding Brian's hands, applied a little pressure. "What you did hurt me, Brian, and I'm still angry. I'll get over it. Maybe not completely, but I…" He bit his lip. "When it comes to our marriage, until certain events … it seemed like we were always on our honeymoon."
"Does that mean you still —"
"Yes, silly. I still love you."
"You can understand, though, why I'm asking, right?"
Michael nodded. "Yes."
"When we go home…" Brian's voice cracked. "Does that mean I don't have to sleep in the guestroom?"
"Yes." Michael leaned forward and pressed his lips against Brian's. Then he wrapped his arms around him and drew him close. The kiss was gaining momentum, and he was about to close his eyes when he saw James standing in the hallway. He broke the kiss, then pointed at James.
"I don't mean to intrude," James said ruefully. "But it's good to see you two getting along."
"You're not intruding. It's your house. As for us getting along…" Brian looked at Michael and grinned. "We're working on it."
"How's Josh?" Michael asked.
"Stable. Transferred him to a private medical clinic. He'll be out of commission for a few weeks." James clasped his hands behind his back. "Michael, we should talk about —"
"Hold up." Brian shifted his gaze between Michael and James. "Are you two seriously planning on keeping me out of this?"
"You're in no condition to help," James said fatherly.
"And this is the best place to keep you safe," Michael added. "What we have to do next is too dangerous."
Brian furled his eyebrows. "And what are you doing next?"
"If I'm right…" Michael looked to James for confirmation. "I'm about to have a sit-down with the Minister of Justice."
"You are." James unclasped his hands and pointed at his watch. "In less than two hours, so you need to get moving."
Michael left the den and headed to a room in the wing off the kitchen to change. He put on the black suit that lay across the bed with a note: 'Hope it fits. J.' The jacket fitted nicely, but the pants were tight and he was afraid to bend over to tie his shoes. Opted for the slip-ons instead. Moseying back to the den, he heard Brian and James in deep conversation, but they fell silent when he appeared.
"You can't go on your own!" Brian barked. "If André Marceau is involved —"
"There's no other choice at the moment," Michael said calmly.
"And he's expecting me," James chimed in. "Michael won't be alone. He'll be there as my advisor. And if you know anything about me, remember that I've been in the field and I can handle myself."
"And right now, Marceau is the best way to put pressure on Clarke." Michael adjusted his tie, which Josh had left with the suit. "We need him if we want Clarke."
"I don't like it," Brian snapped.
"We're meeting at his office on Parliament Hill." James pointed at his watch. "Even if Marceau wanted to, he wouldn't make a move on the Hill."
Michael crossed to Brian and kissed him briefly on the lips. "I'll be fine. And this can't drag on any longer. Besides, we have a bullet-ridden cottage to fix up."
"Be careful," Brian pleaded and grabbed Michael's hand.
"Always." Michael squeezed, let go, and then made his way to the black Range Rover. Climbed into the backseat, fastened his seat belt and glanced over at James as the vehicle started to move. "Brian isn't used to sitting on the sidelines."
"The sooner he's healed, the better," James said. "He's driving my housekeeper crazy."
They laughed.
"For the record…" Michael drew in a breath. "Parliament Hill or not, I'll do whatever it takes to make Marceau talk. I'm tired of running, tired of Clarke calling the shots."
"Given what I've learned about you, I'd expect nothing less." James flicked his eyebrows. "And Josh speaks highly of you, and I trust his opinion of others."
"About Josh…" Michael paused. "What's the real deal between you two?"
"You don't miss a thing, do you?" James chuckled. "I can trust you to be discreet, right?"
"Of course," Michael said.
"Josh is my nephew, although he doesn't know it." James levelled his gaze at Michael. "My sister's son. She had him when she was sixteen and our parents forced her to give him up for adoption. When she was diagnosed with breast cancer, she asked me to find him. I did, but not before she passed away."
"And you're not telling him this because…?"
"I'm not sure he knows he's adopted," James said, matter-of-fact. "He doesn't talk much about his family, or his life before he was forced out of the military. But once I found him, I kept tabs on him."
"I don't know how you do it."
"Do what?"
"Keep so many secrets."
"The same way you do," James said with an edge. "You don't tell people what you do to protect them. I do the same."
The vehicle came to a stop in front of the steps at the base of the Peace Tower. Michael got out, waited for James, then followed him into the building. Once they were through security, they waited for one of Marceau's representatives to lead them to his office.
"Let me do the talking," James said before they entered Marceau's office.
Marceau shot out of his desk chair when they entered the room. "What the hell is this?"
"Always good to see you, André," James said, approaching the desk with his hand extended.
Michael closed the door.
"He shouldn't be here." Marceau pointed at Michael, then reached for his phone. "I'm calling security."
"No, you're not." Michael drew his weapon. "Put the phone down."
"How did you get that in here?" James asked.
Michael flicked his eyebrows. "I have my ways…"