Concentrate all your thoughts upon the work at hand. The sun's rays do not burn until brought to a focus. – Alexander Graham Bell
Most mornings my day begins somewhere around 3:00am (later on Saturday when my body finally tries to catch up from my lack of sleep). What I love about that time of the day is the quietness. It's still dark outside. There is stillness. I feel like I am the only who exists on the planet. And since I have always been a morning person, getting up early isn't the hardest part.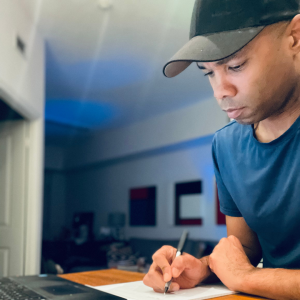 The hardest part is cutting out distractions that wreak havoc on my focus. It's looking at my phone charging as I head to the bathroom and resisting the urge to pick it up. It's stopping myself, when I finally do pick up my phone, from scouring numerous news sites and losing time reading the same stories over and over. And it's silencing my inner critic who constantly tries to belittle me, convince me that I'm not good enough, talented enough, worthy enough.
The 'One Day' Approach
I have a lot that I want to accomplish in 2023. And when I think about it all, I start to feel overwhelmed and wonder if, and how, I'll be able to do it all. So, I'm taking it one day at a time. I set out what I can conceivably achieve in a day, and then not beat myself up if I don't achieve all the tasks or hit a target. Because every day that I show up to do the work I'm making progress and building momentum.
Now, my focus is improving, and as the progress and momentum builds, I'm less inclined to reach for my phone or stream a show. Taking it one day at a time, I can see where I'm headed and who I can become.