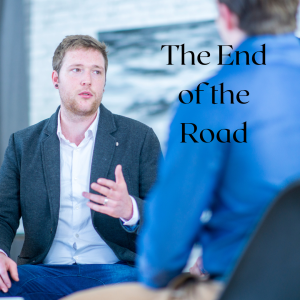 This is a continuation of 'A Hard Reset'
Michael threw open the door and walked heavy-footed down the corridor, half a dozen files tucked under his arm. He ignored Derrick—he'd actually forgotten that he was there—and headed towards the elevator. Three hours of being grilled behind closed doors about the Agency's investigation into the Romero-Denault Affair, and having to dumb down his answers, had him wound up. He appreciated now that there had been twenty feet between him and Neil Sampson, because if he'd been any closer he might have shown the Minister some of his own interrogation techniques.
"Director Reid…"
Michael pressed the elevator call button, then looked in the direction of the somewhat hoarse voice.
"Let me take those for you," Derrick said, holding out his hands.
"It's fine," Michael said.
"I know you can carry them." Derrick pointed at his watch. "But you have a four o'clock meeting and it's already five minutes to four."
A bell dinged announcing the elevator's imminent arrival. Once inside, and still clutching the folders, Michael said, "Remind me what this next meeting is about."
"I don't know the details." Derrick's voice dropped to a whisper, as if unwilling to reveal state secrets to the other two people in the elevator with them. "You added it to your calendar yourself. All I know is that it's with Menard, Smith and Associates."
"Right…" Michael drawled and handed over the folders. "That's the last thing I want to do today."
"I've already called to advise that you'll be about ten minutes late. But if you prefer, I can call to reschedule."
"No. There's no sense putting this off any longer." Michael massaged his forehead as the elevator slowed. Then, crossing the lobby of the West Block, he looked at Derrick and said, "I'll be gone the rest of the day. If anything urgent comes up, you can reach me on my cell."
"There's a car waiting to take—"
"I'll walk," Michael interrupted. Outside, the distance growing between him and Derrick, he added, "It's been a long few weeks. Drop those files back at the office and then go home. I'll see you in the morning."
Michael shoved his hands in his pockets as he ambled towards the crosswalk. His terse exchange with the Minister of Public Safety replayed in his mind, and he thought about how many times he'd blocked that nasal voice out during his cross-examination. And every time he did, he kept reminding himself, Four more months. Once the election is over, I won't have to deal with you anymore. And he hoped that the poll numbers in Neil Sampson's riding would reflect voter intentions on election day. If so, Sampson's defeat would be epic. But he had to clear that from his mind and focus on what waited him at Menard, Smith and Associates.
It had been three weeks since his interview with Sam Whyte, and the night they'd spent together. And the following evening, when he finally returned to the condo, he knew he and Brian had to talk. They'd been putting it off, mostly because the investigation in the Romero-Denault Affair had them both putting in long hours and hardly seeing each other. But no matter how long his day had been, Michael always came home. While Brian was still sleeping in the guest bedroom, sharing the same space at least gave the illusion that they were interested in salvaging them.
When Michael walked through the door, Brian was seated on the sofa and didn't acknowledge him. Before there had been a weak, "Hey," or a somewhat bitter, "Leftovers are in the fridge." But on that night, not a word. After kicking off his shoes, Michael had said hesitantly, "Hi," as he dropped his satchel to the floor. No response.
Instead of trying to re-engage, Michael strode to his bedroom, changed, and then made his way to the kitchen. Brian had left a bowl of pasta in the fridge for him, and he reheated it in the microwave. He poured himself a half a glass of the Wolf Blass Yellow Label merlot that was on the counter, and when his food was ready, installed himself at the island bar-counter. He'd taken his first bit when, out of the corner of his eye, he saw the TV screen go black. Seconds later, Brian stood across from him, arms folded, and those owlish grey-green eyes gleaming a mix of fiery hatred and hurt.
"You didn't come home last night," Brian said, deadpan. "Watching the interview with Sam, I probably saw what no one else did."
Michael set his fork and spoon down. "Brian—"
"No excuses, Michael," Brian broke in. "You spent the night with him. There's no other reason why you wouldn't have come home. Please don't interrupt." He backed up and leaned against the fridge. "I'm too tired to fight. Going under cover, and you believing I was dead—"
"I buried you. Or I thought I had."
"I know." Brian's voice had softened slightly. "Thank you for helping me untangle that mess. You know, officially bringing me back to life. My late father… Well, I guess he wasn't really my father. Anyway, he wasn't so keen to help. But alive, technically we're still married. I called Bethany today to start the divorce process."
Michael dropped his head and stared into his bowl, the pasta edging back up his throat. He closed his eyes and let out a barely audible, "Okay." When he opened his eyes and looked up, Brian was gone. It could have been easy after that to avoid each other, continue to live in limbo, but Michael cornered Brian the next morning. "If we're divorcing," he said using this authoritative director voice that intimidated the most seasoned of intelligence officers now under his command, "then we do this amicably. No squabbling over who gets what. We leave with what we brought into this relationship. For anything we bought together, it gets split fifty-fifty."
"Agreed," Brian said staring into his coffee mug. "Brittany said she knows someone who may be interested in buying the condo. I told her I'd run it by you. She thinks the potential buyer might be looking to close quickly."
"I'm open to whatever gets it done fast and painless. It would be excruciatingly torturous, but I could always crash with my sister for a bit."
Brian finally looked up and met his gaze. "Your sister?"
"I slept with Sam," Michael said pointedly. "I never said I was in love with him." He adjusted the strap of his satchel on his shoulder. "In the meantime, to avoid any more awkwardness between us, I'll get a room at the Weston. Until this whole debacle that Adam Clarke dropped in our laps is cleaned up, I'm going to be putting in some long hours anyway. This will save me some time on my commute."
"I don't…" Brian's voice broke off just before he looked away. "I'm not trying to drive you out of your own home."
"Brian…" Michael waited until Brian returned his focus to him. "This place was never home after I thought I'd lost you. I stayed as a way to keep your memory alive, and the memory of what we had together." His phone vibrated, and he pulled it out of his pocket and read the message on the screen. "I need to go. Whatever you need me to do, let me know, Brian. I'll make sure it gets done." He started for the door.
"Michael…"
At the door, Michael spun around. How did we really end up here?
"I'm sorry," Brian said. "For everything."
"Me, too." Michael opened the door and marched into the corridor.
A horn honked, startling Michael, who was back from his daydream and realizing he'd already passed his destination. He doubled back, entering the white-stone building and making his way to the suite of offices on the seventh floor. The receptionist immediately recognized him and moved from behind the desk before the door had closed. She led him down a corridor to a medium-size conference room whose inhabitants fell silent when he appeared in the doorway.
"Sorry I'm late," Michael said, collapsing onto the chair near the conference room door. He locked gazes with Brian, who was seated on the opposite side of the table. Then he turned to the brunette, parked three seats away on the same side of the table as him. "Good to see you again, Bethany."
"Likewise, Michael." Bethany smiled. "I just wish it were under different circumstances." She stood, picked up a folder and walked it to him. "This is the purchase and sale agreement. Closing date is in two days. Brian already initialled and signed where indicated, and I'll need you to do the same."
"Sure." Michael took the folder, but before he did anything else, he yanked the keychain out of his pocket and held it out. "I've already cleared out my things. Hopefully this makes the rest of the transaction easier."
"You could hand them over when I give you your cheque," Bethany said, reluctantly taking the keys.
"You can mail it to me." Michael unclipped the pen from the folder, which he then opened and speedily initialled and signed every place that was marked. "Anything else?"
"No." Bethany glanced at Brian. "Do you two need a few minutes? I have the room booked until five."
Michael pushed back his chair. "I should—"
"We could use a few minutes," Brian said urgently.
Bethany held out her hand to Michael. "Take care of yourself, Michael."
Michael shook her hand but didn't say anything. After Bethany had left, he trained his gaze at Brian. "Your transfer request is on my desk. If you really want to transfer to the Toronto field officer, I'll sign it."
"I thought maybe it would be good to put some distance between us," Brian said, matter-of-fact, then moved slowly around the table until there was less than a foot between them. "If you ever need anything, Michael, you know I'm only a phone call or text away." He bit his lip. "If I could change what—"
"We can't afford to let regret rule our lives," Michael cut in, then took a step backwards. He opened his mouth to speak, but what could he say? Well, he wanted to say, "I still love you," but the words clogged at the back of his throat. A brief stare-down, then he pivoted and left the room.
And the moment he walked out the door, he knew that regret wasn't going to rule his life, it was going to ruin it…