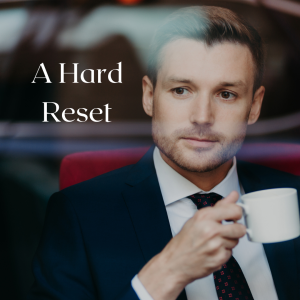 This is a continuation of 'The Sit-Down'
"You don't have to sneak out."
Michael, seated on the grey sofa, looked up after he'd finished lacing up his shoes. His gaze latched onto Sam, who tightened the belt of the white bathrobe that stopped just about his knees. "That's not…" He massaged the back of his neck as he stood. "That's exactly what I was hoping to do, Sam…"
Sam crossed to him and kissed him lightly on the lips. "It was nice to be with you one last time, Michael. I don't know why you came to me last night, and I'm not going to ask, either." He offered a faint smile. "You don't love me. We weren't together long enough for that. It's always fun being with you, but your heart…it still belongs to Brian. Give him a chance. It may be cliché to say, but you have something a lot of people would die for. You and Brian have a second chance."
"I'm not sure it's that simple."
"That's because, like always, you're overthinking it."
Michael snatched his suit jacket off the sofa and put it on. "I'm sorry, Sam."
"Don't be," Sam said meaningfully. "I don't regret what we had, even if it was short-lived. Like to think that I learned something about love."
"What's that?" Michael asked cautiously.
"It finds you when the time is right."
"Maybe." Michael walked to the door, gripped the door handle, and then pivoted to stare down Sam. "I take back what I said last night. You won't be ostracized by the Agency, but don't expect a smooth ride, either. Today, I'll be dealing with the shit storm the interview caused. I'm going to have to throw someone under the bus. Nothing personal."
Sam flicked his eyebrows. "If that's what you need to tell yourself, sure."
Michael opened his mouth to respond, but decided to say nothing.
"Michael…" Sam took a step forward. "The story isn't over. And I'm going to keep digging, no matter where it leads."
"You know what, Sam?" Michael, his lips pursed, nodded. "I know you will. I've always admired your tenacity." He waited a moment, then opened the door and shot into the corridor.
Making his way to the lobby, he thought about what Sam had said. But your heart…it still belongs to Brian. Was he right? And was there a way forward for them? He made it back to his car just before the no parking ban came into effect at six in the morning, noting the parking enforcement officer parked at the end of the street and waiting to ticket remaining vehicles. Instead of returning to the condo, wanting to avoid any type of confrontation with Brain, he headed to the office. The Agency's headquarters had a state-of-the art gym for officers to train in, and showers. And in his few short weeks as the interim director, he'd learned to keep toiletries and a change of clothes in his office.
It was a few minutes past seven when Michael stepped out of the elevator on the eleventh floor for the second time and strolled the quiet hallways towards his office. Pushing open the door to the reception area, he sighed when he saw Derrick nearly catapult out of his chair. Derrick hadn't been there when he picked up his change of clothes before heading to the gym showers.
"Good morning, sir," Derrick said, clinching a notebook against his chest.
"Is it?" Michael asked as he continued into his office. He had been, perhaps regrettably, blunt during his interview with Sam. And as much as he wanted to blame Sam, it was all on him. He knew his personal history with Sam had, on some level, let him speak more freely when he should have been more guarded. And it wasn't that he had revealed any information that could threaten national security as much it might embarrass the government. Standing behind his desk and eyeballing Derrick, who had followed him into his office, he said, "I suspect I won't be in this office as long as I thought."
"The PMO started calling ten minutes ago," Derick said, glancing down at his notebook. "Neil Sampson, the new minister of Public Safety, has called personally twice. Thomas from Communications sent an e-mail saying the media liaison office's voicemail is full. He's on his way in now."
"All right." Michael scratched his forehead. "When Thomas comes in, tell him I'll meet with him whenever he's ready. I'm sure I'm not the first director he's had to manage through a communications nightmare. If Neil Sampson, or anyone from the PMO or any other department calls, tell them to politely bugger off. Political interference is what got the Agency into trouble in the first place."
"Yes, sir," Derrick said and started to back out of the office.
"Derrick, please…stop the sir crap."
"Yes, Director."
"That's not much better." Michael chuckled, then threw out, "Why are you here this early anyway?"
"Honestly?"
"Honestly," Michael said, watching Derrick's Adam's apple bob up and down.
Derrick took a step forward into the room and said in a low voice, "I watched the interview last night. I thought I should be here when you came in."
"So…" Michael eased onto his chair. "It was that bad."
"Bad? Not for you, sir. You handled Sam Whyte's questions exquisitely and expertly reminded Canadians of the Agency's role in protecting them." There was a hint of admiration in Derrick's voice that hadn't been there earlier. "But for the Government, and most of their MPs, you probably put the final nail in the coffin of the re-election bid."
"I just told the truth," Michael said, matter-of-fact. "I think the country deserved that."
"Yes, it did," Derrick agreed and stepped back towards the door.
"One more thing," Michael called out just before Derrick had disappeared. "The morning's probably going to be hectic, but I need you to find fifteen minutes for me with Agent Clarke."
Derrick nodded, then left the office.
Michael opened the laptop on his desk, then immediately started to visit news site after news site. The headlines were similar in that they forecasted doom for the governing party:
Government Headed for Wipeout: Poll
Opposition Demands Election Now
PM Silent After Reid Bombshell Interview
He looked up at the knock on his door, quickly glanced at the time in the corner on his laptop's screen, then said, "Come in. And close the door."
Josh closed the door, then advanced to Michael's desk. "Wouldn't want to be you right now."
"I don't want to be me, either."
They laughed.
Holding out a dossier, Josh said, "I think this is what you asked for."
"That was quick." Michael accepted the folder, then gestured Josh to sit as he reviewed the documents inside. That took about seven minutes, then he levelled his gaze at Josh. "You're confident this information is accurate?"
"Yes." Josh clasped his hands together. "Every lead I checked out, every person I spoke to … it all leads to the same conclusion. The same name. What would you like me to do next?"
"Nothing yet." Michael, grabbing the dossier, stood and crossed to the locked filing cabinet to the left of his desk. He entered a code, pressed his thumb to a reader and, at the clicking sound, opened the top drawer. He shoved the folder in quickly, then closed the drawer and returned to his chair. "This stays between us."
Josh leaned forward slightly. "Don't you think you should tell Brian?"
"Not now. Not after everything he's been through. And there are wider implications."
"You don't seem surprised." Josh sat up straight. "Was that just a test to see what I'm capable of?"
"No. But I did need to know if my suspicions were right without raising any other alarm bells. This government is already gunning for me and the Agency." Michael leaned back in his chair. "I've never doubted your abilities, Josh. And you proved me right that you're a valuable asset. That's why I want to offer you a more interesting assignment."
"Hopefully more challenging, too."
"Absolutely." Michael opened the bottom drawer of his desk, removed a thick tome and passed it to Josh. "I want you to head up the Agency's internal security team. That's the Auditor General's report from two years ago on how the Agency failed to meet its physical needs to protect its staff and assets working at home and abroad. None of the ten recommendations have been implemented. With Adam Clarke leading the Agency during that time, we now know why no action was taken."
Josh leafed through the report. "You're not expecting me to do this on my own…"
"No." Michael stood, walked to the front of his desk and sat on the edge. "Put a team together. All fresh faces. No one from inside the Agency. But I personally clear each member of the team."
Josh beamed. "This is exactly the challenge I need."
"Good." Michael pushed himself off the desk. "I'm counting on you, Josh. If the Agency is to survive, what happened under Clarke's watch can never happen again…"