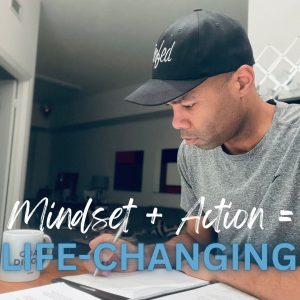 Mindset is everything. Lots of experts tell us that as we set out on a big project or goal—starting a business, training to run a marathon, or conceptualizing and creating a series of paintings, and more. If you have the right mindset, nothing can hold you back. You can conquer the world, and your dreams. I'm purposely oversimplifying because from personal experience I've learned that mindset is key…but it isn't everything.
Shift Your Perspective
I've shared recently how I finally decided to register for the TCS Toronto Waterfront Marathon, which takes place in October. The decision to register for the race had surprised me because for months—longer even—I'd been stuck in a fixed mindset. I believed that running short distances (nothing more than seven kilometres) was my new reality. It was a talent that, to me, was "innate and unchangeable."1 There was nothing I could do about it.
You have been preoccupied by bullshit for way too long. It's time to switch your focus to the things that will slingshot you forward.2 – David Goggins
I'd like to say that I don't know how I embraced a fixed mindset, but that'd be a lie. A foot injury knocked the wind out of me, and silenced my courage and motivation to move past my limitations. I'd always been one to push the envelope, learn the rules and then find a way to break them. My growth mindset1 had also been shunted into a dark cell, the key tossed away and left to rot.
But in order for me to run a marathon, I had to shed that fixed mindset and challenge myself. I had to get unstuck. And there was only one way to do that…
Do the Work
I am, currently, entering the fifth week of a twenty-week training plan. I hadn't planned on racing in 2023 because of my fixed mindset. But once I turned the tables on my erroneous, outdated thinking—and to embrace a growth mindset—I committed to the hard work I knew was necessary.
Outside of my day job, I'm also a writer. Part of my hesitation in running a marathon this year stemmed from an already packed schedule. When would I be able to train? I came to the 'sad' conclusion that I had to get up earlier (I already get up at 3:00 am). But if I want to succeed, to run the race and finish it, that's what's necessary. So, I do the work.
Mindset + Action = Life-Changing
The right mindset keeps you grounded, taking action keeps you in step with your vision and greatly increase your risk of success. Vaclav Havel, a former president of the Czech Republic rightly counselled, "Vision is not enough. It must be combined with venture. It is not enough to stare up the steps; we must also step up the stairs."
For whatever you set out to do, be prepared to step up the stairs of life. That is the only way to become who you dare to be.
The right mindset, combined with action, will let you change your life. Never give up. Try again. And again. No matter what.
Goggins, D. (2022). Never Finished: Unshackle Your Mind and Win the War Within, LionCrest Publishing, p. 40. [↩]