At an altitude of 38,000 feet, I always felt like I was flying towards possibility. That a mechanical, steel tube even got off the ground — especially something like the Airbus 380 — left me in awe. Until the day I caught a whiff of an electrical burning smell and shot out of my jumpseat, as did the rest of my colleagues. Anticipating a rapid descent into chaos, for the first time in my four years of working as a flight attendant I had one thought: This is it.
It wasn't. The flight diverted and landed safely. We spent a couple of hours on the ground while the mechanics figured out what was wrong and fixed it. Then we were on our way home.
Sometimes Desperation Wins
I never dreamed of becoming a flight attendant and travelling the world. It was nowhere on my radar until I was looking for a new job in 2012. And at the time, I applied more out of desperation than any genuine interest. I hadn't been working for a while, I had no savings to speak of, and I'd been surviving on the generosity and kindness of my sister and a couple of good friends.
Even after a grueling seven-week training course — and watching other participants fail exams or be weeded out — I never expected to last a year. Now, 2,565 days after my first flight, the allure is gone. Maybe it was never even there.
From Chaos to Possibility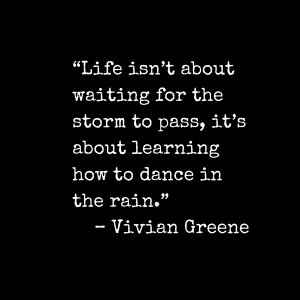 These are crazy times. I never imagined living in the age of a pandemic, practicing social distancing and staying at home. No more post-run lattes at Starbucks, or dinners with friends at various Toronto restaurants. No more chats with David and some of the other patrons at La Palette (my favourite Toronto restaurant where I often treated myself to lunch). And no more daily trips to the butcher or grocery store to pick up ingredients for dinner (I placed my first online grocery order this week!).
As people rushed to empty grocery store shelves of toilet paper, cleaning products, flour and other staples, I didn't panic. Too shell-shocked to believe what was happening? Maybe. So, instead I remained calm, Zen even. Because I didn't see chaos.
I saw possibility, and an opportunity to change the direction of my life…
Has COVID-19 impacted how you see yourself in the world? How do you think your life will change post-lockdown? Click Reply to let me know. I love hearing from you!