Writing is hard work. So is being a painter, a sculptor, a dancer. We show up every day to do the work, to share our vision of the world in the only way we know how. When the time is right, we release it into the public domain and wait. Wait for third-party validation. Wait to be told it's good enough, or that it sucks. And as we wait, we're already back in the studio, at the piano, or in front of the laptop creating again. We're living our dream. We don't give up.
Reality Check
No matter how great we think our art is — a novel, a series of paintings, a dance choreography — not everyone will like it. Don't believe me? Check out my book, The Flowers Need Watering, to see the ratings that range from 1 to 5 stars, and some of the cutthroat reviews. But you roll with the punches because art is subjective, and what we create won't appeal to everyone. And my goal isn't to create for the masses. It's to focus on a small group of people for whom I can, through my writing, be of service. That's what drives me. Not the 4 or 5-star reviews or glowing praise, but that I've been of service.
Do the Work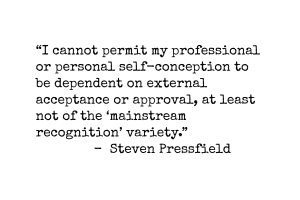 Whatever your dream, embrace it and don't give up. Don't run away at the first (or forty-ninth) failure. Don't think it's impossible because it's taking longer than you expected to get where you want to go. Show up daily and do the work.
My first novel, Freestyle Love, debuted and flopped in 2011. I'd been so emotionally invested it (it was my first book and I expected everyone to love it) that I couldn't see that it really sucked. Big time. Going through the process of self-publishing for my second book — and working with an editor — allowed me to see all the mistakes I'd made with Freestyle Love. And it did something else, too. It gave me the courage to try again. So, I rewrote Freestyle Love because I still believed in it and, with more experience behind me, I knew I could make it better. I refused to give up.
The Lesson
A few years ago, talking about the writing process with a friend, she asked me this: What are some things that you've learned along the way that would help other authors who are trying to publish their first book? While I geared my answer to writers, it applies to anyone pursuing a dream. This is what I said:
Art is subjective, so don't take rejection personally. Be satisfied that what you put out for public consumption is your best work and let it shine.
Be persistent. Keep writing. Keep practicing. Show up daily to do the work. 'Do the work' is the important part because when you show up daily, you create a routine. And the more you write or dance or paint, the better you become.
Believe in yourself and in the work, and do it all for the love of it. It's a challenge in today's world, but try not to focus on your blog stats, Facebook likes, number of retweets, etc. While they are supposedly indicators of our success, they can drive you crazy if you feel like you're not engaging enough or that no one is listening. Just be who you are, let your voice shine through and be of service. Focus on doing the work.
Bring the Magic
I know this much is true. The magic happens when you show up daily and do the work — not for fame, wealth, or recognition, but because it is the one thing you cannot not do. It is your purpose, your calling. That is the moment when the stars align, when your light shines.
What drives you to do what you do? What one thing could you do today that would move your dream forward? Click Reply or leave a comment in the section below. I'd love to hear from you.