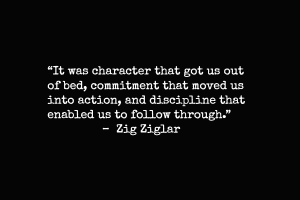 I'll be honest…
There are days when I don't feel like writing. It's not that I'm blocked, but that I'm procrastinating. I want to catch up on the latest season of Jack Ryan, or episodes of Prodigal Son. That's a sign of two things: 1) I'm getting close to finishing something and not knowing what I'm supposed to do next; and 2) Doubt is trying to have dominion. And if I let doubt in, I'll question my talent and my worth, and then start asking, "What's the point?"
Inspired
Part of my morning ritual is to read a quote that inspires and keeps me motivated. I write the quote in my planner, and seeing it throughout the day gets me to the page. Today, I'm sharing ten of my favourite quotes that inspire me. Hopefully, they'll inspire you, too.
"I have learned over the years that when one's mind is made up, this diminishes fear." – Rosa Parks

"Only put off until tomorrow what you are willing to die having left undone." – Pablo Picasso

"All you need is the plan, the road map, and the courage to press on to your destination." – Earl Nightingale

"Your time is limited, so don't waste it living someone else's life. Don't be trapped by dogma — which is living with the results of other people's thinking. Don't let the noise of others' opinions drown out your own inner voice. And most important, have the courage to follow your heart and intuition." – Steve Jobs

"Motivation is what gets you started. Habit is what keeps you going." – Jim Rohn

"Follow your bliss and the universe will open doors where there were only walls." – Joseph Campbell

"Greatness belongs to those who have mastered the ability to focus relentlessly on their ambitions and act decisively towards them." – Brendon Burchard

"If you dream it, you can achieve it." – Zig Ziglar

"We must believe that we are gifted for something, and that this thing, at whatever cost, must be attained." – Marie Curie

"Risk more that others think is safe. Dream more than others think is practical." – Howard Shultz
Do you have a quote that inspires you? Click Reply to share. I love hearing from you!