In our household, my partner loves to watch Entertainment Tonight. We only have one TV, so he learns how so many people are heeding their calling (or at the very least who's divorcing whom). But as soon as the credits start to roll, I flip the channel. Now he must 'suffer' through the last half of Murder, She Wrote. Compromise? Maybe.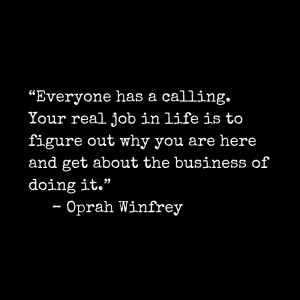 I'm not interested in celebrity gossip, but sometimes that thirty-minute broadcast — even though I try not to pay attention — offers a gem. That gem for me came late in 2017 during a segment on Oprah Winfrey and her book, The Wisdom of Sundays: Life-Changing Insights from Super Soul Conversations. Ms. Winfrey is one of my role models who inspires me to do better and be a better person. Some days, I feel like I'm succeeding in those endeavours.
At the time, however, I didn't have any intention of picking up her book. There were already too many books, piled high on our coffee table, that I hadn't read. Hers had to wait. But one day my partner returned home with it and added it to the pile. And as much as I wanted to resist it, I couldn't. From the moment I read the first page, I knew I was about to begin a new journey that would change my life.
Fulfillment
Oprah writes, "Everyone has a calling. Your real job in life is to figure out why you are here and get about the business of doing it."[note]Oprah Winfrey, The Wisdom of Sundays, Flatiron Books, 2017, p. 172.[/note]
I needed a reminder about why I'm here and a good kick in the pants to get moving. And … shazam! There it was.
We can spend too much time trying to please others, to husband their dreams instead of our own. Believe me, I know. I spent a good deal of my twenties and early thirties running away from the writer in me, running away from my calling. I linked myself to people who didn't have big dreams or who gave up easily. Their worldviews coloured my own and, consequently, I didn't really believe that I could do the thing I dreamed of doing most.
But no matter how hard I tried, I could never outrun writing. It's the thing in life that gives me purpose, grounds me, makes me feel alive. Writing calls to me … every day. And when I heed the call, I am in a place of wonder, joy and fulfillment.
Will You Heed the Call?
Dare to dream. Dare to believe in the power of your dreams and do what is necessary to make them come true.
This is your life. Take your calling seriously because if you don't … no one else will.
So, whatever it is you want to do, or dream of doing, now is the time to get busy doing it. It'll change your life most dramatically.
Do you feel you have a calling? Have you heeded the call? Click Reply or leave a comment in the section below. I'd love to hear from you.