Not normal: not following the crowd; living your life your way; following your heart's desire.
That's me. Every day. Doing what is in my heart and not waiting for — or concerned about — third-party validation. And in a world where so many people are chasing instant success and stardom, that makes me … not normal.
My Life, My Way
Some time between four and four thirty in the morning, I bounce out of bed. Usually panicked, believing that I've overslept and terrified of missing out on the best part of the day: the quietude of the early morning hours. After about forty-five minutes to an hour of writing, I'm out the door and heading towards the Martin Goodman Trail (although recently I discovered the peacefulness of the Lower Don River Trail).
To a lot of people, getting up early in the morning is not normal. But while most of the city is still asleep, I'm jumpstarting the day. Not normal. (Or maybe it is if you follow Mark Wahlberg. Find a copy of the Men's Health September 2016 issue to read about Wahlberg's daily routine.) When I stopped drinking just to improve my health, my energy and sleep, people said I was 'crazy.' Because they could never do that, so again I was not normal. After a long night of flying, my colleagues stampede to their beds. Even though I've been up for roughly twenty-eight consecutive hours, the first thing I do after entering my London hotel room is don my running gear and hit the trail. I've been told, repeatedly, that that's not normal.
Breaking the Rules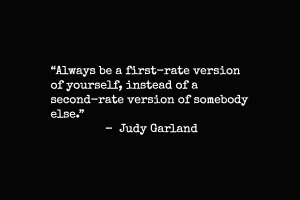 At the beginning of the year, my goal was to run 50 km a week. Since 9 July, when I registered for the Scotiabank Toronto Waterfront Marathon, I've been aggressively increasing my weekly running mileage. Preparing for the race in October, I'm now averaging over 70 km a week. Some have said my approach is not normal, not the 'orthodox' way of doing it.
Maybe I'm breaking all the rules…
Still, I get up early in the morning. Or I run on zero hours sleep (something that I don't necessarily recommend). And challenge myself to run farther and faster. If others perceive those things as 'not normal,' then why do I still do them?
Here's the Truth
Lately, I can't stop thinking about this short passage I read in Brendon Burchard's The Motivation Manifesto: "Let it be clear to all: Greatness belongs to those who have mastered the ability to focus relentlessly on their ambitions and act decisively toward them."[note]Brendon Burchard, The Motivation Manifesto, Hay House, Inc, 2014, p. 65[/note]
For my writing and running, every day I try to focus on my goals and 'act decisively.' It's not always easy or convenient, but to change my life — to become who I want to be and do what is in my heart — it is necessary.
Normal. Not normal. I'm okay with either. Because every day — with my running and writing — I just show up to do the work.
What are your ambitions? Are you acting decisively towards them? Click Reply and let me know. I'd love to hear from you!