In today's world, there's so much pressure to be someone you're not. If you don't follow the crowd, you're branded weird, different, or strange. And as we're documenting almost every moment of our lives on social media, judgment is sometimes swift and acerbic. That makes it tempting to be like everyone else. My golden rule is this: just be you.
The Little Engine that Could
As a child, did you read The Little Engine that Could by Watty Piper (aka Arnold Munk)? A story of optimism and hard work, I remember it most for the phrase, "I think I can." Because there were days when I didn't think I could. Well-intentioned friends and family told me I couldn't make it as a writer, or that it'd be impossible to succeed. I almost believed them, almost lost myself — who I am — in the labyrinth of nine-to-five. But when I stopped to hear life speaking to me and heeded the call of my heart's desire, I knew the only thing I could do was just be me. I made "I think I can" my mantra. And being me, I've published two novels (a third coming out later in the fall), and over a dozen essays and short stories. So, if I can be me, you can just be you.
It's My Way, All the Way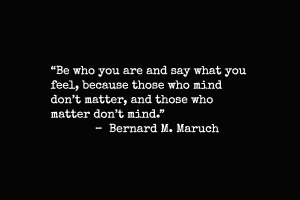 I'm training for my first full marathon that will take place in October. It's not a secret, especially if you follow me on Facebook. Thursdays have become the day I put in my long runs of 30 km or more. If I'm home on the weekend, I'll join up with a local running club.
My first time running with a group in years was a few weekends ago. When I showed up, I was asked what pace I ran for my long runs. I really didn't know. Up until that point, the longest I'd run was 24 km. I really just picked a number out of the air — 5:10 — and went with it. I decided that morning to run 30 km and was paired with other runners doing that distance and running at the pace I said. At the 17 km mark, my heart jackhammered. Was I struggling? Absolutely. One of the runners turned to me and said, "There's no shame if you have to fall back to the group behind us." No way. No effing way. I wasn't going to let someone else set my limits, Stubborn, maybe, but I stayed with them to the 29th km before veering off to head home. So, if I can be me, you can just be you.
Just Be You
It took me a long time to realize, but my greatest gift to the world is me being who I am. No pretending. No subterfuge. Just every day living intentionally as I heed my calling. Chasing my dreams isn't always easy. Some days I struggle to stay focused, other days life interrupts and sends me spinning. Other days, still, I buckle down and get to work, and I'm living my ideal life.
So, if I can be me, you can just be you.
Are you being your true self? Are you holding back in life? Click Reply to let me know. I love hearing from you!