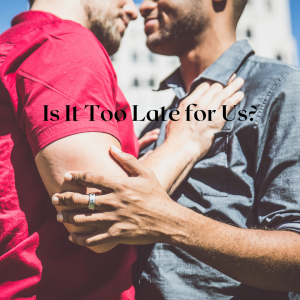 A continuation of "Past Present Future"
The Gulfstream G200 banked to the right, and Michael stared out the window at the floor of white fluffy clouds below. He couldn't see the ocean, and that was a good thing. The seat belt sign had gone off two hours ago, but the black strap was still secured tightly at his waist. And he'd wait until his bladder was set to burst before even thinking about getting up. At least he'd managed to keep his coffee down as the plane pitched and rolled during the climb to their cruising altitude. Turbulence wasn't just like 'riding down a bumpy dirt road,' like his grandmother had told him. Not when there was thirty-seven thousand feet between him and the surface of the Atlantic Ocean.
Michael flinched when the hand pressed down on his shoulder. He looked up to see those owlish grey-green eyes fixed on him. Despite what he wanted to believe, they still had a certain power over him.
Brian removed his hand, then dropped into the chair across from him. "This might be a good time to talk."
"Not really," Michael said, barely moving his lips. "I'm not a great flyer. And talking shakes the plane."
"You know that's not true." Brian, smirking, sat back and clasped his hands together on his lap. "You said things had changed. I need to know what that means. I know I was gone six months, and that what I did probably hurt you."
"Probably?" Michael's voice spiked. "You staged your death and didn't tell me. And I grieved for you, Brian. It tore my heart out. And the condo… In every room I could smell the citrusy scent of your cologne. I heard your throaty laugh. For weeks, I cried myself to sleep. It took me six months to reach a place where thinking about you didn't make…"
"Michael, I'm—"
"No!" Michael raised a hand. "Don't say you're sorry because I don't believe it." From that point onward, he shut Brian down every time he tried to speak. Despite his many questions, he wasn't sure he was ready for the answers. Or, worse. He wasn't sure they'd change anything.
Several hours later, they were back in Ottawa. Michael, pulling up the handle of his suitcase on the sidewalk in front of his Murray Street condo building, watched as Brian exit the black Escapade that had picked them up at the airport. "What are you doing?"
Brian, after collecting his luggage from the cargo space, looked blankly at him. "What do you think I'm doing?" Then he headed for the entrance to the grey-stone building.
"Brian!" Michael barked.
Brian had reached the door and pulled it open. Then he stood there, his head down and waited.
Michael looked up at the pewter skies and drew in a breath. This wasn't happening. Not today. Of course, they had to talk. He knew Brian was eager to, perhaps even desperate to re-establish their connection. But not today. And on Michael's terms, not Brian's. But one thing had to be said, and Michael couldn't put that off. He grabbed the handle of his suitcase and ambled towards the entrance. "Brian…"
Brian raised his head. "I'm coming home."
"You don't live here anymore," Michael said, matter-of-fact. "You're dead, remember?"
"I'm very much alive." Brian grabbed Michael's hand and squeezed it. "Feel that? And guest what else? I'm still your husband."
Michael yanked his hand free. "I have a death certificate that says otherwise, a deed that now only has my name on it and —"
"My father will fix that," Brian interrupted. "It was all part of my cover."
"You mean it was all part of your plan to dupe me." Michael glanced away. "Brian, you can't stay —"
"Where am I supposed to go?" Brian spat.
"Where have you been staying for the past six months?" Michael shot back. "I mean, seeing how you concocted the whole thing with your father —"
"You know that's not an option." Brian made an unsuccessful play for Michael's hand. "I'll sleep in the guest bedroom. I just…" He chewed the inside of his mouth. "I love you, Michael. And everything I did was to protect you. I know it'll take a lot for you to trust me again, but I'll do whatever it takes to earn that trust."
Michael held Brian's gaze a moment longer before pulling out his keys and thrusting them into Brian's hand. Then he walked away from the building.
"Where are you going?" Brian called out.
Standing near the edge of the sidewalk, Michael flagged down the approaching cab. When it stopped at the curb, he tossed his suitcase into the trunk, then opened the rear passenger door. He looked in Brian's direction and said, "I don't know if this is real or if I'm dreaming. But whatever it is…" He sighed. "I can't be near you right now."
***
The next morning, Director Clarke pushed his silver-framed glasses up the bridge of his Roman nose and glared first at Brian, then at Michael. "Anything to add?"
"Yes." Michael reached into his jacket pocket, pulled out a white envelope and held it out.
"And what is this?" Director Clarke asked as he accepted the envelope.
"My transfer request to the domestic terrorism unit," Michael said calmly. "I don't think I'm a good fit with counterintelligence anymore."
Clarke looked at Brian. "Thoughts?"
Brian ran his hand over his mouth, then gave a languid shrug. "Doubt it matters what I think."
"No, it doesn't." Director Clarke leaned back in his chair, removed his glasses, and again shifted his gaze between the two men. "Michael, I'll think about your request. In the meantime, I'm suspending you both for two weeks."
Brian shot out of his chair. "You've got to be kidding."
"One more word, Agent Clarke and I'll make it without pay." After a pause, Director Clarke gestured to the door. "Dismissed."
"Thank you, sir," Michael said as he stood, then beelined it for the door. He hustled through the reception area, into the corridor and towards the elevator. The doors opened as soon as he hit the call button. And when he reached to press the 'L' button, Brian walked into the cozy space.
After the doors slid closed, Brian asked, "Are you ever going to talk to me again?"
"I need some space right now." Michael stared at his shoes. "And I need you to respect that."
"And you can't put any more space between us than by transferring out of counterintelligence," Brian snapped.
Michael looked up. "We shouldn't work together anyway. Especially now."
"You hate me that much?"
The elevator doors opened, and Michael burled past Brian. Led-footed it across the expansive lobby, swiped his I.D. card in front of the scanner, then passed through the turnstile and left the building. He'd just reached the bottom of the stairs when a hand landed on his shoulder and held him in place.
Brian cut in front of him. "I need to talk to you, and you're damn well going to listen…"
Another stare-down, then Michael followed Brian, walking about two feet behind him, as they made their way to Confederation Park. He waited until Brian sank onto a bench across from the Colonel By fountain, then eased onto the other end, putting as much distance between them as possible. What did that look like to the people passing by and sometimes glancing at them? An attempt at an inconspicuous meet-up? A drug deal?
"Don't," Michael warned through gritted teeth when Brian moved to close the gap between them. "I can hear you from where you are."
"Can you please look at me?" Brian asked.
Michael shifted his focus from the fountain to Brian's left shoulder, unwilling to make eye contact.
"They said they'd kill you," Brian said, matter-of-fact, "and I believed them. I don't know how they found out who you were, or how you were linked to me. But they did. They sent me photos of —"
"Photos?" Michael found Brian's gaze and held it. "Of me?"
"Yes." Brian slid his body closer to Michael's. "You running along the canal. Standing on the balcony. Grabbing a coffee at Burnt."
"First off … who's 'they?'"
Brian placed his hand on Michael's thigh. "I can't tell you that." He raised a hand. "Not because I don't want to. I've been ordered not to."
"Your father." Michael sucked his teeth. "He's never liked me."
"He doesn't exactly like me, either." Brian squeezed Michael's thigh. "I know I hurt you, and I'm sorry. But everything I did…"
Michael shot off the bench and spun around as he shoved his hands in his pockets. "You don't know how they found out about me?"
"No." Brian stood and reached for Michael's hand. "I was careful."
"Not careful enough. Or…" Michael's eyes widened. "What if they have someone inside the Agency —"
"No way," Brian protested. "Besides me and my father, only four other people had knowledge of my operation."
"Then that's where we start." Michael pried his hand free. "One of them sold you out. Give me their names and I'll find out who."
"You're suspended, remember?"
"But there's someone who owes me a favour…"