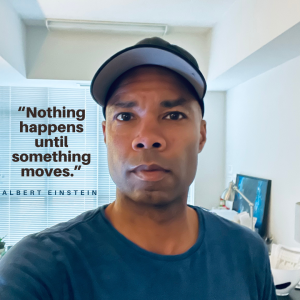 As we near the end of the year (it's closer than you think), I become a bit more reflective. Am I really focused on what matters? What more can I do to fulfill my dreams? How can I be of service? Mulling over those questions, I am thinking more about how I can live a life worth living.
Life isn't easy at the moment. Inflation is on the rise. We are still dealing with COVID-19. The war continues in Ukraine. Millions of people are struggling to make ends meet. There are a lot of reasons to give up, to crawl into a deep, dark hole and stay there. Working with the public, there are many, many days when I want to build a cabin in the woods protected behind fortified walls. No one in or out. All of those things together have me asking other questions: How do I stay focused and sane? How do I throw off the doubt and fear? How do I cut myself off from the noise?
Three Simple Rules
Have you heard of Carey Lohrenz? Lohrenz became one of the first female F-14 Tomcat fighter pilots in the US Navy. And she reminds us that there are three simple rules in life:
If you do not GO AFTER what you want, you'll never have it.

If you do not ASK, the answer will always be NO.

If you do not break out of your COMFORT ZONE you'll always be stuck in the same place.
If we want to live a life worth living, then we must make every effort to incorporate those rules into our life. But how?
Put First Things First
Caught up in the hustle and bustle of life, we end up on autopilot and don't follow through on our heart's desire. Maybe now is the time to put first things first. That may mean getting up early or staying up late to focus on your project(s). Currently, I get out of bed around 3:00 am to write. I don't recommend everyone getting up that early. You have to find your own sweet spot of creative time. Or maybe you take a vacation day (and don't tell anyone) to finish the sound editing for your short film. I took time off earlier this year and didn't tell anyone, and it gave my time to finish things and rest. Another option is to find a quiet place during your lunch hour (alone) and write the first sentence of the book that's always been inside of you. Magical things happen when we put first things first.
It Kind of is Now or Never
If you think that you have lots of time to accomplish your dreams, think again. Tomorrow is not guaranteed to any of us. I can no longer count on two hands how many times I have heard, "When I retire, I'm going to…" Only the person never makes it to retirement. Or if they do, their days are spent battling cancer or some other illness. They never have the chance to do what they said they'd do.
There are 271 days left until I turn fifty, and I am living with a sense of 'urgency' knowing my time on this planet is limited. I want to make the most of every day, and do what I can to make sure my journey on this earth is a long one (my arms, legs and shoulders ache after my unexpected return to the gym three weeks ago). Whatever you dream of doing, do it now. Don't wait. Don't put it off any longer. You'll do it later? Who says you'll be around to do it later?
Here's the thing: The longer you wait to begin, the longer it'll take to get to where you want to go.
A Life Worth Living
Whatever life you wish for yourself, whatever you need to do to create a life worth living, now is the time to begin. Or begin again.
Don't wait.