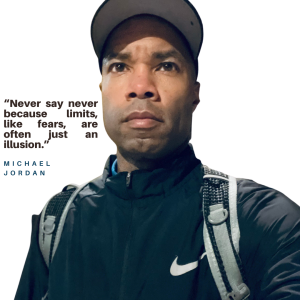 Never say never…
Throughout all the years I had been running, I'd said I'd never run a marathon. I'd completed a few half-marathons, but a full one? Nope, not for me. Then in 2019, I ran (and completed) the Toronto Waterfront Marathon.
In the early months of the COVID-19 pandemic, and terrified of catching the virus — and safe at home alone and locked down — I said I would never step foot in a gym again. Not even the one in my condo building. Then on Tuesday, 25 October 2022, there I was entering Barry's on Richmond Street for my first HIIT class.
Although those are just two examples of me saying, "I'll never do that," it always seems to be at some point I end up eating crow. Never say never, right?
Sidestepping Fear
When I look back now, me never wanting to run a marathon or return to a gym were younger, and perhaps naïve, versions of myself paralyzed by fear. I didn't want to be that one who, on the day of the marathon, never crossed the finish line. At the gym, I didn't want to be the lone guy in the class who couldn't do the ten pushups or didn't know the lingo.
But to succeed I had to sidestep fear, and just show up and do the work. When I was training for the marathon, that meant running when I didn't feel like it, when it rained, when it was blistering hot. That was what got me to the finish line. Now back at the gym, I am that guy who can't (yet) do those ten pushups, and I certainly don't know the lingo. But with each class I am pushing myself and, slowly but surely, I am getting better.
Never Say Never
I'd love to say that I'm never going to say, "I'm never going to do that" — whatever that is — again. But I know that when fear creeps in, when I doubt myself, that'll be my go-to response.
But what I've learned by being back in the gym is that when you have a goal, you have to quickly become comfortable doing what has always been uncomfortable for you. If I want to lose ten or fifteen pounds, and recognizing that what I have been doing isn't working, I have to do that uncomfortable thing: i.e., go to the gym. When I wanted to write my first novel, I had to do that uncomfortable thing: ie., begin a daily writing habit. I had to leave behind the fear and worry about not being good enough. I had to stop worrying about who was watching and what they thought.
Never say never. As it turns out, it's a warning sign that something in my life is about to become extremely uncomfortable. But, in the long run, I'll be better off for it.