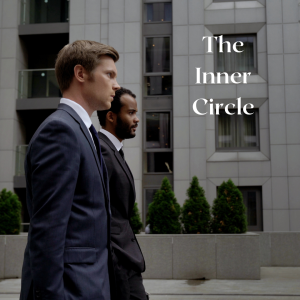 This is a continuation of 'Surrender'
At the knock on his office door, Michael looked up from the folder on is desk. "Yes, Derrick?"
Derrick adjusted his silver-framed glasses on his conical nose. "Mr. Warren is here."
"Please, send him in." Michael closed the folder and moved from behind his desk, greeting the man in the navy suit in the middle of the room. "Thanks for coming, Josh," he said as they shook hands. After the door to his office closed, he gestured Josh to sit. "Would you like a coffee or a water?"
"I'd love a coffee," Josh said, unbuttoning his suit jacket as he dropped onto the cozy black leather sofa.
Michael crossed to the coffeemaker on the credenza behind his desk and poured two cups. He then made himself comfortable on the matching sofa opposite Josh, handing him the other mug. "You didn't have to dress up."
"I thought meeting the new Agency director merited a suit." Josh simulated a toast as he brought the mug to his pinkish lips. "I hear you're the youngest person to hold the position."
With Lauren Platt/Angelique Romero arrested, the Agency — and the entire Canadian intelligence community — was in meltdown. The new prime minister moved quickly to oust compromised deputy ministers and other senior officials. And luckily for the Agency, the new PM had spent fifteen years of his career in intelligence and still believed in the value of the work the Agency provided. And perhaps no one had been more surprised than Michael when he'd been tapped as the interim director.
"People seem to forget to add 'interim' before director." Michael leaned back and chuckled. "I think you know better than most that I'm not good at playing politics, so I'm not sure that this is the best role for me, not in the long term. Maybe I'm just the clean-up guy. You know, help rebuild the Agency's reputation and its credibility in the wake of the damage Adam Clarke did. And I haven't even been in this role a month and I already miss being in the field."
"I think that if you give it time," Josh said after sipping his coffee, "that maybe you'll see that you're the perfect person for the job."
"Doubtful." Michael set his mug on the narrow coffee table, then clasped his hand together on his lap. "What are you up to these days?"
Josh shrugged. "Working odd private security jobs. I worked for James for seven years. Having been linked to him, my reputation has taken a hit. Very few believe that I didn't know what he was doing. From their perspective, I had to be a part of it."
"Sorry to hear that," Michael said meaningfully.
"I'm making ends meet. Got to give it time. Eventually most people forget."
"Well, I think you can be doing more than private security, especially since you spent time with the Special Operations Forces Command." Michael paused deliberately. "Come work for me."
Josh's bushy eyebrow arched. "You're kidding, right? After everything that's happened, there's no way I'd get the necessary clearance —"
"Let me worry about that," Michael interrupted. "Besides, you wouldn't exactly work for the Agency. Even if I'm only the interim director, I have discretionary funds to use as I please. And what did you see coming in here today? We have a skeletal staff and, to be honest, I'm still not sure who to trust."
"And you trust me?" Most people —"
"I'm not most people," Michael said flatly. "You had multiple opportunities to take me out, and you didn't. And you saved my life once or twice."
"Well, if we're counting, I saved your butt four times."
They laughed.
"But you're serious about me working for you?" Josh asked hesitantly.
"Yes. I need someone I trust, and I trust you. And you have the military training that will definitely come in handy."
Josh pursed his lips. "I'll report directly to you?"
"Me, and only me," Michael confirmed.
"Fine." Josh held out his hand. "I'm in."