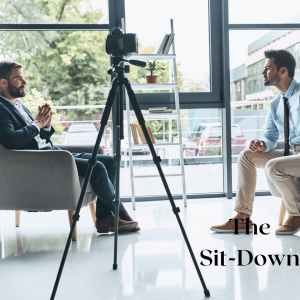 This is a continuation of 'The Inner Circle'
"Is this really necessary?" Michael asked as the male makeup artist brushed his forehead.
"It'll reduce the glare of the lights," Sam said and chuckled as he sat down across from Michael. "That's what happens when you shave your head."
"Ha-ha." When the guy moved off, Michael locked gazes with Sam. "You remember what's off limits?"
"I can't ask you anything that may compromise national security." Sam glanced down at the iPad resting on his lap. "That doesn't mean I'm not going to try."
"Sam…"
"The public has waited long enough to find out what happened and how the PM was involved," Sam shot back.
Michael didn't look away even though he wanted to. Because Sam was right. There had been more questions than answers since the former prime minister's arrest. While the government promised a public inquiry, it had been slow to set the inquiry's mandate and appoint a commissioner to lead it. Even with so many public officials charged in the Romero-Denault Affair—and the new prime minister's swift handling of it—the government's poll numbers continued to tank. Worse, still, for the governing party was the fact that they faced the real possibility of being completely wiped out at the next election.
"And this isn't the exclusive you promised me," Sam added primly.
Michael smirked at Sam's newfound confidence. Soon after breaking the story of how Guy Denault planned to 'steal' the next election, Sam became an instant media sensation. He was interviewed by every major Canadian news broadcaster, and appeared on the most popular of America's late-night shows. And during those appearances, he was blunt about his decision to leave the Ottawa Post, sighting the editorial board's hesitation to publish his first article on the story. Studying his former lover, there was something about Sam—his charisma, his calm demeanour—that gave him that 'it' factor, and that had been part of Michael's attraction to him in the beginning. And in the middle of everything that was happening, Sam remained humble as he transformed quickly and seamlessly from print to TV investigative reporter. "How was I supposed to know that the PM would end up in jail?"
"Oh, I think you knew, or at least suspected, that the PM was involved when you promised me that exclusive. Still…" Sam closed the iPad and handed it to his assistant. "No one has ever interviewed the head of the Agency. That's a coup for me."
A man approached the end of the stage area and said, "We go live in three, two, one," then pointed at Sam.
"Good evening. I'm Sam Whyte. Tonight on The Watch, I'm talking with the new director of the country's top intelligence service, Michael Reid, about the devastating events that happened in our nation's capital thirty-six days ago and how it rocked our democracy." Sam looked at Michael. "Director Reid, thank you for being here."
"Glad to be here, Sam," Michael said.
"My first question is this." Sam paused. "Is Canada's intelligence service broken…?"
Michael didn't remember much after Sam's opening salvo, except that there were multiple times during the interview when he wanted to get up and strangle Sam. Wrap his hands around that almost square neck and watch the life drain out of him. But then he thought about the times he and Sam had spent together, and the one time he had inadvertently starting choking Sam during sex—and how Sam had become even more aroused. But maybe, naively, he expected Sam to go easy on him. Because of their past. But, no. Sam showed just how ferocious he could be, a journalist who knew he had the story of the year and planned to run with it … no matter the cost.
When the interview was over, Michael shook Sam's hand and squeezed so hard that Sam's knees buckled. Michael moved quickly to hold him up, and when their gazes met—and he saw the look of contempt and regret—he knew his message had been understood.
Massaging his hand, Sam said, "I was just doing my job, Michael."
"I know," was Michael's steely response. "But after tonight, don't be surprised if you find yourself ostracized by the Agency."
"That's not fair," Sam protested, closing the distance between them. "When everything was happening, I gave you the time and space to figure it out. I could have exposed everything long before —"
Michael raised a hand. "Like everyone else, you're only interest was making a name for yourself. You've done that. At mine, and the Agency's, expense."
"And what you about, Mr. Director? How do you think you ended up where you are?"
"Goodbye, Sam." Michael pushed past Sam, intentionally crashing his shoulder into Sam's as he headed towards the exit.
Outside, Michael took a moment to reorient himself. Sam's comment had struck a nerve. And what about you, Mr. Director? There was some truth to what Sam had said. He had gone off acting as though he were Jason Bourne, out to save the world and do it on his own. Because no one else could. But his goal wasn't to become the new Agency director. He just wanted to make sure that the country he loved remained free and democratic. Right…? He made his way to his car, got in, and sat there, frequently glancing in the direction of the door he'd exited. Twenty minutes later, Sam finally appeared.
Michael waited until Sam's beat-up Corolla pulled out of the parking lot, then flipped the engine. He followed Sam at a distance, which was easy to do since it was late and the traffic was light. As expected, Sam drove straight home, his car disappearing into the underground parkade of his condo building on Laurier Street. Michael circled the area for about five minutes before finding street parking, then hustled to Sam's building and entered the buzz code.
"Hello?"
"Sam, it's Michael. We should talk."
First came the buzzing sound, then the click, and Michael yanked the door open. The elevator doors opened right after he pushed the call button, and in no time at all he was whisked to the sixteenth floor. Exiting the elevator, his gaze immediately found Sam, who stood in the hallway holding the door to his unit open. All Michael could do was smirk as he neared Sam, who offered a surprising sneer. He walked by Sam and into the condo.
"Did you come to apologize?" Sam asked, lifting the glass in his hand to his mouth.
"You were, at times, out of line, Sam." Michael took a step forward. "You know that."
"How would it have looked if I'd gone soft on you?" Sam set his glass down on the oak occasional table to his right. He then stepped forward. "What are you really doing here, Michael?"
Michael reached out, cupped his hands to Sam's face and pulled him forward until their lips met. He knew he shouldn't have come here, knew that this was the last place he should be. But as the kiss deepened and their bodies came together, it was also the only place—in that moment—where he felt safe and secure. He slid his hands down to Sam's round bubble butt and yanked upward. When Sam's legs wrapped around his waist, and trying not to break the kiss, he carried him into the bedroom…