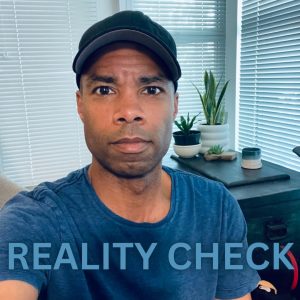 Time for a reality check.
When I was a kid, I really had know idea what I wanted to be when I grew up. At six, I started piano lessons and thought briefly about a music career. But back then I never had the discipline required to become a professional musician. Besides (and if you've been following me for a while you've heard this before), my mother was against the idea of her son going into an industry filled with "alcoholics and drug addicts" (her words, not mine). And because my parents never had the opportunity, my sister and I were encouraged to go to university, which we did, and obtained our degrees.
Graduating from university didn't solve my dilemma. I left there even more confused and without a solid plan for the future. What was I going to do with a degree in French Literature when I didn't want to teach? Studying French literature—and authors like Jean-Paul Sartre, George Sand, André Gide, and others—sparked my interest in writing. If I hadn't gone that route, I probably wouldn't be a writer today.
Safe and Boring
If my mother didn't want me to be a musician, the same went for me becoming a writer. There was no need for me, a university graduate, to live the life of a starving artist. The right thing to do was to secure a stable and sensible nine-to-five job, which I did. Several of them over the years. Strategic policy analyst. Corporate proofreader. Administrative assistant. Legal assistant. Customer service representative. Flight attendant. Jobs that provided a steady income but that always left me empty on the inside. Safe and boring.
I left my last job out of frustration. As I mentioned before, with no plan, no idea (again) as to what I wanted to do. Something from David Goggins's book, Never Finished, popped into my mind: "Because when you're in the hurt locker, you must be your own motivator, your own drill instructor."1
Reality check: something knocked me down last week and kept me down longer than I expected. It was the fact that I've been in my own hurt locker for years, perhaps even most of my adult life. Why? Because—when I'm honest with myself—on levels I don't want to admit I'm still letting fear hold me back. Fear of other people's opinions. Fear of failure. Fear of never being good enough. And because of fear, I've let everything unimportant get in the way—friendships/relationships, jobs, social expectations. That's meant that I've stayed in in the same, comfortable lane: safe and boring.
Reality Check
Yes, I'm currently unemployed. And I'm not naïve. Leaving a job without another means that I'm going to watch my savings account dwindle. But what if, this time around, I design a life around my writing instead of the other way around? What if, for the next six months, I do what's necessary to become even just 0.0001 percent better?
In less than a month—so there but for the grace of God go I—I'll turn fifty. It's time to do a better, more honest job of living life my way.
Goggins, D. (2022). Never Finished: Unshackle Your Mind and Win the War Within, LionCrest Publishing, p. 173 [↩]