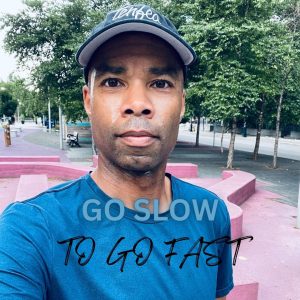 Last week, I restarted my training for the Toronto Waterfront Marathon, which takes place in October. At 3:30 in the morning, the streets are practically empty. And it's what I love best about early morning running: calm and quiet. Running again, I wasn't focused on my pace or distance but on gratitude—to be able to run again. But after a two-week hiatus, I had to resist the urge to train as if nothing had happened. And that meant accepting that sometimes it's better to go slow to go fast.
Panic
Keeping an eye on the calendar, embracing 'go slow to go fast' isn't always easy—especially with only forty-one days left to train. I keep asking myself: "Do I realistically have enough time left to prepare properly?" Or "Should I just quit?" Or "Maybe I can still do this…?" Before the foot injury that temporarily sidelined me, I thought that I had started out strong in terms of training. I was getting in more runs, putting in more miles. I had embraced that 'David Goggins Mindset' to live the deepest level of belief…the one "born in resilience. It comes from working your way through layers of pain, fatigue, and reason, and ignoring the ever-present temptation to quit until you strike a source of fuel you didn't even know existed."1.
Now I'm trying not to panic.
Go Slow to Go Fast
In the early weeks of training, one thing I wasn't concerned about was my ability to run 42.2 km. And maybe that led me to overtrain, ending up in this situation I'm in now. Yes, I was pushing myself and my limits, but it was foolhardy not to listen to my body.
Despite the setbacks, I'm still confident I can run the race. But I've had to reset my expectations. It's no longer about setting a personal best. It's about showing up, doing the work, and finishing something. And to do that means being willing to go slow to go fast.
Goggins, D. (2022). Never Finished: Unshackle Your Mind and Win the War Within, LionCrest Publishing, pp. 13–14. [↩]