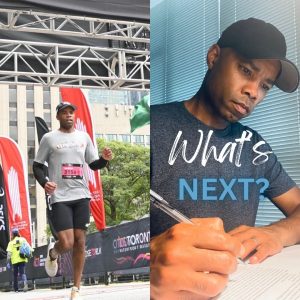 The end of 2023 isn't that far off. As Halloween approaches, it won't be long before Christmas displays start popping up in stores. Reflecting on the year so far, I've accomplished more than I sometimes give myself credit for. I quit a job where I was underpaid, undervalued, and that left me empty. I figured out how to spend most of the summer doing what I love. A recruiter found me and now—for the first time in years—I actually enjoy my day job. I published Bring Him Back to Me in August. And last but not least, I recently ran the TCS Toronto Waterfront Marathon. The question is…what's next?
Quiet Reflection
There are still a few things I want to accomplish before 31 December, and at the top of the list is finishing a novel rewrite. As much as I want to get that done, it's going to be more important for me to take time to reflect on how to get it—and everything else—done. It's about taking time to discern, as Greg McKeown explains, "the difference between what is truly important and everything else."1
Currently, I'm adjusting to a new work schedule. The seven-week training program ran from 8:00 am to 4:00 pm. Now I'm working the evening shift (3:00 to 11:00 pm), and getting home after midnight poses some challenges for a morning person. My internal clock still goes off early, which impacts my already fragile sleep. Knowing things will [hopefully] improve with time doesn't make it easier when I'm too tired in the morning to write or focus. So how can I navigate this change? How do I improve my focus and productivity? In a word: what's next?
What's Next?
Over the next few weeks, I'm giving myself the time, space, and permission to adjust to my work schedule. I'll try not to beat myself up about what I do and, more importantly, don't accomplish. And I'll be satisfied if I can discern the trivial many from the vital few, and execute the latter.
McKeown, G. (2014, 2020). Essentialism: The Disciplined Pursuit of Less, Random House, p. 48. [↩]