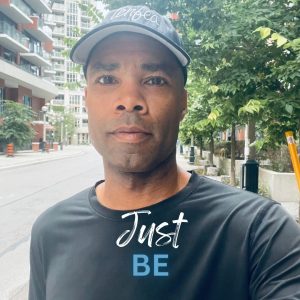 In the last week, I've switched from taking the UP Express (the train from Union Station to Toronto-Pearson International Airport) to the Kitchener GO Train to get to work. At every opportunity, I take a seat by a window and stare at the rolling landscape. Sometimes I read. Other times the 30ish-minute journey is a time to reflect, to disconnect and just be.
Hitting the 'Pause' Button
Just be. In a way, it's sort of what I've been doing since I quit my last job back in June and then started a new one towards the end of August. As the days pass by (almost in a blur), I have involuntarily hit the 'pause' button…on life. Without recognizing it at first, I needed time to think and just be. And while I may have run a marathon, released a new book, and realigned my professional life, a few questions continually poke at me: What do I do now? What am I missing? Where do I go from here?
I don't have any answers, per se. But by hitting the 'pause' button, I'm giving myself the grace to just be. To find my focus again. To prioritize what's important to me and stop comparing myself to others. And, most importantly, to do the hard things that will help me get to where I want to go.
Just Be
Earlier this year, I shared this on my blog:
It's not easy being yourself in a world that expects you to be on-call 24/7. It takes a great amount of confidence and focus to tune out the noise and everything that is being thrown at us. But have you ever thought that, in trying to keep up with the pressure and expectations, that maybe you've lost yourself somewhere along the way? That you've forgotten who you are and what you're trying to do in the world?
Sometimes you have to just be still and just be. And let the answers come.