During a trip to London in November, I had to do something out of the ordinary: find a post office open on Sunday to mail a package for a friend. I found one not far from my hotel, downloaded the route from Google Maps, then set out. It took me a moment to recognize the outlet since the postal services were offered inside another shop.
The packaged mailed, I then walked to the Marks & Spencer (M&S) on Edgeware Road. For some reason, I never bothered to check the M&S store hours and assumed — like their competitors Tesco and Sainsburys — it'd be open early. Not so. On Sundays, M&S doesn't open until noon. I checked the time. 11:22. Could I kill forty minutes? Exhausted from being up all night, all I wanted to do was pick up some food and then head back to my hotel room to crash.
I went first to Tesco, then Sainsburys, but they didn't have anything on offer that appealed to me. Even though my stomach rumbled (and shopping when I'm starving is dangerous), I opted to wait for M&S to open. I ventured over to Paddington Basin, where a scene from the last Jason Bourne movie had been filmed, and grabbed a coffee from KuPP. Sitting by the canal, I pulled out my iPhone and, in between sips of coffee, started fooling around with the video.
The Gamble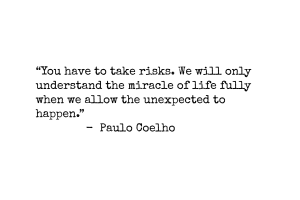 If you're blogging or on Instagram, uploading video content is all the rage at the moment. I'm not a filmmaker, and don't have any such ambition. But exploring this 'new' medium gave me that … I don't quite know the word. It sparked something inside of me. It made me curious.
Heading to M&S on a high, I realized what was happening. I was taking a risk, doing something outside of my comfort zone. It was the artist in me taking control.
And when you take risks, new doors open.
The new door that opened turned out to be Black Sweater Talk, a weekly video blog I share on Facebook. I took a risk, did something out of the ordinary … and this is what it looks like. I hope you'll check it out!
Have you taken a risk lately? How did it make you feel? Click Reply or leave a comment in the section below. I'd love to hear from you.