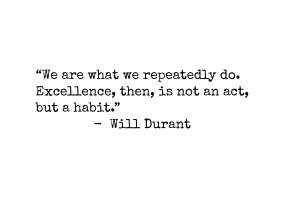 I write every day. No matter where I am — in Toronto or London — I write. Some days writing isn't easy, especially after a long flight when I've been up all night. Even as my eyelids sag, I'll sit down at the desk in my hotel room and write. I might write 250 words or the first draft of a short story or blog post. But I write.
Showing up every day to do the one thing you're most passionate about takes courage. It shows you're committed, no matter what the odds. It's the way to hone your skills and become better. It gets you excited and keeps the momentum going. Do it long enough, without fail, and it'll show you who you really are.
It's Not Easy
Nothing happens overnight. For habits to stick, it takes time and repetition. Believe in yourself, that you can, and will, succeed. Remain faithful to the cause. And remember … begin where you are. You'll slip up and make mistakes, but you'll survive.
Keep going. In the long-term, you'll be better off for it.
Are you trying to create a new habit? How's it working out? Click Reply or leave a comment in the section below. I'd love to hear from you.