The road is often long, filled with sharp, unexpected turns that almost send us tumbling. Some days we struggle to climb the mountain and its treacherous terrain. Other days we soar, feeling like nothing and no one can stop us — that anything and everything is possible. I like those days the best! Yet no matter what we face, no matter how daunting it may seem … we, as artists, keep on keeping on.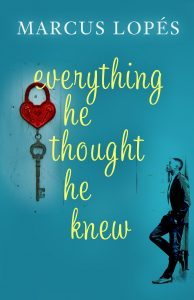 It's an exciting time for me. I'm getting close to publishing my next novel, Everything He Thought He Knew. I now have an amazing cover (sneak peek to the right) thanks to Lieu Pham at Covertopia. The proof of the print edition arrived yesterday, and it looks great. The eBook edition is being formatted. It's all coming together. Finally.
When it comes to Everything He Thought He Knew, the road has definitely been long, hard and, at times, seemingly impossible. It's not just, as it started out to be, a 'revised edition' of Freestyle Love (published in 2011 by Lazy Day Publishing). It turned out to be a top-to-bottom rewrite of the story, with the central premise still intact. I had done a substantial rewrite of the original manuscript (Freestyle Love) before having it edited by thEditors. I thought, in hindsight naively, that I had nailed it. Until I received the manuscript back from my editor.
It wasn't that it was a bad story or that the writing was mediocre. My editor did what he does best: he pointed out the problems with the character and plot development, story arc, structure, continuity, et. al. And he wasn't wrong. And that sent me spinning and back to the drawing board. I got to work and hunkered down. What I thought would be a rather smooth and fast rewriting process took a lot longer than I had imagined. (According to my Master Projects List, I started working on this book 21 February 2017.) For a time, that had me down — wondering if I could actually get through the rewrite and publish the book.
What's the Point?
I wanted to learn from my earlier mistakes and get this book 'right,' make it better than the first. So, I sent the manuscript back for another round of editing, which meant another round of revisions (but much less than the first go-round). Some days it was hard to see the progress I was making. That had me feeling down again. As much as I try not to compare myself with others, I sometimes feel frustrated watching other writers put out two or three books a year. I wonder what I'm doing 'wrong,' why I feel like I'm always lagging behind. Then that has me asking myself, "What's the point?"
But the point is that — despite the challenges, the disappointments, the days I feel like I've lost my footing — I still show up to write. I resign from competition. I keep the end goal in sight and press on. That is, to me, the art of keeping on: with persistence and courage, doing the thing we are called to do and, every day, heeding that call.
What goal(s) are you trying to achieve? Are you determined to keep on keeping on? Let me know in the comments section below.