5 Rules to Live By to Raise Your Creative Game
Distractions. They're everywhere. TV and the soul-sucking, mind-numbing reality shows that we've become obsessed with. Social media. We're constantly reaching for our phones, hoping we're not missing out on what's happening on Twitter, Facebook, Instagram, et. al. — and the 24/7 high-stakes drama it has become. The Trump Presidency. The fracas around Brexit. It's no wonder that we are, literally, driven to distraction.
More than ever, we're living in a time when it's easy — with all the distractions at our disposal — to feel like there's not enough time to get everything done. Worst of all, the first thing to get shelved are our dreams. Yes, we talk about writing a book, starting our own business, recording an album, but we're too caught up doing things that don't really matter … and the dream fades away.
Reality Check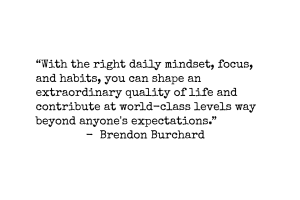 Life is busy. It's a race to get the kids off to school in the morning. The deadline for that project at work looms, and you feel pressured — because everyone else is doing it — to stay late or go in on the weekend. Your mother-in-law (God love her) just showed up unexpectedly … and is staying the week! Somewhere in all the chaos, you still need to find time to do laundry, shop for groceries, pay the bills. It's never-ending.
Yet, we're happiest in life when we're doing what we're most passionate about. I know. Miserable for years, trapped in a soporific nine-to-five job, I wasn't pursuing my passion: writing. The struggle — ever-present — was to find some type of balance between writing and work, family, home and everything else clamouring for my attention.
If I wanted to write and let my creativity shine, I had to eliminate the distractions holding me back. No more excuses. No more blaming others for the lack of time. No more bullsh*t.
The Change
I came to rely on the one thing I'd spent a good chunk of my life breaking: rules.
In Write the Way: 5 Rules to Live By to Raise Your Creative Game, I share my insights and tips on how I've managed to make my writing a priority and take my creative game to the next level. The rules … they're not perfect or absolute, but act as a guide that allows me to make the best of each day.
Grab your free copy here.
My hope is that these 'rules' will help you focus on what you're most passionate about and bring your creative dreams to life.
Do you have any rules that help you stay focused? Are you ready to raise your creative game? Click Reply to leave a comment in the section below to let me know how you're making out. I'd love to hear from you.