In my last blog post, 'From Chaos to Possibility' (Part I of my series, Take Positions for Takeoff), I talked about the initial impact of COVID-19 on my life. Now, let's enter the real world of being a flight attendant with Part II: Be Ready for Anything.
A Glamorous Life…
Some people think that being a flight attendant is glamorous. I thought that, too. Until I became one. It looks glamorous. And your followers on Facebook, Twitter, or Instagram will ooh and aah as you post photos of yourself in Hong Kong one week, then London or Paris the next. That's kind of where the glamour ends. Well, sort of.
Because they didn't see you, tired and battered from jet lag, dealing with the idiot complaining it took too long to start the meal service when you (like the rest of the passengers) were seated during the first hour of the flight due to moderate turbulence. They didn't see you, at 37,000 feet above the earth, performing first aid on a passenger who just passed out when the jerk in 37H came up to you and asked, "Could I get another red wine?" They didn't see you, holding in your own fear and remaining calm to reassure passengers, as you prepared to evacuate the aircraft. No, they didn't see you living out your mantra: Be Ready for Anything.
A Home Away from Home
All the glam aside, I'm grateful for the opportunities I had to visit cities like Tel Aviv, Shanghai, Copenhagen and Munich — places I might not have made it to otherwise. But of all the destinations, I fell oddly in love with London (UK). During the last two-plus years (before being laid off due to the COVID-19 pandemic), London was my home away from home. I loved the ease of getting around the city on the Tube and mingling with the locals, who were especially kind when I was running and ended up lost. The National Gallery, the Victoria and Albert Museum and Tate Modern became muses for my writing. The expansive and many green spaces like Hyde Park, where you are in a bustling city but separated from it, too.
There's an order and mindfulness in London, and in most European cities, that doesn't exist in North America. And I grew to appreciate and depend on it. London wasn't just a city I visited, but also a place I lived.
Moving on Up
It took me about five and a half years to crawl up the seniority ladder, to the point where I could hold the London flights, and the designated working position in the Business Class cabin (we call it a bid position in cabin crew lingo) regularly. That also meant having a set schedule, which brought a lot more stability and 'normalness' to my life. While things like the weather or aircraft defects can sometimes cancel or delay flights (be ready for anything, right?), having a Block (a set schedule for a month) was a welcomed change for me.
Change, Change, Change
My first years flying (it felt like decades) was spent on Reserve. Basically, I was on-call — sometimes for as little as three days or as long as six. I'd bolt upright in bed, my heart jackhammering in my chest, as the ringing phone shattered my sleep. Reaching for my phone, my blurred vision became clear enough to see 'Crew Scheduling' lighting up the screen, and below it the time: 2:38 am. "Hi, Marcus," the chipper voice said. "I have a flight for you…" Sometimes the call came at two in the afternoon, or at eight thirty at night. Mostly, I was given two and a half hours to get to the airport, as per the collective agreement. Usually more. Sometimes less. I had to be ready for anything.
This Ain't What I Signed Up For, But It Is…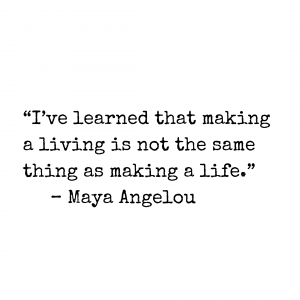 Some days, I was back home and in my own bed that same night. That, or I was gone for five or six days in a row, and often worked into my days off. I told myself that I'd get used to it, even tried to believe it. But I never did. And that's life. Sometimes you sign up for something without really knowing what it's all about. And then it's like, oh sh*t!!!
And as a morning person and a light sleeper, flying was hard. Because I can't nap. Never been able to. Even when I knew my flight wasn't leaving until midnight, I'd try to rest during the day. But after twenty minutes of tossing and turning, I'd scramble out of bed in frustration. I made it through the long nights high on caffeine, which made it impossible to fall asleep the next morning when I arrived home or collapsed on the bed in my hotel room.
Be Ready for Anything
Being a flight attendant taught me an important life lesson: Be Ready for Anything. Life can change on a dime. We've witnessed that as the COVID-19 pandemic swept the world. I think that's why I saw this as life speaking to me, and I chose to listen. Like I mentioned in Part I, being a flight attendant wasn't my dream job, and I knew from Day One I didn't want to be that flight attendant who's still working at 72. You know the one…! It was only ever meant as a stopgap. It gave me money, and barely a livable wage in the beginning. But it also gave me time to write and do the things I love, yet it still left a void.
That's why I'm enjoying this time at home. An introvert by nature, and awkward around other people, staying at home is easy for me. Easier than for a lot of others because a) I don't have kids and b) my partner has been away for most of the stay-at-home order helping his mother, who's in an age group that's at greater risk of contracting COVID-19. (And thank you, Lord, because as much as we love each other, being trapped together in 700 square feet, 24/7 is … challenging.)
I'm Lovin' It
During this time at home, I'm focusing on my writing and creating a plan to, as we transition back to 'normal,' not return to my old job. Because I wasn't happy. To the point where, before every flight, I was popping an Imodium tablet to tranquilize the trapeze artist rehearsing in my stomach. And as I edge closer to fifty, Maya Angelou's words poke at me every day: "I've learned that making a living is not the same thing as making a life."
So, it's time to make the life that speaks to me.
What have you done during your time at home? How are you feeling as countries ease lockdown restrictions? Click Reply to let me know. I love hearing from you!