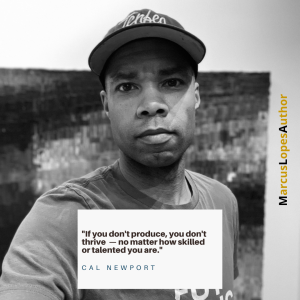 Day 1
As the end of March neared, I realized something: I wasn't where I wanted to be. Or, perhaps it was more so that in the first three months of 2022, I hadn't achieved what I'd set out to do. Somewhere, and somehow, along the way, I'd lost sight of my raison d'être. Not just in terms of my writing, but who I believed I could be/become.
Too many days unfocused. Too many days wondering in the hinterland of doubt and despair. Wondering more, 'What's the point?' instead of asking myself, 'What must I do to become the best version of myself and live my best life?'
And then came the realization, as I participated in a coaching session with Jeff Fajans, that the answer for the past three months was right in front of me. It always had been, but fear held me back from seeing it, from acknowledging it.
The answer, yes, was simple: Marcus, it's time to do the hardest thing and begin again.
But what does 'begin again' mean for me?
It means letting go of everything I'm doing to meet other people's expectations. Letting go of trying to fit in online — on Instagram, Twitter or Facebook. Letting go of other people's notions of success and letting it define me. It means, damn it, no longer getting my feet caught in the comparison trap.
If I sound angry, I am. Not at the world. I'm angry at myself for trying to fit in where I never really belonged. Angry for how I've strayed so far from my true and unique voice. Angry, yes, that somehow I stopped daring to simply be me.
So, today, I begin again. And this is what 'begin again' means for me.
I am making a 30-day commitment to doing deep work (and here I invite you to read Cal Newport's Deep Work).
I'm not, like I've done in the past, completely giving up social media or streaming services like Prime Video. Because I still believe in being a part of online communities, and that it's also important to have downtime.
What I'm committing to is building a daily routine of doing the deep work of writing — creating stories and memorable characters, chasing big ideas — without letting myself be distracted. Too often over the past few months, I've found myself reaching for my phone to check e-mail or Instagram while editing. Or listening to a podcast while trying to type up a piece of writing. Things I knew I shouldn't do when doing creative work. Yet I couldn't — or wouldn't — stop myself.
My goal for the next 30 days, and hopefully beyond, is to create not just a simple writing habit (I already have that), but a daily writing ritual that occurs 'in a state of distraction-free concentration.1
So, I may be less 'visible' on Instagram, Facebook and Twitter, because the clock is ticking. I know tomorrow isn't guaranteed to anyone. There's still a lot of things I want to do, and if I keep marching with the distracted masses, I'm going to leave a lot undone. I'm committing today to join the focused few and live my best life.
And over the next 30 days, I'll keep you updated (mostly here on my blog) on my progress — the successes and the setbacks as I settle in a work deeply.
1 Cal Newport, Deep Work: Rules for Focused Success in a Distracted World, Grand Central Publishing: New York, 2016, p. 3.