It's like a magic pill. The moment I turn off social media, everything falls away. The overwhelm. The doubt. The fear of both success and failure. It's the easiest way to get back to myself, to remind myself of what really matters. So, that's what I did last week. I unplugged from social media, and that gave me seven days of bliss.
The ONE Thing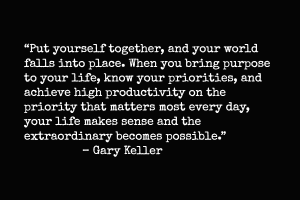 When life gets busy, and I feel overwhelmed, some of the things I love fall to the wayside. Like listening to podcasts. During my time away from social media, I downloaded a few episodes from the 'Achieve Your Goals with Hal Elrod' podcast. Elrod's interview with Geoff Woods, the Vice-President of The ONE Thing, stopped me in my tracks. The conversation reminded me about all the ways I've gotten off track. And that to achieve my goals, I had to simply focus on one thing. My ONE thing. Writing.
So, I ordered the book, The ONE Thing, written by Gary Keller, and devoured it. I quickly understood that one of the reasons I often feel overwhelmed is because I am always trying to do too much in the day. I'm creating a false sense of accomplishment by checking off things on my to-do list, but these aren't always the tasks that matter right now.  They're not the ONE Thing that will move me and my dreams forward.
The Three Ps
The biggest takeaway from this book, and what I'm trying to live every day (and be patient with myself as I do) is to act in ways that will help me achieve, in the long-term, extraordinary results. And the way to do that is to live with purpose, live by priority, and live for productivity. I like how Keller frames it in the book: "Live with purpose and you know where you want to go. Live by priority and you'll know what to do to get there."[note]Gary Keller, The ONE Thing, Bard Press, 2012, p. 147[/note]
7 Days of Bliss
As I do my best to live with purpose, live by priority, and live for productivity, my goal is to not have to unplug from social media or curb my news consumption to have more days of bliss. If I'm focused on my ONE Thing, those days of bliss will be the norm, not the exception.
What is your ONE Thing? Click Reply to let me know. I love hearing from you.