In November 2015, I pulled the plug on social media — Twitter, Facebook, LinkedIn, Blogger. Then I went beyond that. I limited my use of e-mail, kept the TV off during the day (until my partner came home from work and turned it on), sent few text messages and, when I wasn't working at my day job, kept my mobile on 'Do Not Disturb' mode.
Going Dark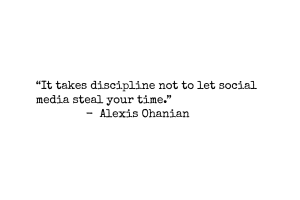 I went dark, off the grid. This was, in part, inspired by a story I'd read two years earlier about a family that decided to live like it was 1986 again. No computers, internet, or cell phones. And they dressed the part, too, with mullets and cut-off jeans. They brought 1986 to the 21st century to embrace the simplicity of that era. That said a lot, to me anyway, about how we've evolved — and the role technology has played in that evolution. Would I want to return to 1986 (I was thirteen then)? Probably not.
While I didn't go to that extreme, I required a much-needed timeout from social media because I felt overwhelmed. At that time, I was working on the rewrite of a novel and trying to stay current on industry trends. Suddenly, I felt like everything was coming at me fast and furious. On Twitter, Facebook, LinkedIn, or my inbox, the bombardment was unrelenting: 'advice' on holiday book marketing, or writing and selling your novel, or how authors can use Facebook Lead Generation Ads, or how to grow your followers, et. al. Overwhelmed, I couldn't hear myself think, didn't know how to proceed.
Being overwhelmed had a spiraling effect. I don't know how to move myself forward, couldn't concentrate, and then procrastination set in. And boy, oh, boy, did I embrace procrastination! Frustrated (and it was all my own doing) because I wasn't making progress, wasn't pushing the boundaries, wasn't bringing my writing projects to completion. Everything stalled, and I was left flailing.
So, I went dark, off the grid. For two weeks.
An Uneasy Relationship
Now it's 2019, and I haven't gone off the grid again. As a self-published author, I recognize and appreciate that social media — Facebook, Twitter, Instagram, etc. — can be powerful tools in the promotion of my author brand. It's still not something that comes easily or naturally to me, but I'm grateful for the exchanges on Twitter and Facebook that connect me with other writers/artists facing similar challenges. Holed up in my own world, I've become part of a community that supports and encourages each other. And it's great to connect with readers, too.
But…
Social media has a way of sucking you into the vortex. A decision to check in 'quickly' on Twitter can blow apart your day. That's why social media is both my friend and my enemy. I took the timeout because social media felt more like my enemy.
My enemy. Because, real or imagined, some days social media has dominion over me. Am I engaging enough? How many likes did my post get? Has anyone responded on Facebook? I get all worked up about if I'm doing it right, if I'm doing what I should be doing to be successful (if I'm listening to all the expert advice out there).
The social media world is constantly evolving. Late in 2018, as I started to catch up to some changes that had occurred in recent months — and realized I was far behind in the game — I panicked. I felt like I immediately had to get up to speed. Overwhelmed, I couldn't think, couldn't focus and, worst of all, couldn't write. I took a day and a half to step back, breathe and then come up with a plan to move forward.
You Need a Plan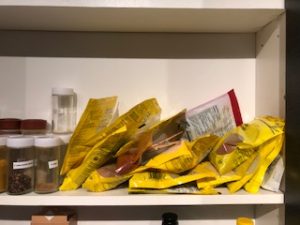 When I went dark three years ago and pulled away (briefly) from social media, I was happy with the results. I wrote. More focused, my productivity skyrocketed. That meant I ran more, and got out of the condo to explore my neighbourhood, discovering new restaurants and shops. I read more, challenged myself in the kitchen and organized my spice cupboard (the latter is back in a state of disarray). I felt relaxed and, at the end of each day, a sense of accomplishment. Something I hadn't felt in a long time.
The exercise made me realize, as an indie author — or any artist these days — you can't bury your head in the sand when it comes to social media. But you still don't have to let it rule the day. Yes, writers like Stephen King, Paulo Coelho and Jodi Picoult use social media (and brilliantly at that), but if you asked them I bet they'd tell you they had a plan for social media management. You need a plan, too, but one that you're comfortable with and let's you pursue your creativity your way. It's a little like writing or painting or making music … you have to find your voice.
The Wake-Up Call
In December 2018, I realized I needed to make changes to my daily schedule if I really wanted to achieve my goals. At the end of the day, I didn't feel fulfilled … like I had squandered the time gifted to me to live out my purpose. I wasn't tending faithfully to my dreams. That need for change led me to read books by Brendon Burchard, Brené Brown, Michael Hyatt and Keith Ellis — so I could be inspired to do what was necessary to live my best life ever.
I was excited, energized, pumped.
But nothing changed. Why? I couldn't break the cycle of self-sabotage. After all these years, I was still afraid of what people would think of me for daring to be a writer. That they'd ridicule me (which people did and still do) when I talk about my dream of writing full-time. "Stick to what's safe," they told me. Or, "How many books have you sold?" they'd ask mockingly. "I could never do that." And I took their fear and owned it.
Until…
In January, working the flight to London, something felt off. Usually excited to go to London, I felt numb. Listening to my colleagues talk, a calmness invaded my heart. I went quiet. I realized this wasn't my dream. Sure, it's great to travel the world. Having 13-14 days off each month? Freakin' fantastic. Great benefits? Absolutely. Starting my day in the middle of the night, stuck with rude passengers and colleagues at 35,000 feet for hours, and beyond exhausted for 24-36 hours after returning home? Not my dream.
It was time to start marching to the beat of my own ambition.
The 30-Minute-a-Day Social Media Diet
I didn't quit my job. I focused on expressing my truest voice instead of constantly giving myself over to distractions and unfulfilling activities. On the top of my hitlist? Social media.
I have an active presence on three social media platforms: Twitter, Facebook and Instagram. That is the order I give them priority. And now, each network gets only 10 minutes a day of my time. How do I do that? I use Screen Time, Freedom and StayFocusd.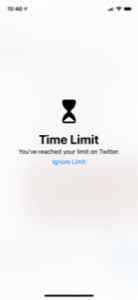 Screen Time: Available on iOS, it lets me set a daily allotment of time for each app. When the allotted time runs out, access to the app is blocked. Be aware, though, that it's easy to ignore the limit set, so it also requires self-discipline.
Freedom: This app allows me to block websites as well as apps on my iPhone for the time period set (make sure you create a block list).
StayFocusd: A Google Chrome extension, it allows users to limit time spent on certain websites and block access to the internet (Nuclear Option).
Three apps, using them 10 minutes a day, produces the 30-minute-a-day social media diet.
That's how, finally, I'm mastering my day, taking control of the agenda and direction of my life.
Do you have a plan for social media management? How is it working for you? Click Reply or leave a comment in the section below. I'd love to hear from you.